Program offers natural response to office stress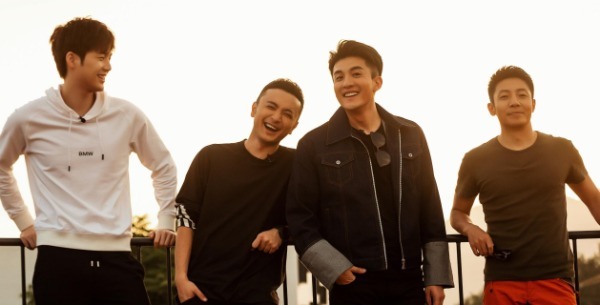 Three numbers entered the online lexicon of workers last year. They denote stress, tension and overwork and are often, but not solely, in the so-called creative industries. You don't have to be a psychologist to know that a lack of sleep impairs creativity. The online phrase "996" refers to the common 12-hour work schedule in the technology industry from 9 am to 9 pm, six days a week.
The expression has aroused controversy and widespread discussion among Chinese youth in cyberspace. It can be summed up by the question: Do I have to pick between living a life or working too hard?
Mounting living pressure on residents in the metropolises, especially people born in the 1980s and 1990s, has unleashed an avalanche of complaints. But help is at hand. Say Hello to Life, a reality show, which first aired on China Central Television in December, may help inspire people to reevaluate their work lives.
The 37-year-old host, from the Uygur ethnic group, Negmat Rehman, also known by his English name Ethan, has made a mark as producer and director.
"This is an era in China that calls for people to work hard," Negmat says. "However, how many of us have seriously thought: What am I working hard for?
"Life deserves our love."
In the 12-episode series, a new one every week, the host leads a group of celebrities touring around China and experiencing a period of leisure time as they stay in home inns and get away from the hustle and bustle of urban life.
They take on different tasks, far removed from their offices. They try their hand as market vendors, hikers, mountaineers and horse riders.
They sometimes embrace nature and just gaze at the starry sky.
They may be masters in their respective fields, but when faced with a garden, these urban residents realize they cannot tell the different varieties of plants.
"In the adult world, many things become invisible, and few people care about questions like 'What is the most beautiful flower in the world?'" says Sa Beining, a TV host who is a guest in the program.
According to Sa, you may get defined by numbers when people keep asking you questions such as about your monthly salary.
"If the world is just materialized, people's mentality will lack appreciation. Pursuit of happiness is beyond making money," Sa adds.
Many viewers left comments, describing Sa as "the Little Prince", the romantic figure from the French novel by Antoine de Saint-Exupery.
And sometimes the guests just sit around dining tables to enjoy good but plain food and chat about their life, as if with a close friend.
Their concerns and ambitions, childhood dreams, romance, difficulties faced when they first came to big cities resemble those of the viewers.
They talk of the hard work and persistence needed to pursue their careers, and discuss how to take care of their aging parents.
All this strikes an emotional resonance among young people.
Negmat says in the show that everyone can leave cities like Beijing or Shanghai for smaller cities as lifestyle choices evolve, but escaping in itself is not enough, he adds.
"I would leave when I choose another way of life."
Talking about romance, Sun Yizhou, a leading actor from popular sitcom Apartment of Love, says healthy relationships require give-and-take and understanding.
As seen in the program, the guests reveal that hometown thoughts can strike unexpectedly, such as when they eat a piece of food that brings back memories. This then leads to what propelled them to start pursuing their ideals in the first place.
Consequently, the show can seem like an arthouse film full of dialogue, which changes from one scenario to the next and occasionally gets philosophical, like US director Richard Linklater's highly praised production Before Sunrise.
"The show aims to talk with young Chinese people," Negmat says. "We sit down together to solve the puzzles brought by life. No one can be fed a so-called right answer because there is no blueprint in life.
"When people share their stories from different perspectives, we can explore more possibilities.
"No one is entitled to tell you: That is how a good life is like, and you just follow it.
"For someone who has taken their life seriously, the best life is not full of grand pictures, but the one highlighting inner peace …and only when you take life seriously, can you become the unique one."