Under-23s sink to new goalless low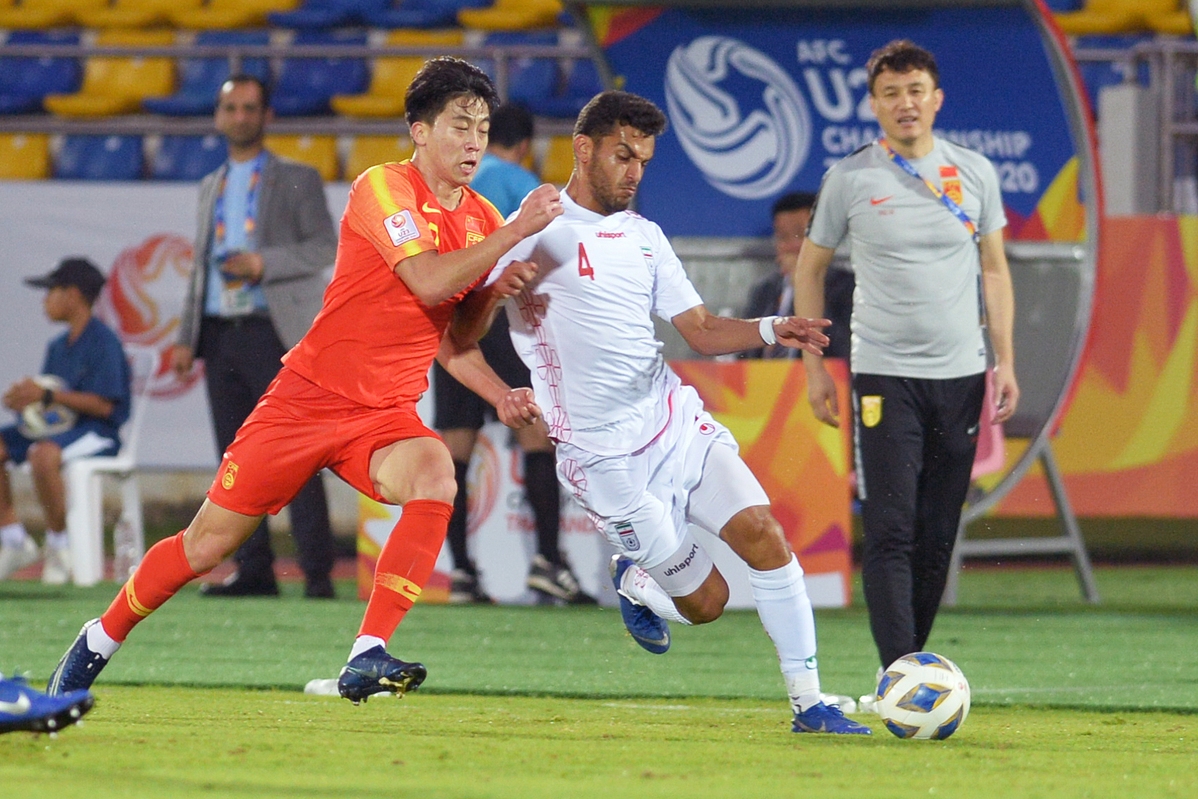 After missing out on Olympics, squad ends campaign in ignominious fashion
A few days after missing out on qualification for the Tokyo Olympics, China's Under-23 squad failed to rescue any pride as it ended its miserable Asian Football Confederation U-23 Championship campaign with a third straight defeat.
To add to the ignominy, Wednesday's 1-0 loss to Iran in Songkhla, Thailand, meant China had failed to score a single goal at the tournament as it finished bottom of Group C and was eliminated.
The scoreless performance was a historic low for a Chinese under-23 team. Previous squads have registered only one win between them in the previous three editions of the championship, but all managed to at least hit the net-twice in 2013, four times in 2016 and another four in 2018.
The tournament acts as a qualifying event for the Tokyo Olympics, with the top three finishers booking tickets to this summer's Games in Japan.
Last weekend's 2-0 defeat to Uzbekistan ended China's slim hopes of reaching Tokyo 2020. That result followed an opening 1-0 loss to South Korea.
Wednesday's disappointment proved overwhelming for many of the Chinese players, some of whom wept at the full-time whistle. Team coach Hao Wei said he could not fault his players' effort but admitted they lacked quality.
"I want to thank my players for fully executing my plans. Despite us losing all three games, our players still love soccer and we will never give up until we fulfill our shared dream of qualifying for the Olympics," said Hao.
"It's my responsibility, not the players'... There are gaps in many aspects, and we still need to improve both the attack and defense... Our players need to keep their dream alive and be better prepared in the future."
Despite their coach's words of consolation, the defeat hit the Chinese players hard.
Midfielder Huang Cong rued his missed opportunities, although striker Duan Liuyu was less downcast as he endeavored to take some positives from the tournament.
"It has been a test of my skills, physically and mentally," said Duan. "I can sense the gap between us and other teams. We need to keep practicing and think more."
There had been high hopes for the squad when the Chinese Football Association hired Dutchman Guus Hiddink as head coach of the under-21 squad, the bulk of which would eventually move on to the under-23s.
The former Real Madrid and Chelsea boss was tasked with steering China to its first Olympics since the 2008 Beijing Games, when it qualified automatically as host.
However, the 73-year-old won only four of his 12 official games in charge and was dismissed after a year at the helm.
With little time to prepare his charges, Hiddink's successor Hao has ultimately been unable to make a difference.
CFA president Chen Xuyuan tried to rally Hao's crestfallen players after the game.
"First of all, I hope you can recognize the clear gap between us and the stronger Asian teams. You all need to work harder to level up your strength after you return," Chen told the players, according to NetEase Sports.
"You should never be sluggish. You should grow to become more disciplined and professional. You are still young and have more big games to play in the future. You will be the new blood of the national team to fight for appearing at future World Cups."
Following the Spring Festival break, the young players will begin preseason training with their respective clubs and the mission of qualifying for the Olympics will be passed on to the next generation.
During Chinese club soccer's offseason, the CFA has been busy developing new measures to try and invigorate the youth ranks.
With the influx of expensive foreign players blamed as one reason for the country's stagnating youth scene, the CFA has installed a 3 million euros ($3.3 million) salary cap on imports, while the national governing body is also encouraging Chinese Super League clubs to give more playing time to homegrown youngsters.
In 2018, the CFA launched an under-23 league for clubs in the country's top three tiers.
Next season, CSL teams will be required to register at least three under-21 players in their squads; in the second and third tiers that quota is set at two and five respectively.
In the top tiers, teams will be required to have at least one under-23 player on the pitch during games, while it will be necessary for third-tier sides to field at least one under-21 player.