Wristy business spoils Liu's history bid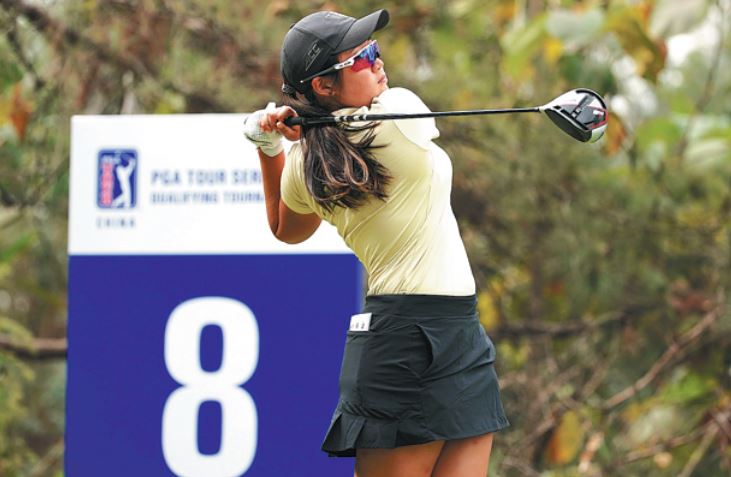 Liu Siyun played through the pain until her dad's sensible intervention saw history narrowly elude the rising star.
The 20-year-old amateur was last week on course to become the first female to earn status of any kind on a PGA Tour-sanctioned circuit.
Liu was 19th after the second round of the PGA Tour Series-China's qualifying tournament at Foison Golf Club in Guangzhou, Guangdong province, with the top 15 players on Friday earning cards for the circuit's 2020 season and places 16-45 receiving conditional status.
However, with the pain of a wrist injury becoming unbearable during her third round, Liu decided to call it quits on her father's advice.
"I tried to push through. I didn't think I would be able to finish today, and my dad told me to stop. Even after taking two sets of ibuprofen, I still had a lot of pain, but I wanted to finish the round and see," she said.
"Injuries have been a nagging problem since the very beginning of my career.
"Sometimes I have to have pain killers to finish a tournament. The most serious injury was a torn wrist ligament which sidelined me for three months. I'm used to injuries."
The China series is one of the PGA Tour's developmental tours, with the top five players at the end of the season earning promotion to the Korn Ferry Tour-the gateway to the PGA Tour proper.
Playing with the men didn't phase Liu at all.
"Honestly, it's not as different as I thought it would be," said the Shanghai native, who played off the same tees as the men.
"Everyone hits it so much farther than I do, that's for sure, and I expected that, but I was just playing my own game because I know that everyone else is kind of playing a different golf course than I am doing. It helps me relax."
Liu is currently a senior student at Wake Forest University in North Carolina. After receiving treatment for her wrist, she will return to the US to resume her studies and play in university team the Demon Deacons' spring tournaments.
"We were so close to winning the national championship last year, so my goal this year is to definitely try to win the team championship," said Liu who was a key part of Wake Forest's NCAA runner-up squad last season.
"Since my main reason for playing this tournament was to prepare for my spring (college) season, and with advice from my dad, I decided to retire," she said.
"I really wanted to play, and it's been very exciting, but I didn't want my arm to hurt so much that if affects my spring season. I'm the captain, and I need to play for the team."
Liu first picked up a golf club as a 6-year-old during a family vacation in Hainan province and played in her first tournament just two months later.
Now, she has the LPGA Tour in her sights and has not ruled out taking another shot at joining the men on the PGA Tour-Series China.
"If I have any chance in the 2020 season, I would love to play on PGA Tour China. If I can get a sponsor's exemption or play in a Monday qualifier to earn a spot, I would definitely play here again," she said.
"My main goal right now is to try to qualify for LPGA events, but I really like the PGA Tour-Series China, and it would be fun to play some tournaments here."
And despite injury putting a dampener on her potentially historic weekend, Liu was still focusing on the positives.
"The PGA Tour-Series China is like a big family. Everyone is very friendly and I love playing here," she said. "The layout of the course is a bit more challenging for female players, but I really enjoyed the experience and the atmosphere of the competition."