Geely sets up JV with Daimler in Ningbo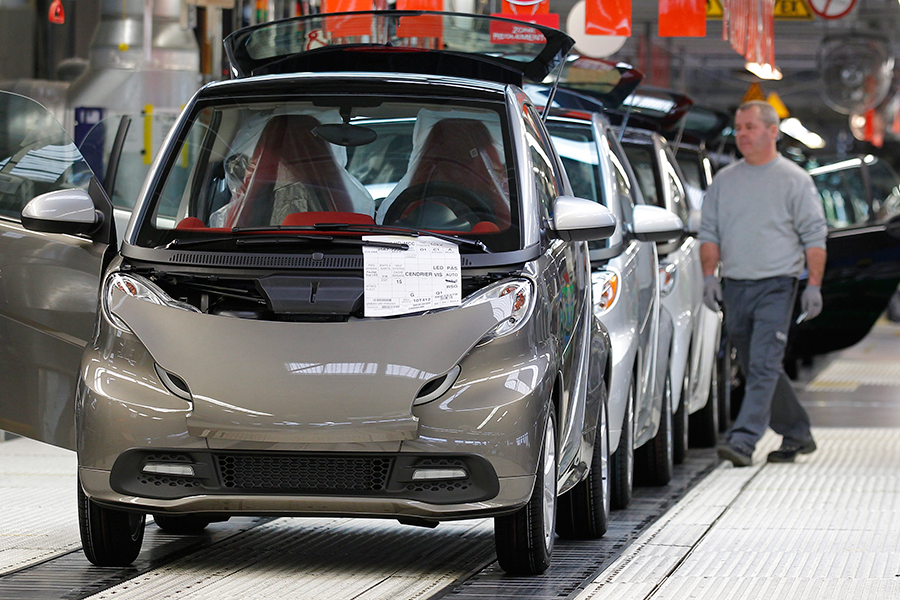 Zhejiang Geely Holding Group said on Wednesday that it has set up a 50-50 joint venture with Daimler AG in Ningbo, Zhejiang province, as part of the efforts to develop and produce electric vehicles under the German carmaker's "smart" brand for global markets.
The 5.4 billion yuan ($778 million) joint venture is tasked to develop the brand established in 1998 as a leader in premium electrified vehicles, and from 2022, China will be the sole producer of smart-branded vehicles.
Daimler's Mercedes-Benz will be responsible for the styling of the vehicles and Geely, which is Daimler's largest shareholder, will undertake the engineering and development work.
The vehicles will be built at a plant in China but the location has not been released.
Geely and Daimler also plan to expand the smart lineup to include compact models, which are seeing growing demand in China. It will also set up sales centers in China and Germany.
Before the launch of new models in 2022, Daimler will continue to produce the current generation of smart vehicles in France and Slovenia.
"Geely will share its advantages in development, production and supply chains as well as its insights about the Chinese market," said Geely Chairman Li Shufu.
"Together with Daimler, we will promote the effect of synergy on a win-win basis and facilitate the brand's transformation toward electrification so that it will succeed in the global market."
In an earlier interview Daimler Chairman Ola Kaellenius said the company weighed options but it is a natural choice to have a Chinese partner as China and Europe are the largest markets for its smart-branded vehicles.
China will prove crucial to the brand's future. It has been smart's second largest market and is the world's largest electric car market. Besides, it is home to over 100 cities that have more than 1 million people, an ideal market for small-sized vehicles.
In a guideline released in late December, Chinese authorities expect new energy vehicles including electric cars and plug-in hybrids to account for a quarter of new car sales in 2025.
Kaellenius called Geely a "perfect partner" because of its strong technological capabilities and operational experience as Daimler is looking for a global solution for its smart division.
John Zeng, managing director of LMC Automotive Shanghai, said Geely has shown outstanding manufacturing and cost-control abilities as demonstrated by its Lynk & Co models.
As one of the most successful private carmakers in China, Geely has been spending heavily to sharpen its competitive edge. Its research and development expenses in 2018 totaled 21 billion yuan, accounting for 6.4 percent of the group's total revenue in that year. Over the past decade, it has invested over 100 billion yuan in research and development. It has also established five major research and development facilities, employing up to 20,000 engineers.
Besides the joint venture, Geely and Daimler have partnered to explore opportunities in shared mobility in China. The two also invested in Germany-based flying-car startup Volocopter in September 2019.
"The 21st century features industrial revolution and is full of opportunities and challenges as well. That means playing solo will not work," said Geely in a statement.
"We are willing to partner with all outstanding companies including Daimler to promote transformation in the global automotive industry," it said.