Tesla's Shanghai delivery highlights China's full-speed opening-up
Share - WeChat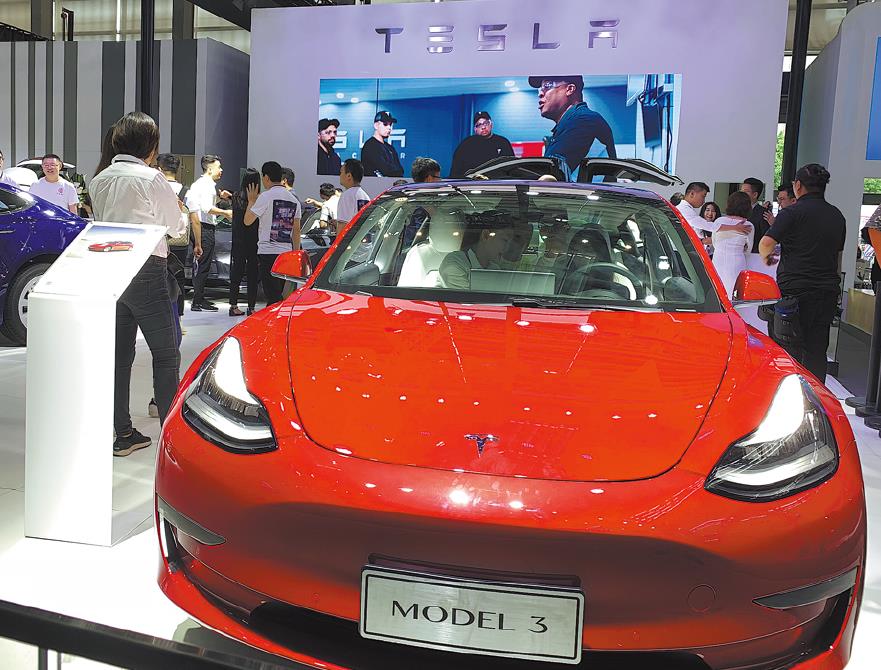 SHANGHAI-Tesla's Model 3 delivery in Shanghai has shown that China's opening-up is in full gear.
Tesla delivered the first batch of sedans produced by its Shanghai plant on Dec 30, less than a year after the gigafactory broke ground.
The electric carmaker's blistering pace demonstrates that China is determined to enhance its opening-up and reform its business environment.
As the largest foreign-invested manufacturing project in Shanghai, construction began on the factory on Jan 7, 2019.
The factory is located in Lingang Area, a high-end manufacturing park in the southeastern harbor of Shanghai. It has a designed annual capacity of 500,000 electric cars.
Without the support of the central and Shanghai governments, Tesla would be unable to build up a factory, and start mass production and delivery at such fast speed, said Allen Wang, general manager of Tesla China.
As the first project after China lifted restrictions on foreign investment in the auto industry, the local government has carried out "a lot of process optimization to greatly reduce the approval time," said Tesla's Global Vice-President Tao Lin.
Tesla employees received the first batch of the Shanghai-made Model 3 sedans last Monday. Wang said the company will start delivering made-in-China Tesla vehicles to customers on a large scale in January.
Tesla's gigafactory in Shanghai can produce 280 vehicles per day and will double its production capacity this year.
The sedans' components will be completely domestically produced by the end of 2020, according to Song Gang, the plant's manufacturing director. Currently, 30 percent of the components are produced locally.
Tao said the China-made Tesla cars will feature many Chinese elements and localized transformations. For example, the new Model 3 sedans will provide traditional Chinese games such as mahjong and Chinese poker. Prior to the made-in-China Model 3 cars, the price of an imported Tesla Model 3 vehicle stood above 439,900 yuan (about $63,000) in the Chinese market.
The Shanghai-made sedans start at 355,800 yuan. In its financial report, Tesla believes that China could become the biggest market for the Model 3.
Even though foreign investment worldwide has declined for three consecutive years, it has maintained momentum with new stores and factories in Shanghai.
The first 11 months of 2019 saw 6,168 new foreign-invested projects in Shanghai, an increase of 29.3 percent year-on-year.
Foreign investment in contracts reached $45.93 billion, up 14.6 percent compared to the same period in 2018.
Foreign direct investment expanded 6 percent year-on-year to 845.9 billion yuan on the Chinese mainland in the first 11 months of 2019, according to the Ministry of Commerce.
During this period, China attracted 722 large-scale foreign investment projects, with each worth more than $100 million, an increase of 15.5 percent.
Since the beginning of last year, China has rolled out concrete policies and legislative measures to improve its business environment.
For example, fewer access-limiting measures exist on the two negative lists in China, one for the pilot free trade zones and one for the rest of the country.
Pilot FTZs now have 37 listed items for foreign investors, down from 45, while non-FTZ areas have 40 items instead of 48.
In the World Bank's October report on doing business, China ranked 31st among 190 economies, up 15 spots from the previous year.
More new measures will go into effect this year for further opening-up in China.