Giving world clear images, convenience by innovation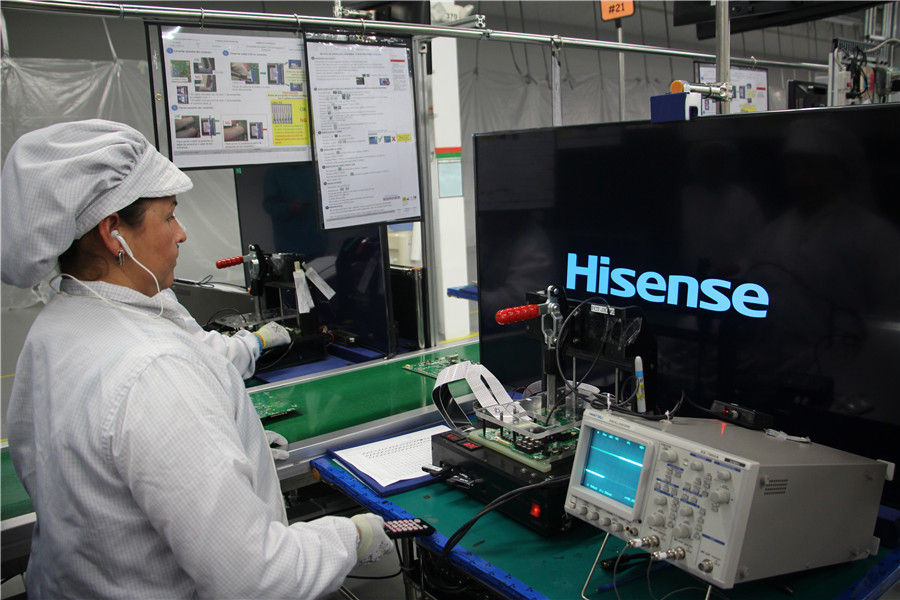 Hisense's TVs, fridges and appliances sell like hot cakes in overseas markets
Chinese home appliance maker Hisense Group Co Ltd is ramping up efforts to expand its presence across the globe, especially in Europe, and boost its brand awareness via sponsorship of major sports events.
The company has been implementing a "brand globalization" strategy since 2006, and maintained a rapid development worldwide, with its compound annual growth rate reaching over 20 percent in overseas markets.
"Hisense is counting on overseas markets for future growth," said Zhou Houjian, the company's chairman, adding it is targeting the middle and high-end segments of the market.
Zhou noted the revenue from overseas markets rose 30 percent year-on-year to 37.8 billion yuan ($5.4 billion) last year. Sales of its self-owned branded products in the United States and Canada increased by 57.5 percent and 106 percent year-on-year, respectively.
The European market is a key area for Hisense's internationalization layout, the company said in a statement. Its sales in the European market increased 19.4 percent from January to July this year, compared with the same period of last year, and the growth rate in some key markets such as Germany and the United Kingdom surpassed 20 percent.
Meanwhile, the Qingdao, Shandong province-based company has accelerated its entry into Europe through mergers and acquisitions. In August 2018, Hisense completed the acquisition of Slovenian appliances producer Gorenje.
Founded in 1950, Gorenje had been one of the leading manufacturers of home appliances in Europe and owned high-end brands such as Atag and Asko. It had about 30 percent market share in the household appliances market in East Europe. With Gorenje, Hisense has established full-scale products portfolio and a complete system covering research, production and sales.
Apart from the traditional home appliances sector, Hisense is tapping into the mobile phone industry in Europe. The company launched two new types of smartphones to lure consumers from Russia.
"Russia is of great significance in Hisense's international push. We will continue to expand our presence in overseas markets, with a focus on Europe, Africa and the Americas," said Fang Xueyu, deputy general manager of Hisense Communications Co Ltd.
The company's overall sales surged 274.4 percent year-on-year during the 2018 FIFA World Cup in Russia. In Europe, Hisense has built a sales network covering Spain, Italy, the UK, France and the Czech Republic, with its regional head office in Germany.
In addition, Hisense has announced its global partnership deal with the Union of European Football Associations for men's national team football competitions ahead of the UEFA Euro 2020.
The company will engage in various global marketing and advertising activities. Hisense will be the official television supplier to the competition. It is expected that the partnership will see the brand reach over 200 territories and greatly enhance its international brand exposure.
This is the second time the Chinese giant has filled the position of a global partner among other UEFA sponsors. The company's brand awareness has already increased significantly in Europe through sponsorship of the UEFA Euro 2016 and 2018 FIFA World Cup. It is also a team supplier to Red Bull Racing and sponsor of the Australian Open in 2014.
Zhou said sponsorship of such top sports events will increase the brand's awareness and influence, and let the consumers recognize the products more quickly.
Being at the forefront of electronics and the home appliances industry, Hisense is banking on new technology, which will fuel business growth and power its global brand awareness.
It is doubling down on the cutting-edge laser TV and has unveiled several large-sized and hi-tech TV products at the IFA Electronics Show in Berlin and the Consumer Electronics Show or CES in Las Vegas.
It started to actively lay out the laser display field in 2007, and officially launched the first ultra-short laser TV globally in 2014. Currently, Hisense has more than 600 international patents related to laser displays.
Founded in 1969 as a small radio factory in China, Hisense has grown into a multibillion-dollar global company with a workforce of over 75,000 worldwide.
Its sales revenue in the overseas markets reached $37.9 billion in the January-October period this year, an increase of 28.71 percent year-on-year, according to the company.
It has established 54 overseas branches in Europe, the Americas, Africa, the Middle East, Australia and Southeast Asia; has five overseas production bases to ensure it has its own supply chain and 12 research and development institutions worldwide.
In 2015, Hisense purchased Sharp's TV business in Mexico and acquired Sharp America's TV line for the North and South American markets. In 2017, the company acquired a 95-percent stake in Japan's Toshiba Visual Solutions Corporation, as part of its efforts to expand globally.
"Acquiring local companies is the easiest way for Chinese household appliances producers to expand their presence in the global market," said Zhang Yanbin, an independent researcher in the home appliance sector, adding the European market is of great significance to Chinese appliance manufacturers.
The Chinese home appliance market is almost saturated, so domestic makers are looking overseas to find new business growth points, Zhang explained. "The acquisition will allow the Chinese company to obtain local customers quickly and reduce production costs."
Industry data showed sales of Hisense refrigerators in South Africa ranked first in both 2017 and 2018, while its market share of TVs in Japan reached 20 percent in the first half of this year and ranked third, surpassing Japan's local brand Sony.