5G footprint widens in China
Share - WeChat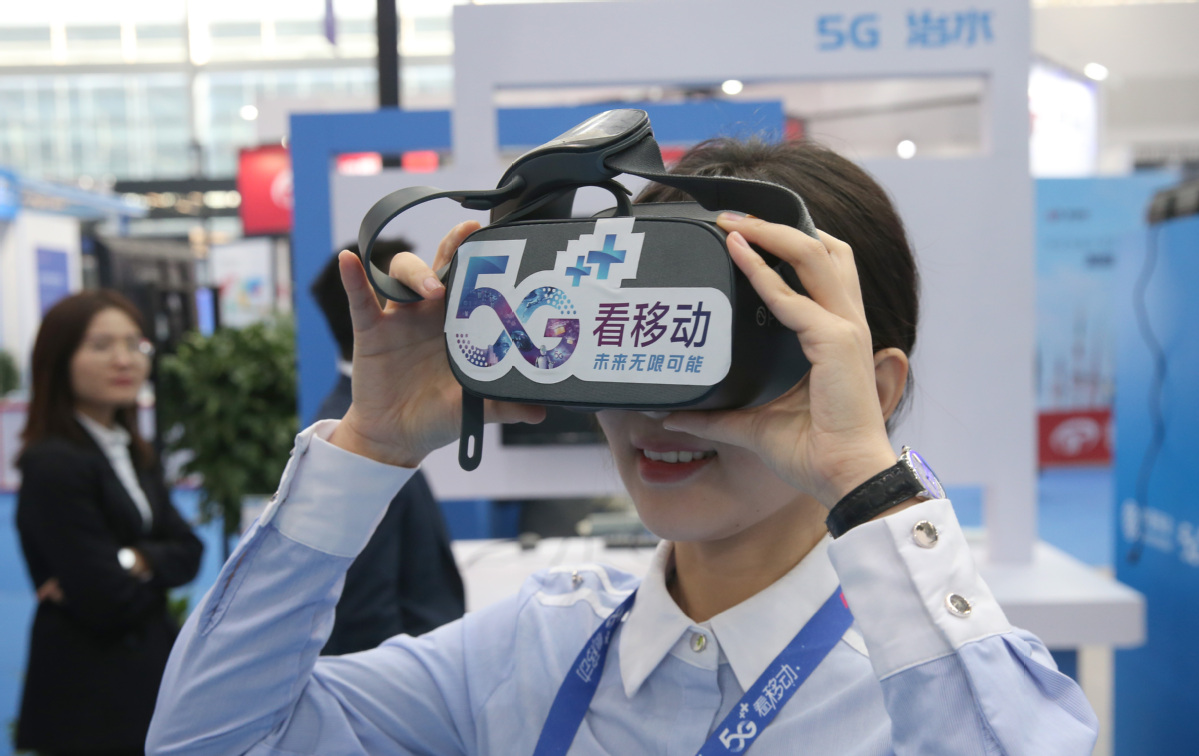 Users of superfast technology to cross 700 million by 2024, says new report
China will see large-scale construction of 5G networks next year, with more interesting applications of the superfast technology rapidly emerging and more than 3 million consumers signing up for 5G mobile data packages by the end of this year, experts said on Thursday.
The comments came as a new report forecast that China will have more than 700 million 5G users by 2024, accounting for more than half of the global 5G population by then.
Wang Zhiqin, deputy director of the China Academy of Information and Communications Technology, a government think tank, said in 2020, China's telecom carriers will build 5G networks on a large scale, laying down a sound infrastructure for widening the use of cutting-edge technology.
By the end of this year, there will be more than 3 million 5G users in China, Wang said. The numbers will mark a significant rise from the data in late November when the country had only 870,000 5G mobile subscribers.
China kicked off the commercialization of 5G on October 31, with the country's telecom carriers rolling out their 5G data package plans. China Mobile, the world's largest telecom carrier by mobile subscribers, plans to have more than 50,000 base stations by the end of this year.
China Telecom and China Unicom, two smaller players, have also announced plans to work together to build a nationwide 5G network as the country's second-and third-largest telecom operators join hands to reduce construction costs. As of December, the two companies have already shared 27,000 5G base stations, Wang said.
The comments came after the government think tank published a report which forecast that the commercialization of 5G in China is expected to generate a direct economic output of 10.6 trillion yuan ($1.5 trillion) from 2020 to 2025, and an indirect economic output of about 24.8 trillion yuan.
Yang Jie, chairman of China Mobile, said that: "The 5G butterfly has already fanned its wings and will have a broader economic and social impact."
The company plans to attract 70 million 5G subscribers, and sell 100 million self-brand and third-party 5G smartphones next year.
Yang also said the State-owned company will invest 20 billion yuan ($2.8 billion) next year to build a robust ecosystem for the commercialization of 5G technologies.
Xu Zhijun, rotating chairman of Huawei Technologies Co, said earlier that China has the right conditions to build the world's best 5G network and the global telecom industrial chain can benefit from the country's development.
"China has the best resources in frequency spectrum and base stations. Local consumers and enterprises have some of the highest enthusiasm and willingness to embrace 5G. And the governments have rolled out favorable policies," Xu said.
Xu said that China is likely to have more than 200 million 5G mobile subscribers by 2020, and the fast deployment of 5G tech in the country will benefit global telecom and semiconductor industries.