Young Chinese team sharpens ice hockey skills in Canada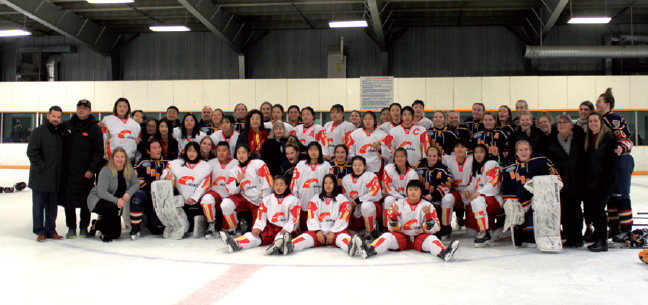 The teenage women's national ice hockey team from China is netting some memorable experiences in Canada.
The Chinese National U18 Women's Hockey Team (CNWHT) was invited by the Ontario Women's Hockey Association (OWHA) to participate in a three-week intensive training camp in Toronto from Nov 17 to Dec 9.
The Chinese team and Barrie Sharks Bantam team played in Newmarket in late November, one of nine friendly exhibition games for CNWHT against various Ontario women's hockey clubs.
Although the home team won the game, it was a learning experience for the 26 young Chinese players, who average 15.5 in age.
Ice hockey is a national sport in Canada, and many Canadians are prominent in the sport.
"We can learn different styles and skills through the training and competition," said goalie Han Yiyang, who took a photo with her Canadian counterpart after the games.
"We are here to strengthen our training in order to gain more actual game experience and make more progress," said Chinese coach Li Zhengyu. "Canada's top hockey level, advanced venues and facilities as well as popular hockey culture are worth learning."
"The Chinese team is a young team while we're old team, so we take advantage of our experience," said Ed Mauro, head coach of the Barrie Sharks. "Once they are more organized, more systematic, they'll be more successful."
"We have been evaluating the players' individual skills along with the team skills. We continue to work on both," Jim Fetter, the head coach of the CNWHT, told China Daily.
Fetter is technical director of Hockey Northwestern Ontario and will lead the Chinese team into the 2020 World Championships in Katowice, Poland.
He said the team is starting to become more physically aggressive on loose pucks and is engaging in one-on-one battles. The team's ability with stickhandling the puck is also improving.
"We have seen a big improvement in the girls in the first couple of days, and we hope that continues over the next couple of weeks. They are very coachable and have been working hard," Fetter said. "We may not be getting the results we are wanting right now, but come January, we will be in a much better position to get the results we want."
"What's important in this segment is their game confidence," said Fran Rider, president and CEO of OWHA, an organization that promotes girls' and women's hockey throughout the province.
Rider said her organization has worked with Chinese teams for the past nine years. She also saw the Chinese team compete on the international stage when the first major women's world ice hockey tournament was held in 1987.
"The Chinese women's team played in the world championships at a top level for a number of years; they had a great team, and now they are rebuilding, and we have great confidence that they have a solid future in the game," Rider said.
The Chinese players got to absorb Canada's rich ice hockey culture and visited the Hockey Hall of Fame in Toronto.
"Canada is one of the greatest hockey powers in the world. Ontario is the birthplace and the most advanced area of women's hockey," said Jeanette Han, director of the Chinese Ice Hockey Association North America Center, who thanked the Canadian partners for their help. "They have spent great resources and efforts to help us develop women's hockey," Han said.
Han, who is also chairman and CEO of the Canada China Sports and Culture Exchange Center, said the training camp is a great opportunity for the two nations to develop hockey as a sport as well as for cultural and business exchanges.
"I believe that with the success of this camp and other hockey projects, the cooperation between our two nations on hockey and other winter sports will be more and more intensive and fruitful, making it a brand new chapter of the friendship between the Chinese people and Canadian people," Han added.
China will host the 2022 Winter Olympics in Beijing. In order to promote the popularity of winter sports, China's successful bidding slogan for the Games was to "put 300 million people on ice and snow".