US stocks drop after Trump's trade-deal comments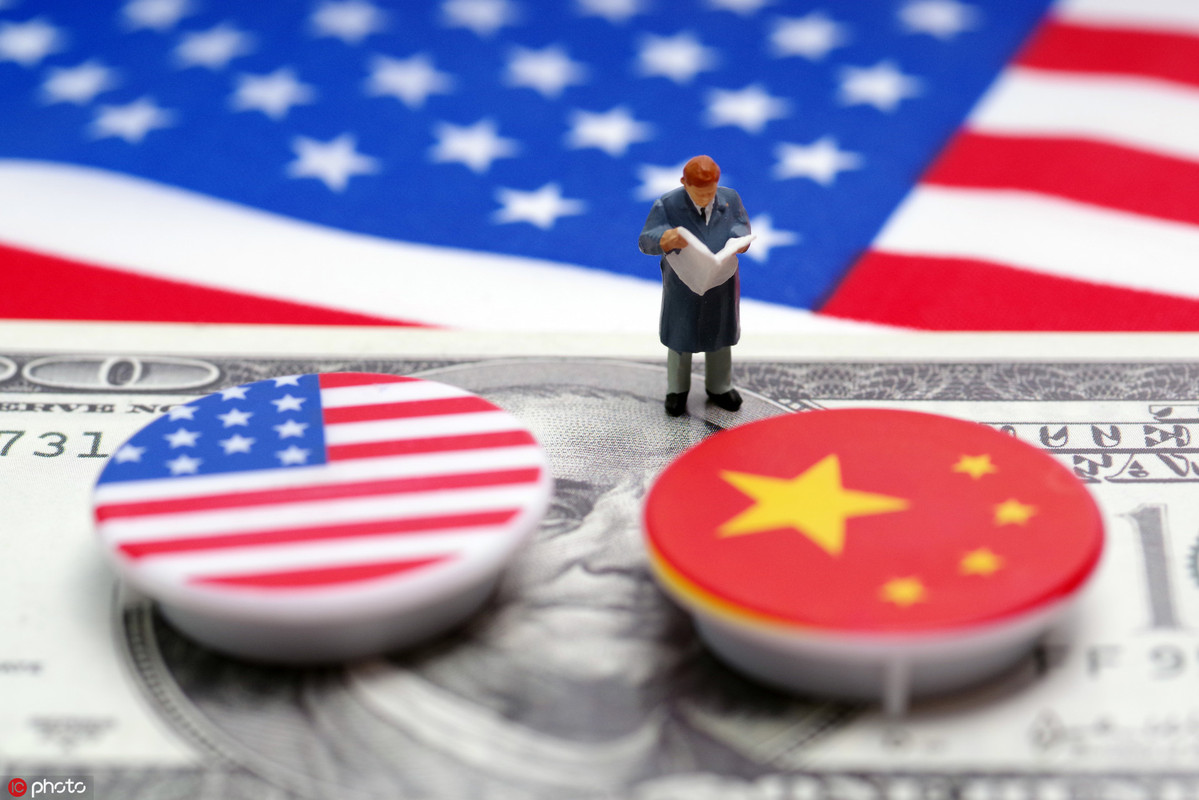 The US stock market reacted negatively on Tuesday when President Donald Trump said a trade deal may not be reached with China until after next year's presidential election.
"Trump wants a daily headline, and he got it with his trade remarks today," Gary Hufbauer, a senior fellow and trade expert at the Washington-based Peterson Institute for International Economics, told China Daily. "He looks at solid Dow performance during 2019, and reckons he can lose a little now and bring it back later when he cuts a deal."
The Dow Jones Industrial Average fell about 400 points in early trading Tuesday before rebounding some, to close down 280.23 points, or 1.01 percent, at 27,502.81. The Nasdaq Composite Index closed 47.34 points lower, or 0.55 percent, at 8,520.64. The S&P 500 finished down 20.67 points, or 0.7 percent, at 3,093.20.
"The prospect of cutting a deal sometime in 2020 is very high," Hufbauer said. "My guess is that if he doesn't escalate, the existing tariffs fade into the background as far as the stock market is concerned. Of course, they continue to damage the US economy."
In London for the 70th anniversary of the North Atlantic Treaty Organization (NATO), Trump said he had "no deadline" to conclude trade talks with China.
"In some ways, I think it's better to wait until after the election, if you want to know the truth," he told reporters. "But I'm not going to say that. I just think that."
Investors had hoped the US and China would conclude the first step of a trade deal this month, an indication that no additional tariffs would likely be imposed. The market rallied on that expectation, and Tuesday's decline may be the first step in repricing stocks if a trade deal cannot be reached, analysts said.
Many have warned that tariffs erode corporate profits, damage farmers who rely heavily on exports to China and create economic uncertainty, making it difficult for companies to plan for future expansion. In response to Tuesday's market decline, investors sought stability in bonds and gold.
On Tuesday, Trump backed off an earlier threat to impose tariffs of as much as 100 percent on French imports to the US valued at $2.4 billion, including wine, cheese and designer handbags.
"We do a lot of trade with France and have a minor dispute," Trump told reporters in London after meeting with French President Emmanuel Macron at a gathering of NATO members. "I think we'll probably be able to work it out."
French Finance Minister Bruno Le Marie said the European Union would retaliate if Trump imposed new tariffs on French goods.
Trump threatened new tariffs in response to France's 3 percent tax on revenue major US tech companies earn by providing a range of services, including targeted advertising or hosting digital marketplaces.
US Trade Representative Robert Lighthizer said the tax generally hits US companies that dominate a market sector but doesn't affect similar services provided by leading French companies, The Wall Street Journal reported.
"People take advantage of US companies," Trump told reporters.
Trump threatened Monday to impose tariffs on imports from Argentina and Brazil and accused the nations of devaluing their currencies to undercut US products in international markets.