Swarovski signs cultural cooperation agreement in Beijing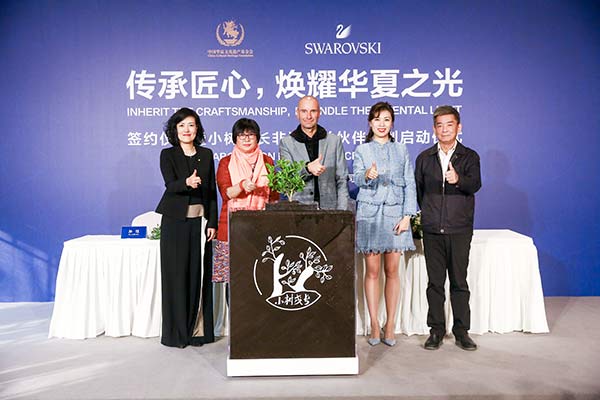 On Nov 21, a collaboration launch ceremony was held in Beijing where the China Cultural Heritage Foundation signed a cooperation agreement with Austria's fashion brand Swarovski. It represents the two sides' future cooperation in protecting cultural heritage in China.
The first project for their cooperation is "Growing Sapling", a project initiated by the China Cultural Heritage Foundation and funded by Swarovski. It works to protect, promote and better inherit China's intangible cultural heritage.
Geng Jing, chairman of CCHF, says this project aims to explore intangible cultural heritage projection on a broader scale. It will use the sapling as an intangible cultural heritage project, support it to grow into a big tree, and then a forest.
"Since entering China's market in 1972, Swarovski has shown appreciation for the profound history and culture of China, and we are thrilled to contribute to the protection of these great traditions through this exciting partnership," said Robert Buchbauer, chairman of the executive board and CEO of the consumer goods business at Swarovski.