Art-inspired afternoon tea fit for emperor
Share - WeChat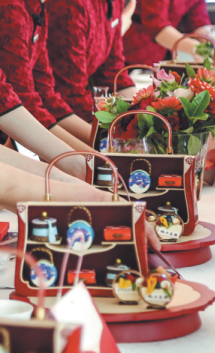 A visit to Xi'an in Northwest China's Shaanxi province, which was named Chang'an and served as the Chinese capital during the Tang Dynasty (618-907), is a direct approach to learning the history of the prosperous dynasty.
However, for those who would like to be charmed by the dynasty but not travel, taking afternoon tea at the Ritz-Carlton Beijing, Financial Street is an ideal alternative.
In cooperation with Chinese luxury brand Duanmu, the hotel has recently announced its themed afternoon tea, aiming to bring guests a cultural experience of the Tang Dynasty with its handcrafted desserts.
Founded in 2011, Duanmu is a Beijing-based company specializing in handicrafts made of wood and brocade including bags, boxes and mirrors.
Qi Tian, founder of Duanmu, said the brand customizes wood-made products for cultural institutions and private collectors. Duanmu creates products by drawing inspiration from Tang Dynasty fashion.
"The Tang Dynasty represents the top classical fine art of ancient China and it is also the aesthetic appreciation that the brand has promoted," he said.
Duanmu has gained enlightenment from the Tang Dynasty. It has revived the classic wood inlaying techniques of the dynasty to design patterns for its products, Qi said.
In the collaboration, the afternoon tea offers four exquisite treats featuring Duanmu's products of jewel boxes, shoulder bags, mirrors and handbags.
The four desserts are made of red plum cakes with yogurt cream, blueberry cheesecake, earl gray mousse with hazelnut chocolate and chestnut mousse with rum chocolate, respectively.
Along with the designed delicacies, sandwiches and salty snacks are offered.
Running until February 2020, the afternoon tea is priced at 528 yuan ($80), including two glasses of sparkling wine and two cups of coffee or tea.
The hotel also grants an opportunity for guests to win a trip to Xi'an. This includes the round-trip tickets from Beijing to Xi'an by Hainan Airlines and two nights' stay at the Ritz-Carlton, Xi'an.
Most Popular