Netizens mourn sudden death of star, seek answers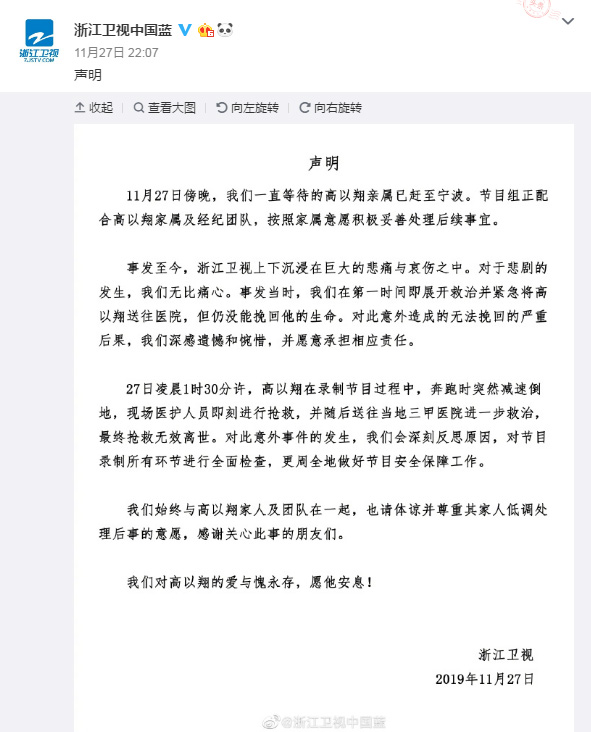 In a follow-up statement released by Zhejiang Television at 22:07 pm Wednesday, the network said Gao's family arrived in Ningbo last night and the producers of Chase Me were working with them, as well as Gao's management, to make the necessary arrangements.
The statement restated that Gao received immediate first aid after he collapsed on the scene, and was rushed to the hospital as soon as possible. It also said that the network was "deeply regretful and sorry for this irreparable accident and the serious consequences it poses," and that the network was willing to bear the corresponding responsibilities.
"We will sternly reflect on the causes and thoroughly examine each and every step involved in filming of the program, so as to better ensure safety on scene," the statement added.
But the follow-up statement failed to soothe the anger of commentators, with many calling the case not just an accident, but an epitome of showbiz gone wild.
"Don't just say 'take care of your health', as if it was his fault! Because it was not! Don't only think about the individual when accidents occur, because there is a limit on how much an individual can do to protect him or herself. We need to ask, whether physical tests were conducted prior to filming? Were stringent physical examinations carried out? Was the working schedules arranged reasonably? And whether there were comprehensive first-aid measures?" Qiaomaichen, a Weibo blogger wrote.