Foreign Ministry hits out at US comments on HK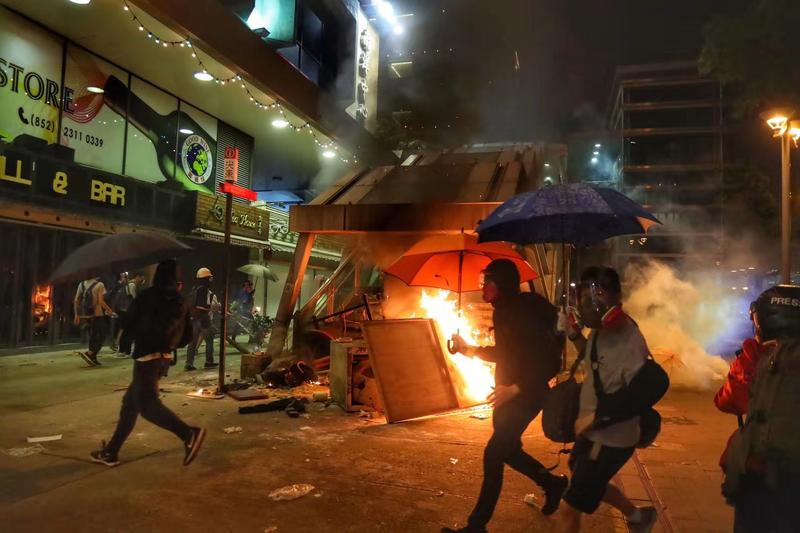 The Foreign Ministry said on Tuesday the United States has "blasphemed rule of law and human rights" by playing a double standard on violent crimes and confusing normal law enforcement by Hong Kong police with violent activities from radical forces.
The US is also in no position to cite the Sino-British Joint Declaration or make irresponsible comments over Hong Kong affairs, it said, hitting back at remarks US Secretary of State Mike Pompeo made on Monday.
Pompeo said the US is "gravely concerned" by the unrest in Hong Kong, and "violence by any side is unacceptable", according to a video published by Reuters.
He also said China "must honor its promises to the Hong Kong people" of "freedoms and liberties" mentioned in the declaration.
The comments the US made over Hong Kong-related issues have exposed its attempt to meddle in the issues, Foreign Ministry spokesman Geng Shuang said at a daily news conference on Tuesday.
The escalating sabotage in Hong Kong has pushed the city into a very dangerous situation, Geng said.
Violent activities have seriously threatened public safety, trampled on rule of law and social order, gravely disrupted the city's prosperity and stability and challenged the bottom line of "one country, two systems", Geng said, and Hong Kong's most pressing task is to stop violence and chaos.
The central government will continue to firmly support the Hong Kong government led by the chief executive in governing the city according to law, the Hong Kong police in strictly enforcing law, and the Hong Kong judiciary in bringing violent criminals to justice according to law, he said.
Speaking of the Sino-British Joint Declaration, which was issued in 1984, Geng said the rights and obligations stipulated in the declaration and related to Britain were all fulfilled when Hong Kong returned to the motherland in 1997.
He urged the US to effectively respect China's sovereignty, stop making irresponsible comments and stop encouraging violence and meddling in China's domestic affairs.
"The Chinese government is firmly determined to safeguard its sovereignty, security and development in implementing the policy of 'one country, two systems', and in opposing any foreign interference in Hong Kong affairs," he reiterated.