Byton's M-Byte enters trial production phase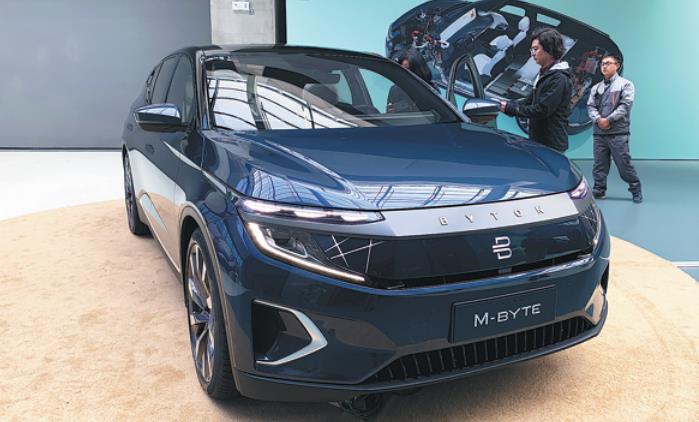 Chinese startup Byton started trial production on Friday of its first mass-produced model, M-Byte, at its Nanjing plant, Jiangsu province. The production marks a further step of the company's efforts to enter in the electric car market.
The model retains 90 percent of the innovative design features seen in the company's concept car, including the signature 48-inch curved dashboard display, Byton representatives said.
The Chinese startup said it will launch a series of verification and optimization in the coming months to ensure the product's delivery to Chinese customers by the middle of 2020.
It will be priced between 300,000 yuan and 400,000 yuan ($42,885 and $57,180), according to the carmaker.
Byton said it has received more than 50,000 orders for its M-Byte, half of them from China and others from the United States and Europe.
Ding Qingfen, chief of staff of the startup, said Byton's confidence in their product has been bolstered by positive feedback from professionals in the US and European countries.
The concept car was shown at the CES in Las Vegas in January and at the Frankfurt auto show in Germany in September.
The startup plans to enter the European and the US markets in 2021, and has already signed contracts of retail and after-sales service with dealers in 14 European countries.
"Byton aims to be an international brand rooted in China," Ding said. "We aim to become an enterprises like Tencent and Huawei."
Its plant in Nanjing has an initial production capacity of 150,000 vehicles a year and can expand to 300,000 in the future.
Besides the SUV, Byton plans to launch a sedan and an MPV, all of which will be developed on its flexible smart platform.
Duan Lianxiang, Byton's vice-president of research and development in China, said he is confident in the prospects of the model and the new energy vehicle market as a whole.
Although China's auto market has struggled in recent months, the luxury vehicle sector including new energy vehicles priced more than 300,000 yuan is growing at a double-digit rate.
"If you can provide products that meet customers' demand, the market is optimistic," Duan said.
Ding said Byton aims to break even in three years after the first model hits the market in 2020.