Futuristic offerings blend tech, intelligence seamlessly at CIIE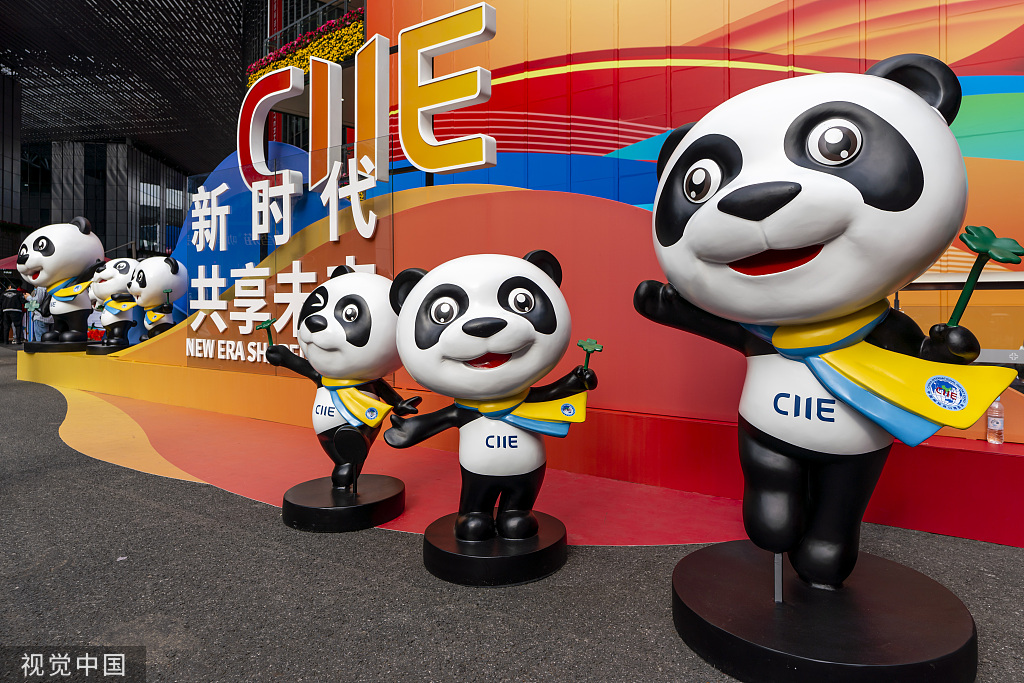 While there is no definite way of telling what the futuristic inventions of the world hold, people may start taking a few wild and speculative peeks through the avant-garde consumer and electronic exhibits at the second China International Import Expo.
Grabbing immediate eyeballs is a foldable screen phone from South Korea's Samsung Electronics that will be launched in the Chinese market on Friday. The Galaxy Fold comes with the world's eagerly awaited and constantly improved display technology and will compete with Chinese rival Huawei's Mate X, which will be on sale from Nov 15.
Two other 5G-powered models also made their appearance at the show, as the world's top smartphone vendor looks to ride the boom of China's official commercialization of the superfast technology last week.
Infineon Technologies, a semiconductor maker from Germany, is showcasing Roboy, a humanoid robot, capable of greetings and hugs and remarkably similar to the human body in terms of agility, cognition and sensitivity, at its booth.
With the aid of Infineon's indigenous radar sensor, the gadget is able to recognize the surface below its feet and adapt its movements accordingly, thanks to the company's highly sensitive sensors.
"We showcased our leading semiconductor technologies during the first CIIE, and have since then deepened partnerships and got in touch with more potential clients," said Su Hua, president of Infineon China.
"We hope to showcase this time how Infineon is addressing global challenges in smart mobility, high-efficiency energy consumption and enhancing security in a more connected world."
Digital advancement should not be confined to just futuristic prototypes. Daily gadgets are getting a technological makeover, with United-States-headquartered 3M launching the world's first automotive lightweight soundproofing set at the fair.
This solution includes the company's indigenous acoustic insulation solution, which is a non-woven, low-density cavity-filling product that compresses for efficient installation and expands to completely fill interior cavities. It is used in conjunction with damping pads for excellent sound insulation, noise reduction and vibration damping.
Wei Moline, president of 3M China, believes the product resonates with the company's mission to use scientific innovation and technology to help customers and improve lives.
"China plays an important role in 3M's business ... The first CIIE reinforced our confidence in the Chinese government's commitment to fostering trade, connectivity and collaboration," she said.
In addition to its scale and growth, China is unique for its fast-changing market demands and accelerated innovation, she said. "We are looking forward to engaging with government officials, customers, and other partners to further explore opportunities through the 2019 CIIE to help us better serve people in China."
Also leveraging material advancements is DuPont's safety and construction business unit, which launched its hand protection portfolio gloves in China during the fair. The company is dedicated to reducing injuries while ensuring comfort, by developing innovative hand protection solutions, which are tested against the latest global regulations and standards.
The company also teamed up with Chinese company Shanghai Runmi Technology to roll out personal luggage with superior resilience and lightness.
"New technologies in connectivity, materials and sustainability are all areas important to us," said Rose Lee, president of the DuPont safety and construction unit. "Technologies are being adopted and growing, and that affords us the opportunity to work with our partners to create our own solutions that will be meaningful for people's lives in China."
For most Chinese people, cooking is an art form that encourages creativity, but also something that requires precision and control if you want a meal that is actually fully cooked and tastes good.
Germany-based Bosch HA has come out with a one-stop kitchen solution: smart gadgets that combine tech with traditional appliances and guide you through the cooking process to help make cooking easier.
Consumers can experience the imported premium intelligent kitchen appliances and design their ideal kitchens. Appliances ranging from an intelligent steamer or an oven equipped with sensor technology help accurately control temperature and allow customers to indulge in intelligent culinary.
From meal preparation, cooking to cleaning, its indigenous Home Connect technology also frees up schedules of aspiring home chefs, be they kitchen novices or seasoned cooks, so that they won't need to spend unnecessary time watching the meal cook.
"Adhering to the strategy of consumer centricity, we have been delivering diversified high-quality products to meet consumer needs so as to help Chinese consumers improve their quality of life," said Roland Gerke, chairman of BSH Home Appliances Holding (China).
hewei@chinadaily.com.cn
What they say
We are happy to see that China is committed to constantly improving the business environment. The speech of President Xi has strengthened our confidence in China's continued opening-up. The open and stable business environment in China has not only attracted more investment, but also created a lot of opportunities to start new businesses. In the auto industry, where I work, China has been accelerating the opening-up, industrial transformation, and deepening international cooperation. As a foreigner, I was able to start up a car company in China together with my team, and I was even invited to participate in discussions for the draft of China's relevant legal documents, which are both good examples of China's expanding opening-up.
Daniel Kirchert, CEO of Byton
Nokia is the strategic global partner of China's three major telecom operators. By leveraging our innovative technologies, abundant global resources and our deep experience in serving the industry, we will deliver quality products and services to China's telecom carriers. We will function as a digital partner to make a greater contribution to the development of China's information and communication technology market.
Markus Borchert, president of Nokia China
Through the international and open platform of the China International Import Expo, Samsung was able to showcase its stateof-the-art technologies and innovation capacities comprehensively in the whole supply chain, and also expand exchanges and cooperation with Chinese partners in the field of innovative technologies. Samsung always attaches great importance to investment, cooperation and exchanges in China, especially in the 5G era. In the future, Samsung will continue to accelerate the transformation and upgrading of its industrial investment in China, in a bid to better meet the needs of Chinese consumers, and make contributions to the high-quality development of Chinese economy.
Hwang Deuk-Kyu, president of Samsung China
We are very glad to see China's commitment to expanding its reform and opening-up drive, as well as its push for strengthened innovation cooperation and technological exchanges. This will bring about new opportunities for enhanced economic and trade cooperation between Singapore and China. More than just a platform to showcase our products and services, the second CIIE serves an important avenue for Singapore to facilitate third-party market collaboration between Singaporean and Chinese enterprises to seize opportunities under the 21st Century Maritime Silk Road framework.
Teo Siong Seng, Singapore Business Federation chairman