Pavilion helps understand progress of China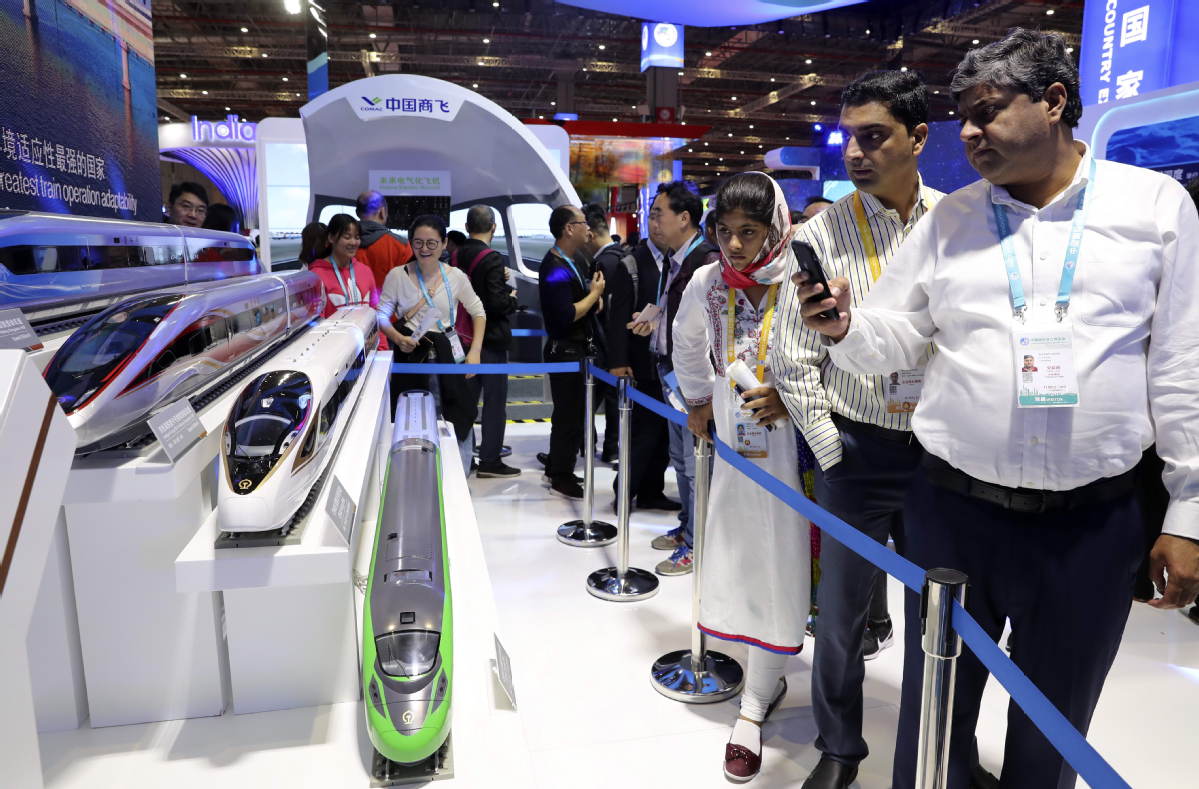 Visitors from home and abroad have been frequenting the China Pavilion at the ongoing second China International Import Expo to have a better understanding of the achievements and progress that the country has made over the past 70 years.
Spread over 1,500 square meters, the China Pavilion consists of six sections, including the Introductory Video, Innovative China, Open China, Beautiful China, Happy China, and Integrated Development of the Chinese mainland and Hong Kong, Macao, and Taiwan regions, according to Wu Zhengping, head of the Trade Development Bureau at the Ministry of Commerce.
With the theme of celebrating the 70th anniversary of the founding of the People's Republic of China, the China Pavilion presents the breathtaking changes of the nation in the past seven decades, and showcases the historical achievements and new opportunities in terms of China's economic and social development, said Wu.
The China Pavilion this year not only showcases the technologies and services closely related to Chinese people's daily life, such as facial-recognition-based payment and pedestrian streets, but also important large projects like the first home-built passenger jet manufactured by the Commercial Aircraft Corp of China, the 500 meter aperture spherical telescope (FAST) and the deep-sea manned submersible. Up-to-date technologies such as virtual reality and artificial intelligence are used to provide visitors simulated experiences, said Wu.
Filips Talbergs, unit head of the Investment and Development Agency of Latvia, was making videos when walking around the China Pavilion to "memorize all this". While supporting the Latvian companies showcasing their products and services at its country pavilion, Talbergs is also interested in the latest technologies demonstrated in the China Pavilion, some of which he said would be of great value once introduced back in his home country.
"It is very impressive that China has made so much progress over the past 70 years, which a lot of other countries can learn from," he said.
Zhang Rongxiang, a representative of a Beijing trading group, experienced VR goggles that can provide simulated vision of the FAST looking into the galaxy.
"It provides us better understanding of China's important projects that we used to only read from news or learn from the internet. I will come to experience the simulated flight of the COMAC's jet when it opens for public viewing on Friday," he said.
Shanghai Evistek Technology Co Ltd is responsible for demonstrating video clips of 11 Chinese pedestrian streets via its 230-inch 10-K resolution screen with naked-eye 3D technology, which is an important part of the Happy China themed exhibition. According to Evistek's senior sales manager He Wei, the screen is independently developed by the company.