Airbus to broaden cooperation in nation
Share - WeChat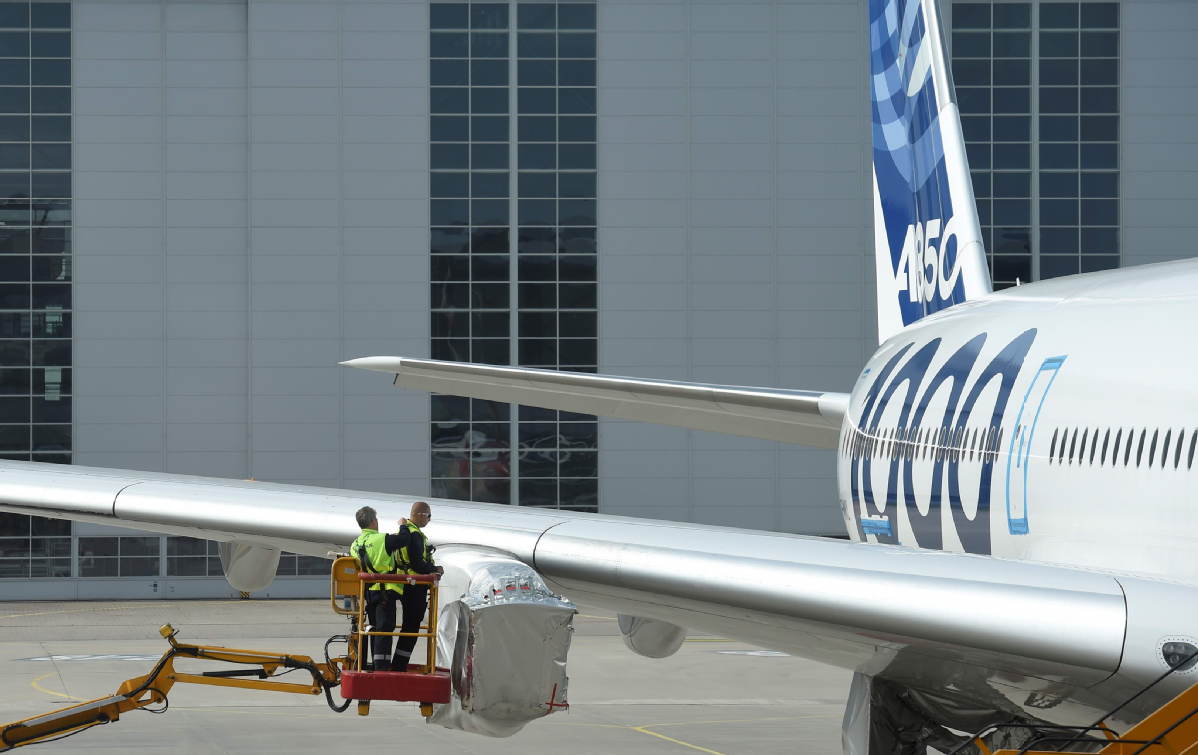 European aircraft manufacturer Airbus SE said it would continue to increase its investment in China, and expand its cooperation with Chinese aviation companies in more segments in the next decade, its CEO Guillaume Faury said on Thursday in Beijing.
"We have developed strongly and positively in China. Airbus is one of the most deeply involved OEMs (original equipment manufacturers) that are in cooperation with China, and we will continue to invest," said Faury.
The Tianjin A330 widebody completion and delivery center will start to shift its work-including cabin installation and aircraft painting-to the A350, and deliver the first A350 aircraft by 2021 from Tianjin, setting the record for the company's first widebody completion and delivery center outside Europe, according to an MoU signed on Wednesday.
The MoU on further development of industrial cooperation was signed in Beijing by He Lifeng, chairman of the National Development and Reform Commission of China, and Faury, and it was witnessed by Chinese President Xi Jinping and visiting French President Emmanuel Macron.
Besides, the Tianjin A320 final assembly line, the third single-aisle assembly line for Airbus after Toulouse in France and Hamburg in Germany, will increase its production rate to six aircraft per month by the end of the year, a 50 percent increase compared to its original design, according to the MoU.
Airbus said it would strengthen its all-round cooperation with China, its largest market, in several areas, including in its Airbus Beijing Engineering Center, a joint venture between Airbus and China Aviation Industry Corp, its Shenzhen-based Airbus China Innovation Center, and after-sales cooperation.
The Shenzhen innovation center serves as the company's first innovation center in Asia. By leveraging the strength of Chinese technology firms in Shenzhen, a hub of innovation in China, Airbus plans to do more work that is linked with artificial intelligence, 5G and batteries, where China has strength, it said.
Meanwhile, its archrival Boeing Co's B737 MAX jets remain grounded worldwide following two fatal crashes, which killed a total of 346 people on Oct 29 last year in Indonesia and March 10 in Ethiopia.
Airbus said the issue does not bring any changes to the company's business operation in the short term, as the production of the reserved orders of the A320 aircraft have been booked until 2024.
"We didn't benefit from the issue. Instead, we have undertaken a lot of pressure, as the public is more sensitive of flying safety, and customers require us more to deliver on time. We see more challenges from the market, but we will keep doing the right things, and do what we have to do," Faury said.
Airbus now takes about 50 percent of the market share in China, compared with 9 percent in 1996.The Tianjin center has helped the company significantly raise its market share against Boeing.
"The 737 MAX was one of the most mainstream aircraft models globally. Boeing originally had advantages in the single-aisle market. Now Airbus has caught up. If the grounding of the 737 MAX is extended further and does not get solved properly, it will have a higher negative impact on Boeing," said Lin Zhijie, an aviation industry analyst.