China Media Group sets up center in Shenzhen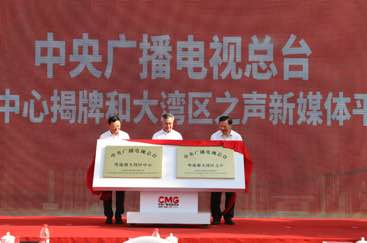 China Media Group inaugurated its Guangdong-Hong Kong-Macao Greater Bay Area center and a new media platform in the Qianhai area of Shenzhen, Guangdong province, on Thursday.
The new CMG center aims to produce news programs that resonate with local audiences and support the development of the greater bay area, said Shen Haixiong, president of the media group. The area is set as a national policy trying to replicate the success of other city clusters and promote the emergence of a regional powerhouse.
Shen said that the establishment of the center marks a new stage of CMG's communication efforts in the area.
The new center is bound to help depict the greater bay area as a pioneer of reform and innovation, said Wang Weizhong, Party secretary of Shenzhen.
Representatives from Hong Kong's and Macao's education bureaus and schools attended the opening ceremony. They received Cantonese versions of the celebration film of the 70th founding anniversary of the People's Republic of China.
Christine Choi, undersecretary for education of the Hong Kong Special Administration Region government, said that the videos will be given to schools to share with Hong Kong students as learning materials and will be open to any social groups that are interested in the content.
"In the era of information explosion, voices from different channels and perspectives, I believe, will help us have a more comprehensive and precise understanding of all sorts of things," Choi said on the importance of the center's launch.