Participants praise Xi's speech at CIIE opening
By He Wei, Cheng Yu, Shi Jing, Wang Zhuoqiong, Zhou Wenting, Xing Yi and Xu Junqian in Shanghai | chinadaily.com.cn | Updated: 2019-11-06 10:25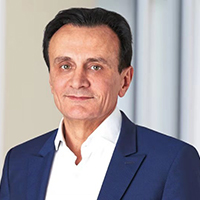 President Xi Jinping's speech was very encouraging, since it further voiced China's commitment to promoting a new-round of high-level opening up and sharing its development opportunities with the world. We believe it's a very encouraging message for both Chinese and overseas enterprises that China adheres to economic globalization and free trade.
Within the last two years, China's national strategy has taken further steps by opening up a new front for international companies in China, further strengthening our confidence to plant deep roots in China and expand our local distribution in the country. China has become the second largest global market for AstraZeneca. Its market will play a more and more important strategic role in AstraZeneca's global landscape, along with our continuous efforts to strengthen local research and innovation, promote international exchange and collaboration, and create a global innovative healthcare ecosystem by utilizing global resources to seize Chinese opportunities.
President Xi's speech once again unveiled a strong message for expansion and demonstrated China's responsibility as a major nation to share Chinese opportunities and build a bright future with the world. He specifically mentioned that countries should strengthen innovation collaboration, promote the integration of science and economy, share innovative results and further utilize knowledge to benefit humankind. I believe it will ignite the innovative vitality of healthcare industry, driving our future development in China.
Last month, China released a regulation optimizing its business environment. The Foreign Investment Law will also be implemented starting from January 1st next year. President Xi Jinping pointed out that China will pay more attention to the role of imports, further reduce tariffs and institutional costs, and expand imports of high-quality products and services from other countries.
With the continuous improvement of its business and innovation environment, China enjoys increasing attractiveness for foreign investment. We will continue to seize the opportunity, further promote connections with advantageous medical resources between China and the world, and integrate "bringing-in" and "going-out" strategies to improve China's strength in medical research and innovation.