Security was omnipresent at NYC Marathon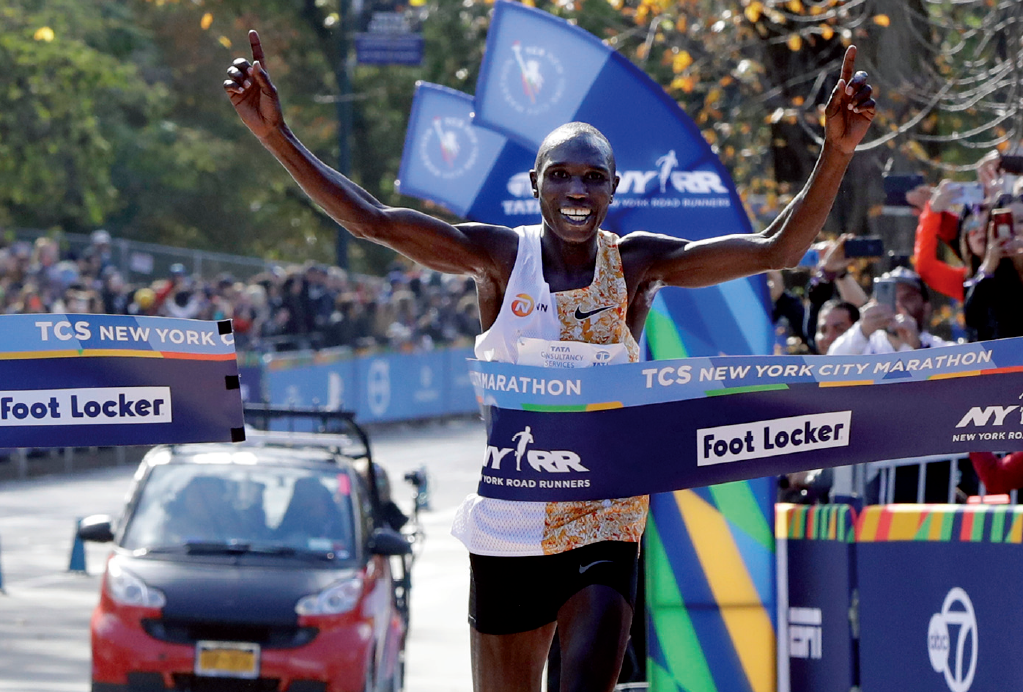 NYPD patrols land, air and waters to protect 50,000 runners, more than 1 million spectators
As more than 50,000 runners competed in the world's largest marathon on Sunday, the New York Police Department (NYPD) was out in full force to keep the event safe.
Thousands of police officers were on duty to safeguard the runners and the more than 1 million spectators at the TCS New York City Marathon.
The police force covered the ground, sky and waters along the 26.2-mile-long route, which traverses the city's five boroughs.
Two runners from Kenya — Geoffrey Kamworor, 26, and Joyciline Jepkosgei, 25, — won the men's and women's titles, respectively.
Jepkosgei, running in her first marathon, upset four-time champion Mary Keitany, also from Kenya.
Jepkosgei, who finished seven seconds off the course record on Sunday, also won the NYC Half Marathon in March, during her first trip to the United States.
It was the second NYC Marathon title for Kamworor, who won the event in 2017.
"Together with our agency partners, we have extensive safety and security measures in place, both visible and behind the scenes," Chris Weiller, senior vice-president of public relations at marathon organizer New York Road Runners, told China Daily.
Blocker cars and sand trucks were deployed at intersections; helicopters, drones and observation posts on buildings monitored the action from above; and police boats patrolled the waterways, according to Terence A. Monahan, NYPD chief of department.
Heavy weapons teams and canines trained in explosives-detection were on duty. Screenings with magnetometers were performed at the starting line, throughout Central Park, and at the finish line, he said.
Monahan said that the police also planned to use counter-drone technology.
More than 500 blocker cars, 100 sand trucks and 500 cameras secured the course's perimeter, which was monitored by counterterrorism officers, said Chief of Counterterrorism James Waters.
Chemical, biological, radiological, nuclear and explosives teams were deployed, along with radiological detection boats and a bomb squad.
Every runner was screened at the start of the race in Staten Island by school safety agents, Waters added.
"They will give them that sense of security that they will be safe throughout the entire day," he said of the agents.
Waters said that Critical Response Command members were out on the streets and in subways, equipped with long guns, explosive-detection devices, and K-9 and odor-pursuit dogs.
"The marathon, what makes it so cool is we're running through neighborhoods," said NYPD First Deputy Commissioner Ben Tucker. "It's a signature event in New York City, like the ball drop in Times Square."
"The concerns of safety will flash through my mind occasionally, but overall I'm not very worried," said Chen Yangyang, a New Yorker who was attending her first New York marathon. "Layers of securities are deployed from the start to the finish line, and I have faith in the NYPD."
"As a runner, safety is less a concern for me," said Cheng Jun, a runner from Southwest China city Chongqing.
Cheng, who is in his 50s, traveled more than 7,000 miles for his first New York Marathon and his second of the Marathon Majors — the six largest and well-known marathons in the world.
He also hoped to perform well on Sunday and qualify for the Boston Marathon, the world's oldest annual marathon and another Marathon Major.
This year's New York Marathon took place a week after a US military mission led to the death of Islamic State leader Abu Bakr al-Baghdadi.
John Miller, deputy commissioner of intelligence and counterterrorism of the NYPD, said that it would not have an impact "in that we are already at our highest levels".
"There are evil forces in the world, but the terrorism out there should not result in us common people yielding our pursuit for the good things," Chen said.
The Associated Press contributed to this story.