Coach sees silver lining after Bayi comes up short against DPR Korea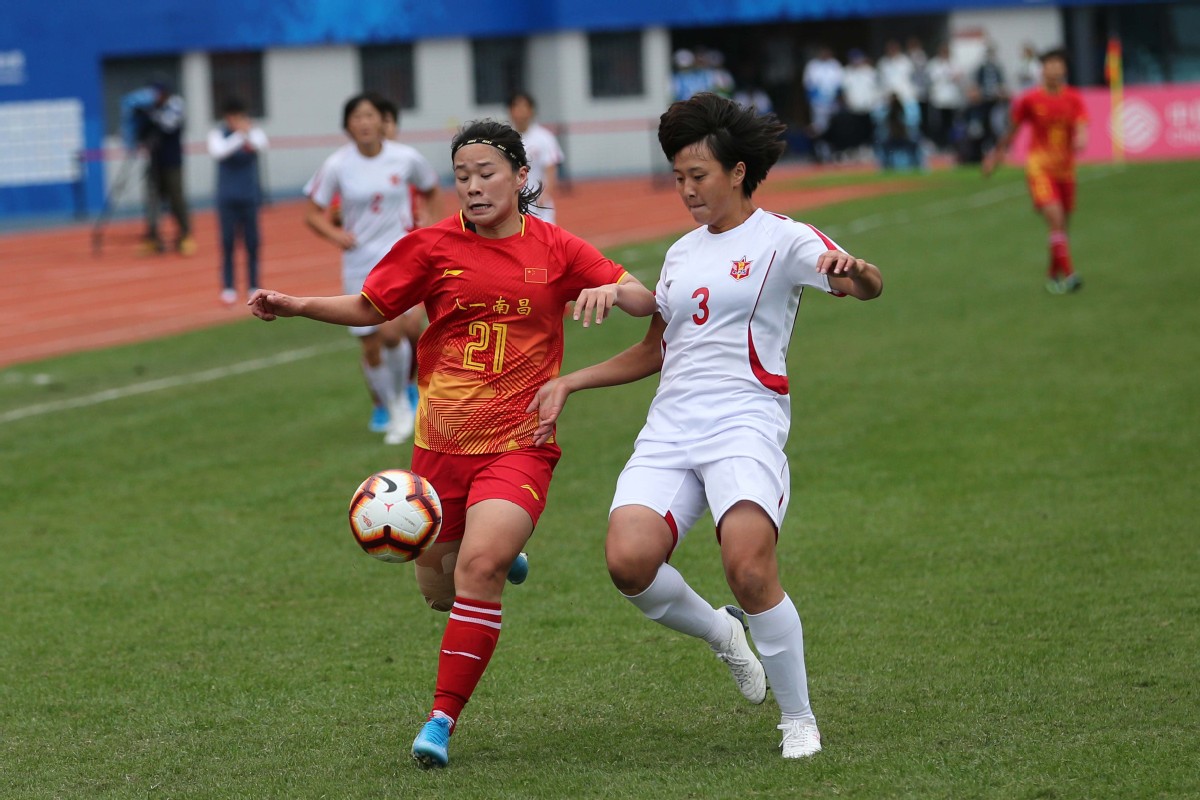 The thunderous applause for China's Bayi women's soccer squad after Saturday's 2-1 loss to the Democratic People's Republic of Korea in their gold medal match at the 7th Military World Games was a fitting farewell.
It's not the national team, but Bayi demonstrated the same indomitable spirit as the "Steel Roses", battling until the very last second in front of around 6,300 appreciative spectators at Hankou Culture and Sports Center in Wuhan.
Team China, featuring nine internationals who played at this summer's World Cup finals in France, had already made history by making the Military World Games final for the first time, following an emphatic sweep of the group stage that included victories over South Korea (3-0), Germany (4-0) and the United States (4-0).
But DPR Korea proved a much tougher test, maintaining relentless pressure from the opening minute and getting a pair of goals from star striker Kim Yun-mi, who was able to find a way to beat rock-solid Bayi goalkeeper Peng Shimeng.
Zhang Rui scored for China.
The 21-year-old Peng, coming off a remarkable performance at the World Cup, appeared very frustrated after the loss and declined to speak to media.
Bayi head coach Zhao Zhengchun, on the other hand, saw a silver lining in winning the silver medal.
"I want to congratulate DPR Korea for winning gold; it's fair to say that our players tried their best and had a very good performance today," said Zhao.
"It's very different to compete here because we have been competing as soldiers. This was the first time for the Bayi team to compete at the women's soccer competition of the Military World Games, so it's great that we finished with a silver. I'm really satisfied with our players' efforts here.
"This final came close to representing the highest level of women's soccer in Asia, and DPR Korea is very strong. Especially, Kim Yunmi is an excellent player and she's also on their national team. Before the match, we made her our main target to defend, but she still converted her opportunities to score."
Of all the matches his team played in Wuhan, coach Zhao considered the 2-1 semifinal victory over Brazil the most valuable. Bayi showed tremendous spirit by scoring the winning goal in the 109th minute with only 10 players on the pitch.
"As we all know, Brazil is a very strong team and they were the defending champion," said Zhao. "Beating them in overtime was really a major breakthrough for us."
That victory was also a surprise for the players.
"We tried everything we could in the semifinal and we played 120 minutes," said defender Lin Yuping. "It was our best game and we were so happy with the result.
"We did our best on defense and the counterattack, because the Brazilian players had physical advantages and better skills.
"I feel that the DPR Korea team was better than us in terms of overall strength, but I think no matter who we play against, we have to try our best and play as a team."
Zhao said the exhausting victory over Brazil made Saturday's final even more challenging.
"Indeed, after playing 120 minutes against Brazil, our players were exhausted," said Zhao.
"They were not fully recovered before the final. Also our core midfielder, Yao Wei, who got two yellow cards in the semifinal, could not play the final, which hurt us."
Along with throngs of People's Liberation Army soldiers and flagwaving toddlers held aloft by their parents, Saturday's spectators gave a warm welcome to US players in the crowd.
The appearance of the Americans was not surprising, given what US coach Derrick Weyand said after watching Bayi steamroll his charges 4-0 in the third group stage match.
"The US has been knocked out of the tournament, so now I'm cheering for China to win gold," said Weyand.
"All of the Chinese players are amazing. The goalkeeper is world class. The striker is world class. The midfielders are amazing. Team China just never stops moving."