Solitary refinement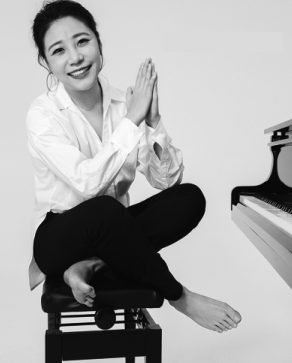 When Zuo Zhang had the opportunity to release her debut album, she chose musical works by two great composers, Franz Liszt and Maurice Ravel.
"I played lots of music pieces by Liszt and Chopin when I was a child so Liszt is like a friend to me," says the pianist. "As for Ravel, he is my favorite composer so his works were important to me when I started to prepare the repertoire for my first album."
The album, released by Germany's record label Deutsche Grammophon on Oct 14, is titled Ravel ∙Liszt. It took Zuo about two days to finish recording at Air Studios in London on Aug 16 and 17, 2018, performing under the baton of Estonian conductor Paavo Jarvi and the Philharmonia Orchestra. The repertoire includes Ravel's Piano Concerto in G major, Gaspard de la Nuit and Liszt's Piano Concerto No. 2 in A major.
"It's my first time to record an album full of my personal emotions. We searched for the original manuscripts of Ravel and finally found them at the New York Public Library," recalls the 31-year-old at the Beijing office of the Universal Music Group. "To my surprise, all the manuscripts of the musical works written by Ravel-about 160 in total-were kept clean and intact, which enabled me to play his music more authentically."
Jarvi, who started working with Chinese musician around 10 years ago, once described Zuo as "one of the most outstanding and passionate pianistic talents I have come across".
In 2014, Zuo performed with the Cincinnati Symphony Orchestra under Jarvi as well as at the Ravinia Festival, the oldest outdoor music festival in the United States.
Born in Shenzhen, Guangdong province, she moved to Berlin at the age of 3 with her family and started piano lessons at the age of 5. The same year, she won third place at the International Steinway Piano Competition.
When she returned to her hometown in 1995, Zuo enrolled at the Shenzhen Arts School and began studying with renowned piano educator Dan Zhaoyi, who also trained Chinese pianists Li Yundi and Chen Sa.
Zuo won more national and international competitions and held her first concerto at the Shenzhen Grand Theater at the age of 10.
"I was drawn to the sound of the piano. As I improved my technique and deepened my understanding of classical music, it feels like a process of finding out the truth about music, about the composers and also about myself," Zuo says, adding that her parents didn't expect her to win any awards at piano competitions, let alone become a professional pianist.
To further her studies, Zuo went to the Eastman School of Music for her bachelor's degree and she started to pursue a master's degree at the Juilliard School in New York since 2012.
After winning Juilliard's William Petschek Piano Debut Recital in 2013, Zuo had the opportunity to give a recital at the Lincoln Center, which led to her signing up with Columbia Artists Management, a leading international talent agency based in New York.
Zuo has performed throughout Europe, the US and China, with world-leading symphony orchestras and conductors. She was selected as one of the New Generation Artists by the BBC, joining their music season from 2013 to 2015, where she founded the Z.E.N. Trio along with American-Korean violinist Esther Yoo, the youngest prizewinner of the 10th International Sibelius Violin Competition, and Armenian cellist Narek Hakhnazaryan, who won the cello first prize and gold medal at the XIV International Tchaikovsky Competition in 2011 at the age of 22. The trio's name is an acronym of the three artists' initials.
The trio released their debut album on Deutsche Grammophon in 2017, featuring repertoire by Brahms and Dvorak. According to Zuo, preparations for their second album are underway.
"Performing as a soloist is very different from performing with a group of musicians. But both are necessary and crucial for the development of any musician," Zuo says. "When I create music together with them, I feel that the music is imaginative, harmonic and colorful."