Think tanks should promote cooperation, learning and exchanges
Share - WeChat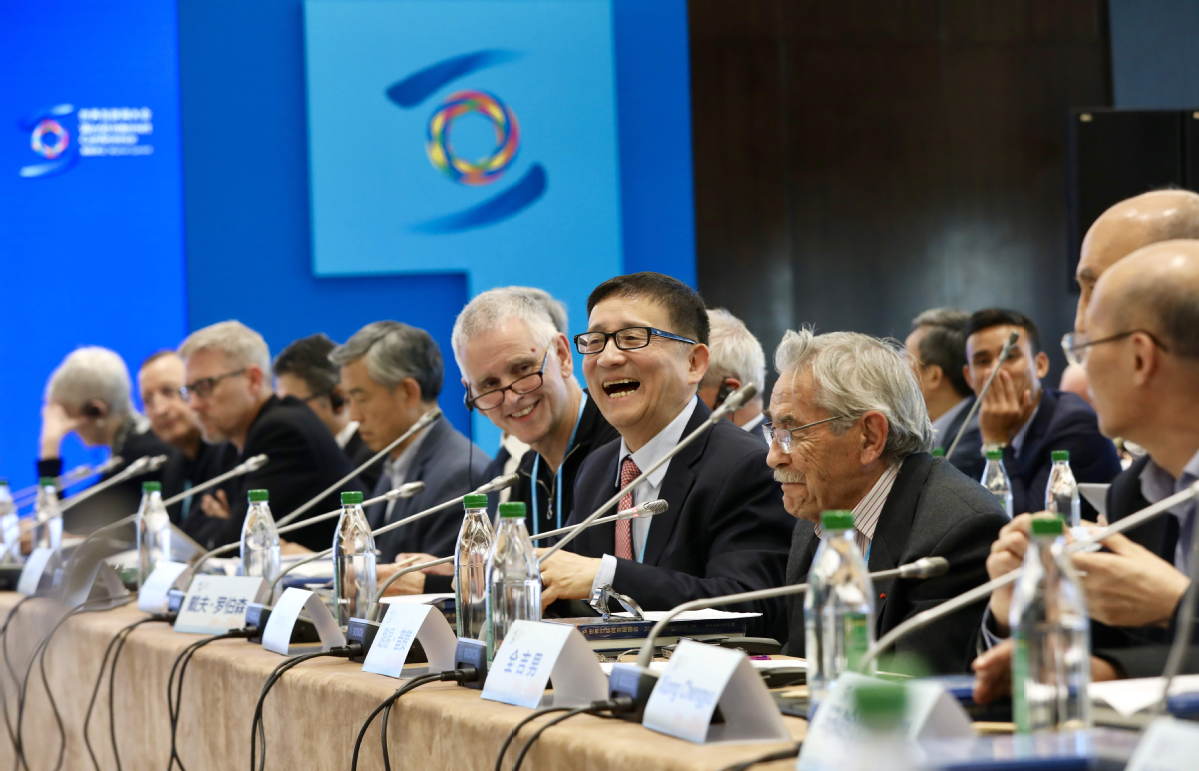 Think tanks should better shoulder the responsibility of the current era, to strengthen the exploration and exchange of cyberspace civilization, and contribute to the promotion of the global internet governance system and the construction of a community with a shared future in cyberspace, said officials and experts from home and abroad on Monday.
Sheng Ronghua, vice-minister of the Cyberspace Administration of China, said during a forum of the sixth World Internet Conference in Wuzhen, Zhejiang province, that "cyberspace is a smart space that brings together ideas and leads innovation. It is also a broad stage for teamwork and sharing".
He said that one important proposition that President Xi Jinping raised during the second WIC was to create online cultural exchange sharing platforms to promote mutual exchange and learning.
Think tanks, with the role of promoting exchange, innovation, and cooperation, are among such platforms, he said.
Li Cheng, director and senior fellow of the John L. Thornton China Center at the Brookings Institution, described the role of think tanks from the Sino-US perspective.
"While competition between the United States and China is inevitable, conflicts are not, and we must strive to avoid conflicts.
"Think tanks in the US, China and the rest of the world play an important role in promoting dialogue, and avoiding misunderstanding, miscommunication, and misjudgment," he said.
During the think tank forum, many experts from home and abroad shared their thoughts. Denis Davydov, head of Russia's Safe Internet League, noted that new technologies constantly enter the market with no matched rules. Therefore, many negotiations are needed.
In the development of AI, regulators should guarantee that it is human beings that are playing a central role, rather than AI, to protect people's rights, nature, emotions and spirits. To this end, a global standard should be made, and think tanks can serve as a platform for more discussions, he said.
According to the 2018 Global Go To Think Tank Index Report issued by the University of Pennsylvania, there were 8,162 think tanks around the globe in 2018, and Asia accounted for 22.4 percent of the total. China's think tanks have evolved rapidly in recent years. Last year, China's think tanks totaled 507, ranking third globally.
Nils Gilman, vice-president of programs at the Berggruen Institute, said that during the process of cyberspace governance, think tanks play an important role in building dialogues, gathering knowledge, enhancing cooperation and creating policies.
To make think tanks play a better role, Sheng of the Cyberspace Administration of China suggested that more joint research, academic seminars and exchange visits should be made to launch high-quality research results, offering support for global internet governance.
In addition, cultural and innovative products should be shared globally, in order to promote balanced development and let countries around the world enjoy the achievements of the internet together.