Homegrown cruise ship enters production stage
Share - WeChat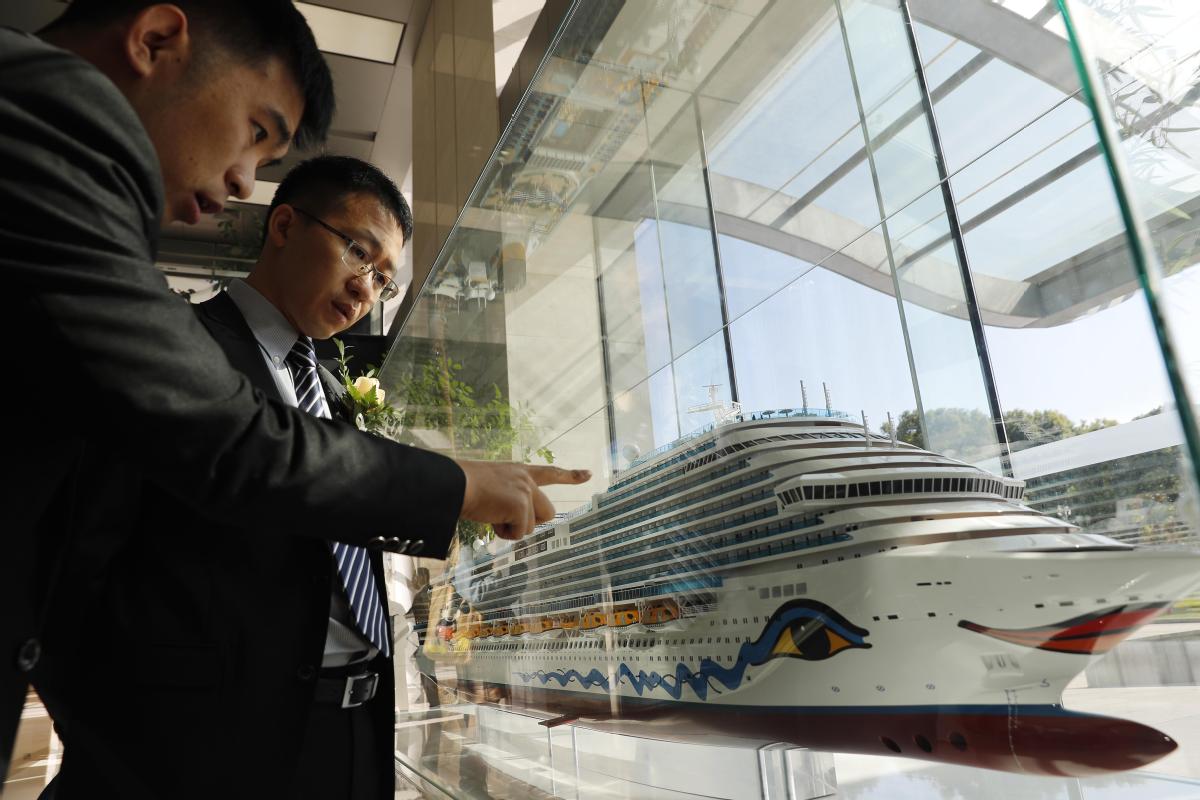 The first cruise liner to be built in the Chinese mainland entered the production phase on Friday, with the 135,500-metric-ton Vista-class vessel expected to showcase China's cutting-edge prowess in shipbuilding technologies, experts said.
The steel sheet cutting ceremony for the cruise ship was held at Shanghai Waigaoqiao Shipbuilding Co Ltd. The vessel is the first of the two 135,500-ton cruise ships written into a design and construction cooperation agreement by China State Shipbuilding Corp, Carnival Corp and Fincantieri during the China International Import Expo in last November.
Shanghai Waigaoqiao Shipbuilding has invested 1.86 billion yuan ($262 million) to adapt its shipyards for the construction of the cruise ship, said Zhou Qi, vice-president of Shanghai Waigaoqiao Shipbuilding.
Being built at a contracted price of $770 million each, the first domestically made cruise ship is scheduled for delivery in September 2023, with the second due in 2024.
The building of its own cruise ships will make China a key player in the cruising industry. Although China receives most of the world's shipbuilding orders and boasts the world's second largest cruise market by passenger volume, it has not built its own luxury cruise vessels yet.
"Large cruise ship building has been a dream for generations of Chinese shipbuilders. The construction of the first cruise ship represents the upgrade of China's shipping industry and will generate high economic value," said Chen Ranfeng, chairman of Carnival Corp in China.
Although China has mastered the technology of various ships including bulk cargo, oil tankers, and ocean engineering vehicles, Zhou said building cruise vessels is entirely different and full of challenges.
The construction of the cruise ship also represents Chinese State shipbuilders' efforts to explore the high-end and high value-added market, which is in line with the country's efforts in advancing reform of State enterprises.
On Sept 9, Xi Jinping, general secretary of the Central Committee of the Communist Party of China (CPC), presided over the 10th meeting of the central committee for deepening overall reform. During the meeting, Xi, also the Chinese president, chairman of the Central Military Commission and head of the central committee for deepening overall reform, said efforts should be made to strengthen the synergy, coordination and efficiency in advancing reform.
For Shanghai Waigaoqiao Shipbuilding, building of the 323.6-meter-long, 37.2-meter-wide cruise vessel is an unprecedented task because it is a mega project that involves 25 million components and parts, more than 500 suppliers, along with 12 million man hours of labor, said Zhou.