Producer touts film diplomacy as effective antidote to Sino-US spat
Share - WeChat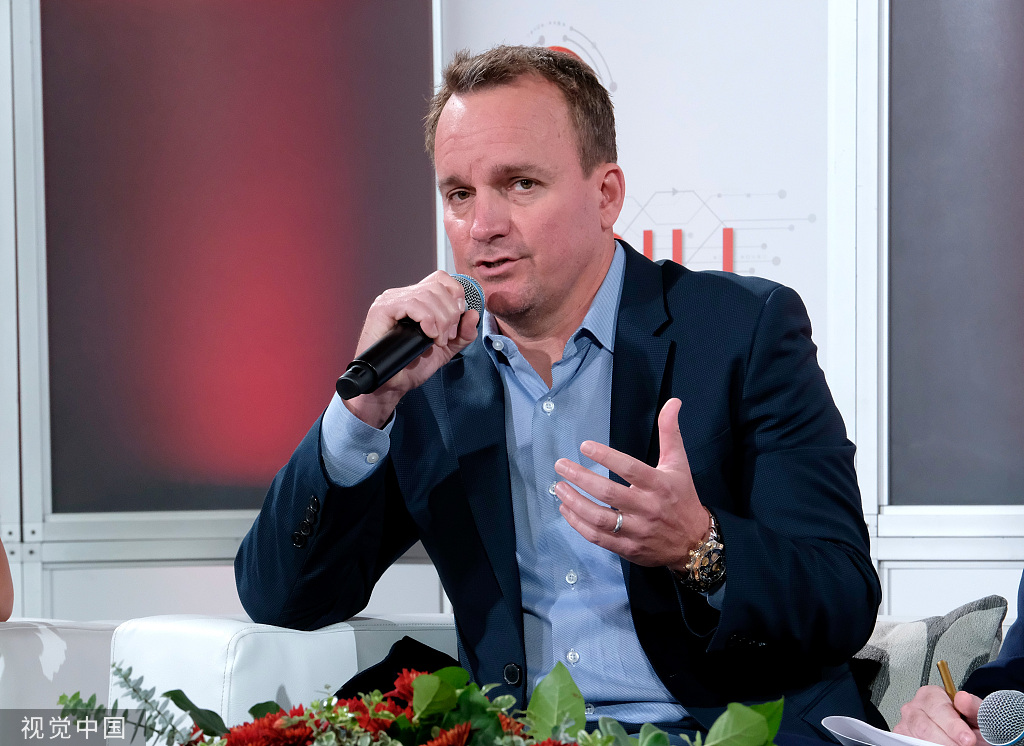 A Hollywood version of ping-pong diplomacy could help soften the strained United States-China bilateral relationship through the human interaction of filmmaking, said a veteran Hollywood producer.
"The US and China can win together and only together," said Chris Fenton - senior adviser to IDW Media Holdings and a trustee of the US-Asia Institute - who recently visited China with a US congressional delegation.
"Diplomacy resulting from bilateral cultural and commercial activities bonds the countries, regardless of the political environment. It creates cultural glue, helping to hold these two superpowers together," said Fenton, who produced or supervised 20 films, including Iron Man 3, Point Break, 47 Ronin and Looper.
Fenton said that during the delegation's 12-day visit to China, everyone they met with - including high-placed government officials - expressed "similar shock and awe" at how rapidly the bilateral relationship has deteriorated.
"Each side needs the other. Without resolving the trade dispute, nurturing civility toward one another and promoting proper channels of diplomacy, both sides will lose," Fenton said.
He said he saw a real willingness to continue to talk, whether on the national or local level in China.
"I find it amazing that almost every Chinese official we met with had spent time living in the US. Many had visited the US several times, and several also spoke English fluently," said Fenton.
Fenton said an antidote to current Sino-US tensions is what he calls "film diplomacy", which can bond the two cultures while also providing a blueprint for commercial success.
"The benefits start with the businesses, individuals and artists directly involved, resulting in a sort of upward chain reaction, eventually influencing each nation's leaders as the bilateral collaboration on films is such an amazingly exposed and talked-about form of art," he explained.
An example of film diplomacy can be found in 2011 when the film Looper was made. "The original script didn't involve China at all, but we found a very interesting way to incorporate China into the plot in a very constructive manner, and we were able to showcase the spectacular Pudong district of Shanghai. The Shanghai government was also heavily involved," said Fenton.
He acknowledged that it took a lot of convincing of filmmakers and different parties, but it was a "super collaborative effort and ultimately that cultural collaboration became commercial", he said. "Without the collaboration on culture, the film probably would not garner a theatrical release in China."
In April 2013, Fenton helped launch Iron Man 3 - the highest-grossing Hollywood film in China at the time. "That film alone took a fledgling market and goosed it with a massive injection of box office steroids, and it couldn't have been done without complete bilateral cooperation," he said.
Despite tensions in Sino-US relations, Fenton said there is a "somewhat healthy" trade between the two countries in terms of Hollywood films in China, with several examples being Marvel's Fast and Furious and Transformers franchises.
Additionally, there is still an expired Hollywood-import film agreement between the US and China, which needs to be negotiated and implemented, he added.
"We can lead by example and push each other to collaborate now. The positive shrapnel of a combined effort will most likely initiate dialogue for a new film agreement, too," Fenton said.