Visit marks new paradigm in China-India relations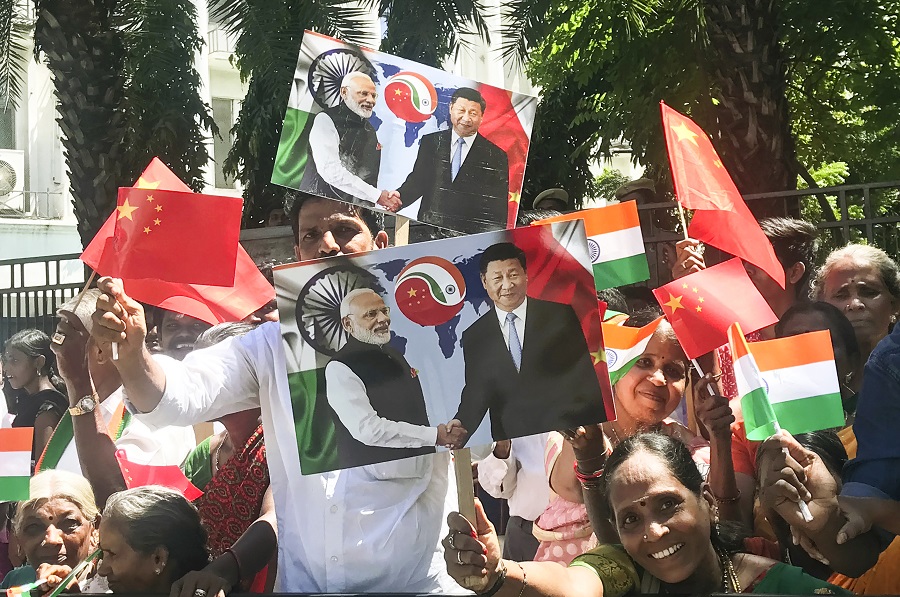 "The #ChennaiConnect will add great momentum to India-China relations. This will benefit the people of our nations and the world", tweeted Indian Prime Minister Narendra Modi after the conclusion of the second informal summit from Oct 11 to 12 with Chinese President Xi Jinping, who had "heart-to-heart" discussions on bilateral relations. "What has happened has proved we made the right decision to have this kind of informal summit and can continue with this form of meeting", Xi added.
The opening remarks of the summit were an attempt to iron out wrinkles in bilateral ties, signaling a resolve to recalibrate the relationship. "We decided we will manage our differences prudently and won't allow them to turn into disputes", Modi said in a reiteration of last year's Wuhan Spirit.
Given the informality of the summit, the meeting ended without any joint statements. Nevertheless, it improved the atmosphere of the relationship in areas like strategic communication, trade, travel, terrorism, cultural links and people-to-people contacts.
Soon after the summit ended, India's Foreign Secretary Vijay Gokhale announced "a new mechanism will be established to discuss trade, investment and services at an elevated level." Chinese ambassador to India Sun Weidong noted,"In the first half of this year, India's trade deficit with China fell by 13.5 percent year-on-year, and its agricultural export to China doubled over the same period last year." Notwithstanding, the trade deficit hovers at a whopping $60 billion. To this end, both sides decided to constitute a high-level mechanism, to be headed by India's Finance Minister and China's Vice Premier.
Secondly, both leaders recognized terrorism as a "common threat" and resolved to make "joint efforts to ensure the international community strengthens the framework against training, financing and supporting terrorist groups throughout the world and on a non-discriminatory basis."
Third, there would be greater importance on civilizational ties and cultural linkages between the two Asian giants. In this regard, the choice of venue was a smart move by New Delhi. Two leaders agreed to foster cultural understanding and enhance greater dialogue between the two peoples. They discussed age-old commercial contacts, including maritime contacts. Both leaders also agreed on establishing "sister-state relations" between Tamil Nadu and Fujian province, as well as "explore the possibility of establishing an academy to study maritime connectivity between Mahabalipuram and Fujian province".
Fourth, India and China decided to enhance people-to-people contacts. "There was a new focus on people-to-people relations. It was decided the public of both countries must be brought into the relationship. Ideas were exchanged on this," Gokhale said. To this end, India decided to further liberalize its e-visa policy for Chinese tourists. The Indian Embassy to Beijing's announced on Oct 11 that Chinese nationals can apply for an e-Tourist visa with 5-year validity and multiple entries.
Fifth, the two leaders welcomed the work of the Special Representatives from Ministry of External Affairs, India, and expect them to reach a "fair", "reasonable" and "mutually-agreed" settlement. They will also have additional confidence-building measures to ensure peace and tranquility on the border.
Finally, both leaders took note of the significant readjustment and changing landscape in global governance. They decided to "share the common objective of working for a peaceful, secure and prosperous world in which all countries can pursue their development within a rules-based international order".
With a combined market of around 2.7 billion people and a share of 20 percent of the world's GDP, these two ancient civilizations and major economic players can shape the world to reflect the new realities of the 21st century by choosing cooperation over conflict. As the Chinese ambassador to India pointed out, "It is normal for neighbors to have differences. The key is to properly handle differences and find a solution through dialogue and consultation." Thus the two countries need to explore innovative methods in informal settings to carry out "India-China plus" cooperation and work on a vision for a shared future.
Md Yasin is a visiting fellow at Peking University and a Ph.D. candidate at Jawaharlal Nehru University in New Delhi.
The opinions expressed here are those of the writer and do not represent the views of China Daily and China Daily website.
Most Viewed in 24 Hours
China Views