Tech might help sustain shares in fourth quarter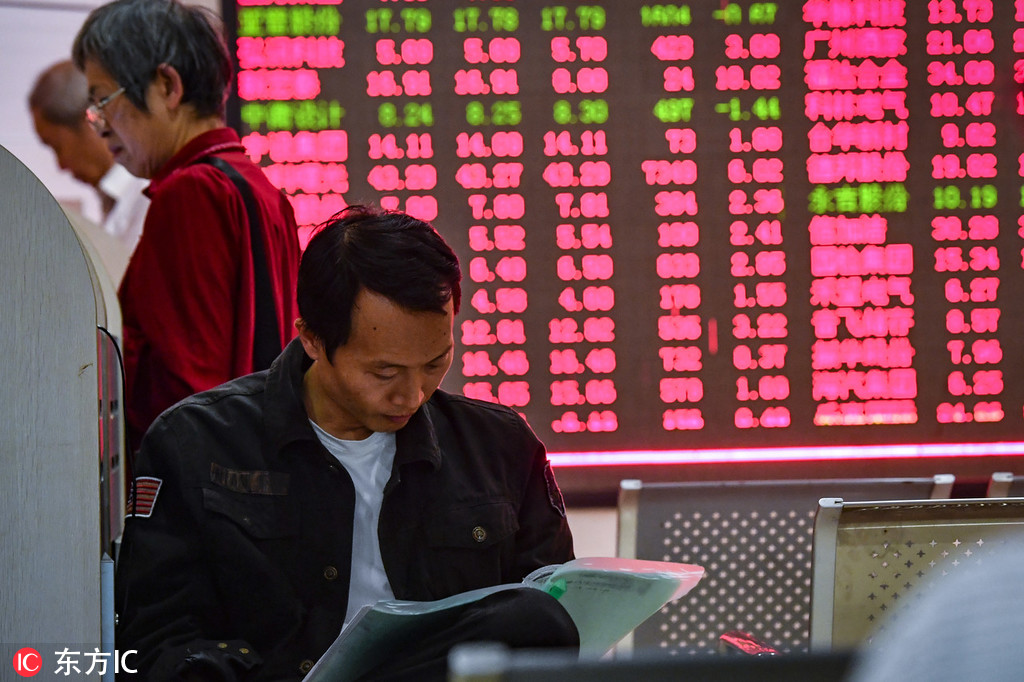 Technology shares may lead Chinese equities higher to stand out among global financial assets in the fourth quarter, but uncertainties surrounding trade tensions with the United States may complicate any potential uptrend, analysts said.
"We continue to believe that emerging market equities in general are relatively attractive investments and that leading EM equities will be Chinese equities," said Daniel Gerard, senior multi-asset strategist at State Street Global Markets, a US-based global investment research and trading services provider.
"We expect a positive fourth quarter for China's A shares with a caveat," Gerard said. His forecast is predicated on further economic stimulus from Beijing, progress toward a Sino-US tariff resolution and global central banks' coordinated liquidity support that will manage to assuage any slowdown.
The caveat of this forecast mainly derives from possible twists and turns in the resolution of trade tensions, he said.
Technology firms have the potential of being outperformers among A shares given the sector's long-run strong prospects amid China's economic upgrading, Gerard said.
Near-term downside sector risks stemming from US tariffs and slower global growth, however, should be watched, he added.
Valuations of technology shares related to 5G infrastructure and consumer electronics are still "reasonable", considering the two sectors' foreseeable earnings growth over the next two years, said a Beijing-based portfolio manager who declined to be named.
Further monetary easing could be expected over the rest of the year, which will boost risk appetite and benefit high-growth tech firms, he said, adding that the opportunity window for adding exposure to the two sectors should open if the market sees downward adjustment.
During the July-September period, the Shenzhen, Guangdong province-based ChiNext — which is heavy with innovative and growth enterprises — rose 7.68 percent to 1,627.55 points, with subindexes tracking sectors of semiconductor and electronics rising 20 percent and 16 percent, respectively, according to financial information provider Wind Info.
Over the same period, the benchmark Shanghai Composite Index fell 2.47 percent to 2,905.19 points, after retreating from a 11-week intraday high on Sept 16.
The market retreat in late September partly reflected mild disappointment over cautious easing measures by the People's Bank of China, the central bank, and investors cutting exposure before the long National Day holiday, said Wendy Liu, head of China Strategy at UBS Investment Research.
Looking at the fourth quarter, investors are hopeful that the new lending reference rate will continue to decrease, which should help repair margins and potentially restore valuations of some stocks that face large interest expense payments, Liu said.
As the market reopens on Tuesday, investors will grapple with fluctuations in overseas stock markets over the holiday and await progress in upcoming Sino-US trade talks and third-quarter earnings results.
Recent overseas fluctuations are not likely to exert a major impact on A shares as the slide of US stocks was limited, said Ricky Zhong, a fund manager at iMeigu Capital Management.
US stocks tumbled in the first two trading days of October amid recession concerns and trade tensions between the US and the European Union. The market recovered later, with the S&P 500 ending the week 0.33 percent lower at 2,952.01 points.
Vice-Premier Liu He is about to lead the Chinese delegation to Washington for the 13th round of the China-US high-level economic and trade consultations in the week following the National Day holiday, according to the Ministry of Commerce.
Ahead of the resumption of trade talks, the US administration was reported by Bloomberg to be considering policies restricting portfolio investment in Chinese equities. White House trade adviser Peter Navarro told CNBC on Sept 30 that over half of the report "was highly inaccurate or simply flat-out false".
Such restrictions, if taken, may weigh on A-share investor sentiment in the short term but are not likely to cause any major disruptions considering the limited US holdings in A-share assets, said Dong Dengxin, director of Wuhan University of Science and Technology's Finance and Securities Institute.