Latvia's beach volleyball players win spots in Tokyo Olympics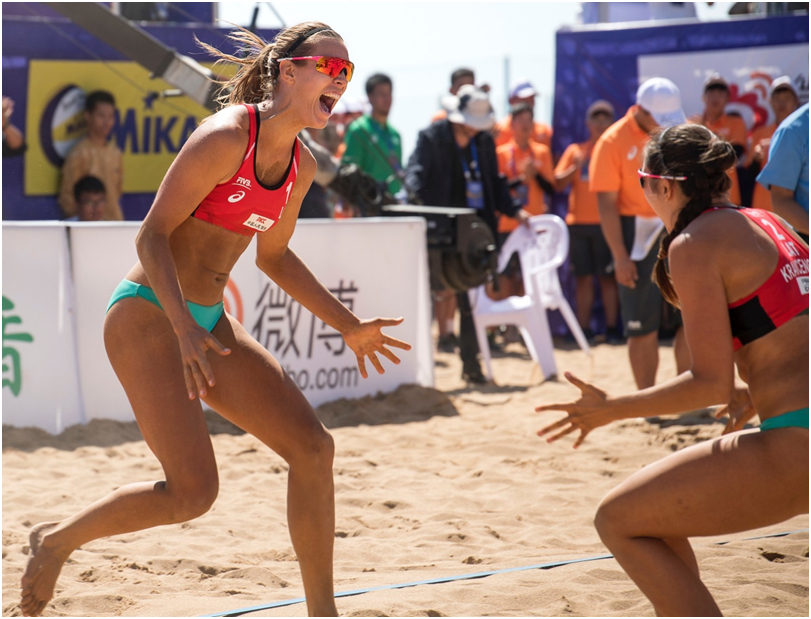 Latvian beach volleyball grabbed both the men's and women's spots for the 2020 Tokyo Olympics after winning the qualification event on Sunday.
The FIVB Tokyo Beach Volleyball Qualification started in Haiyang in East China's Shandong province on Wednesday, with 16 men's and women's teams from the FIVA's top-ranked 15 countries participating in a five-day competition.
The Latvian women's team beat the Czech Republic 2 to 1 on Sunday after their male counterparts won the qualification the day before.
The Czech pair is the former world No 1, while Latvia won the 2019 European championships. The Czech Republic was 2 points behind from victory at 13-9 in the deciding third set when the Latvian pair came from behind to win 17-15.
This marks the first time a Latvian beach volleyball pair will enter the Olympics.
Another qualified quota went to Spain's women's team and Italy's men's team.
Joined by winning teams from the Haiyang qualifier, the world's top 15-ranked teams will enter the Tokyo Olympics automatically. China's Wang Fan/Xia Xinyi, ranked 20th and knocked out in the qualification, will take part in more matches to elevate their ranking.
The qualification marks the highest-tier beach volleyball event in China.
Haiyang, a coastal city in East China's Shandong province, is renowned for its fine grain sand and national forest park. It emerged as the nation's beach sport destination after hosting the third Asian Beach Games in 2012, following other national and world events, like the Beach Soccer World Cup and the National Beach Volleyball Tour.