FAW looks to take slice of ride-hailing market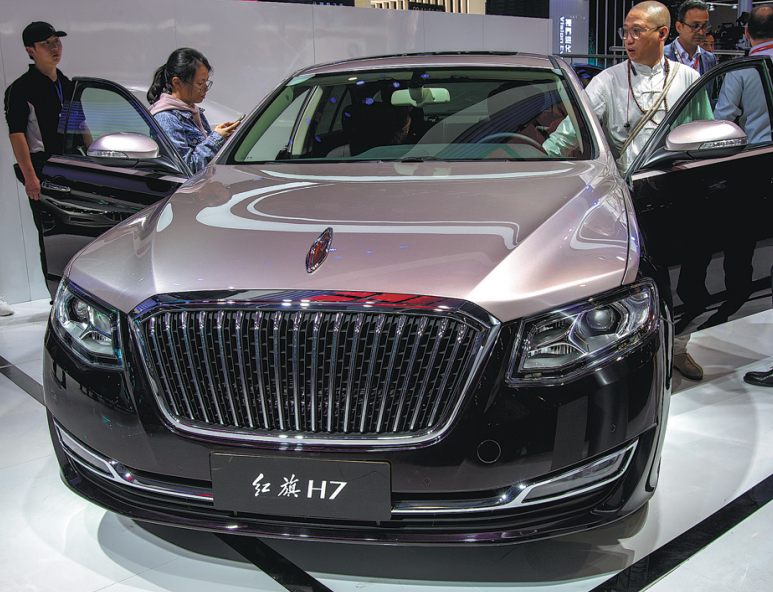 Group joins manufacturers attempting to challenge Didi Chuxing's dominance
China's FAW Group launched its ride-hailing app Qimiao Chuxing on Tuesday, firmly placing the manufacturer's hat in the ring of China's competitive ride-hailing industry.
Targeting a mid-to-high-end market, the app aims to provide multi-scene business travel services, including online ride-hailing, car rental and vehicle finance for the H7 and H5 sedans, and the first pure electric SUV, the E-HS3 of FAW Group's premium brand Hongqi.
The app has services available in 57 cities around the country, including Beijing, Shanghai, Guangzhou and Shenzhen in Guangdong province.
In January 2018, FAW released a new Hongqi brand strategy with a plan to build an intelligent travel ecosystem, and the Hongqi Intelligent Technology Co was established last October for R&D into smart travel platforms.
Hongqi is not the only domestic automaker to saddle up for the Chinese ride-hailing market.
Other companies, such as Great Wall Motors, SAIC and GAC have developed their own ride-hailing platforms.
China's online ride-hailing market will value at $72 billion by 2020, according to the global consultancy Bain& Company.
At present, Chinese transportation giant Didi Chuxing occupies more than 90 percent of the market with more than 500 million users.
Massive investments by automotive manufacturers in ride-hailing companies, such as Didi Chuxing, have further fueled the segment's growth.
Last Monday, Didi Chuxing teamed up with Japanese carmaker Toyota, establishing a joint venture named Fengju Chuxing Technology to expand their partnership in smart transportation.
With $15.8 million in registered capital, the joint venture will provide services covering vehicle sales, technology research and development in addition to ride-hailing, the company said.
In July, Didi announced that Toyota will invest $600 million in Didi and a joint venture of the two companies to provide vehicle-related services for ride-hailing drivers on Didi's network. The two parties announced collaboration on the e-Palette, a self-driving modular store in January 2018, and have piloted vehicle-related services for Didi ride-hailing drivers.
"We look forward to combining Didi's expertise in AI-based large-scale mobility operations and Toyota's leading connected vehicle technology to build a next-generation intelligent transportation framework for sustainable cities," said Zhu Jingshi, Didi's senior vice-president.
Researcher Lu Bu, of ride-hailing information provider Online Ride-Hailing Neican, said that the cooperation will help Toyota increase its vehicle sales and expand its car rental market in China.
Meanwhile, Didi will be provided with abundant vehicle models for customers.
Didi initiated a cross-sector alliance last year with top carmakers and industry players at home and abroad to create an open platform for future automobile solutions.
The company since last year has been suffering from regulatory hurdles and public backlashes after several safety incidents, which have also led to tightening regulations in China.
Global management consultancy Bain & Company said that the Chinese on-demand mobility market is likely to expand less than 5 percent this year, slowing from a 25-percent growth in 2018.
Raymond Tsang, a Bain & Company partner, told Xinhua News Agency he is upbeat about the growth and profitability prospects of China and other Asian developing countries, as consumer confidence gradually recovers and service quality improves.