China continues to sweep 2019 weightlifting worlds with new record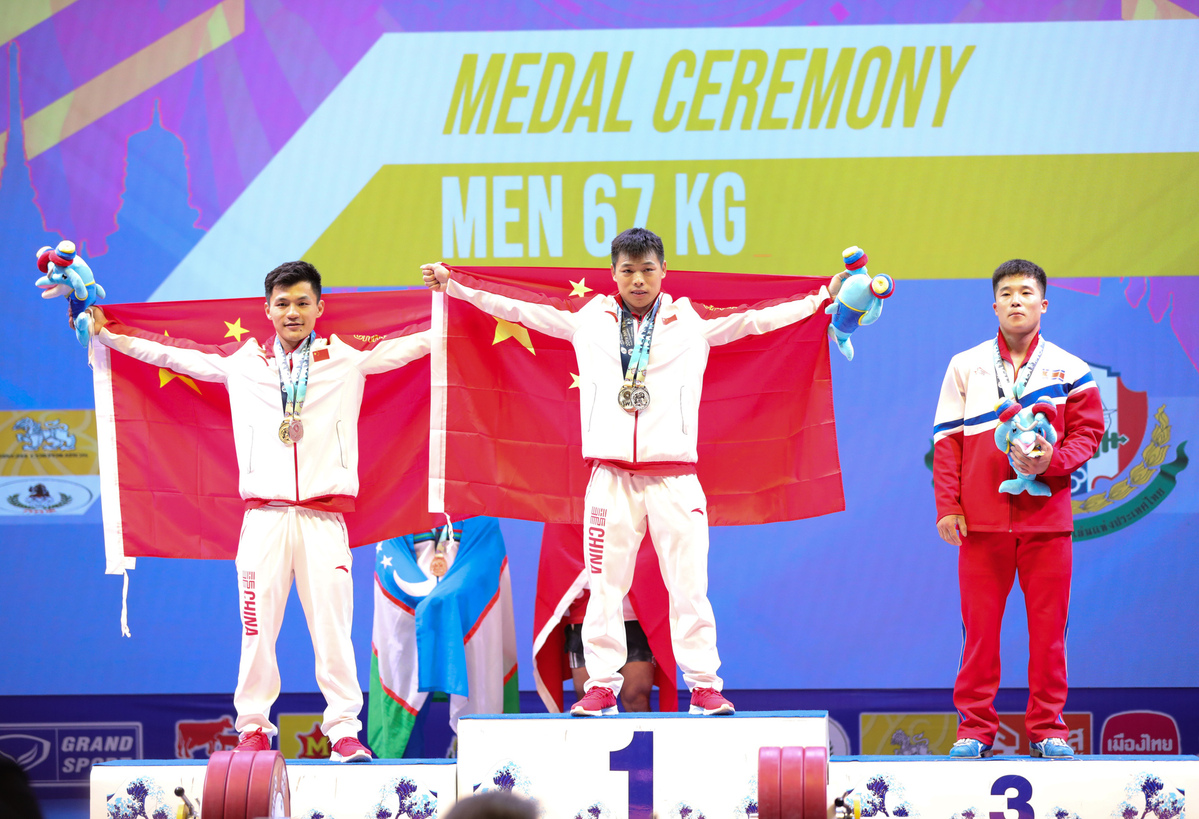 PATTAYA, Thailand - Chinese athletes swept the two categories of men's 67kg and women's 55kg by winning both gold medals of total and setting a world record at the same time at the 2019 International Weightlifting Federation (IWF) World Championships on Friday.
In the men's 67kg category, Feng Lyudong from China competed in Group B and won a gold medal in snatch with a good lift of 153kg at the second attempt. The other two medals both came from Group A as Turkey's Daniyar Ismayilov took a silver on 150kg at the first attempt and the bronze went to Chen Lijun from China on the same weight at the second attempt.
The championships saw fierce competition in clean and jerk of the men's 67kg as Chen and Pak Jong-ju from DPRK set new world records in succession. Right after 27-year-old Chen broke his own clean and jerk world record of 185kg with a good lift of 187kg at the third attempt; Pak came onto the stage and set a new record again by one kilogram. Adkhamjon Ergashev, a 21-year-old weightlifter from Uzbekistan, won the bronze on 182kg.
Chen finally won the gold medal of total on 337kg and his teammate Feng took the silver on 333kg. Pak finished in third with 330kg as his low rank in snatch set off his performance in clean and jerk.
The third day of the competition also featured the women's 55kg division. With outstanding performances, Chinese athletes Liao Qiuyun and Zhang Wanqiong won all the golds and silvers in the category. Zhang finished top in snatch on a solid 99kg at the third attempt. Liao, on the other hand, failed at the first attempt in snatch, but finished second on 98kg. Muattar Nabieva from Uzbekistan won the bronze on 96kg.
In clean and jerk, Liao did not face threats from the other athletes and succeeded at all the three attempts. She won the gold in clean and jerk by setting her own world record of 128kg by one kilogram at the last attempt. Zhang finished second on 123kg while Hidilyn Diaz from Philippines took the bronze on 121kg.
In the women's 55kg category, Liao won the gold on 227kg in total while her teammate Zhang claimed the silver on 222kg. The bronze went to Diaz on a total of 214kg.
The 10-day championships, running through September 27, also serve as qualifiers for the 2020 Tokyo Olympic Games.