Crawfish craze keeps industry on a roll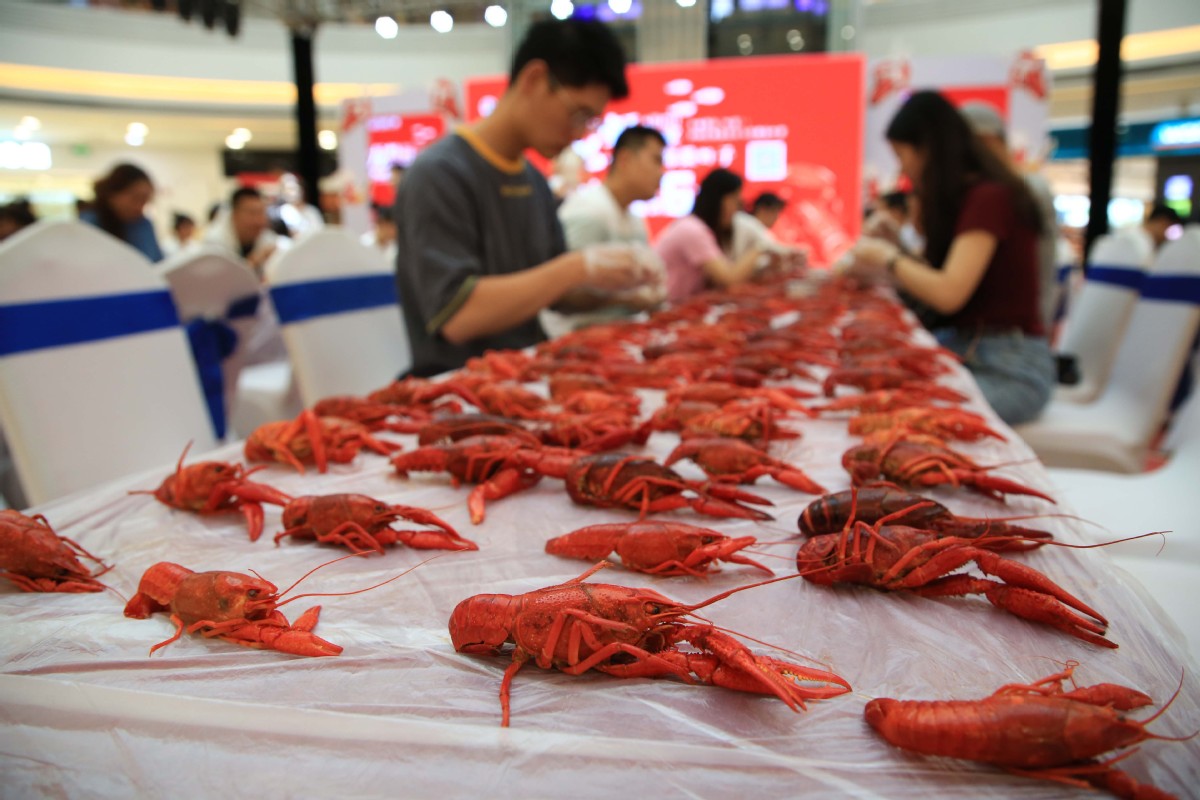 Sector expected to maintain steady growth trend in nation as consumer demand for product surges
Seafood-savvy Chinese are eating more crawfish at restaurants and through e-commerce purchases. Resembling small lobsters, the delicacy has been quite popular on Chinese dining tables and for late-night snacks over the years.
May, when crawfish mature, is the start of the peak season for crawfish consumption, and it runs until September. Crawfish can be cooked in various flavors such as spicy, minced garlic, stir-fried ginger and scallion, braised soy sauce, and innovative flavors such as cooking with salted egg yolk, cheese, and fermented bean curd.
"Crawfish has become one of the most sought-after and highly recognized summer foods in the country. Continuously launched new flavors in the market further stimulated the demand from consumers. They helped to enlarge consumer group scales, and raise the average spending and eating frequency," said Neil Wang, president of consultancy Frost & Sullivan in China.
"The process of eating crawfish is kind of complicated, which limits the use of mobile phones during meals, and thus it helped to create a natural social networking scenario for diners," he said.
As an indication of how much crawfish has triggered the appetite of Chinese consumers with sophisticated tastes, a search of the words "crawfish delivery" through Dazhong Dianping, a Chinese customer review app that is similar to Yelp, results in more than 3,100 restaurants that offer deliveries in Beijing alone.
Depending on different sizes, prices of cooked crawfish at restaurants are usually around 80 yuan ($11.3) to 200 yuan per dish, and most reviews from consumers said they like the food very much, according to Dazhong Dianping.
"Sales of crawfish have grown remarkably and rapidly in the past few years, and now it has stepped into a more stable growth period with more rational prices. Next, its growth rate is expected to slow down," said Cui He, director of China Aquatic Products Processing and Marketing Alliance.
Last year, the total industrial output of crawfish in China was worth 369 billion yuan, up 37.5 percent year-on-year, according to a new crawfish sector growth report released by the Ministry of Agriculture and Rural Affairs in late August.
In May last year, the government released crawfish sector related guidelines about the standardization of circulation grade, safety and hygiene index, packing requirement, transportation and storage requirement, providing more specific guidance and monitoring of the crawfish market.
Talking of the industrial chains, sales in the crawfish cultivation sector hit 68 billion yuan last year. The processing industry yielded sales of 28.4 billion yuan, and the sales of the tertiary industry, mainly catering, came in at 272.6 billion yuan, the report said.
In 2018, the total output volume of crawfish reached 1.64 million metric tons, and the total breeding areas stood at 1.13 million hectares. Among the total, crawfish cultured in rice fields accounted for over 70 percent.
The yields from Hubei, Hunan, Anhui, Jiangsu, and Jiangxi provinces, respectively, took the top five spots. Among which, the output of Hubei province reached 812,400 tons last year, which made up about half of the country's total output.
The competition between industrial players has become more intense. Last year, major Chinese e-commerce platforms such as JD, Tmall and Freshhema, saw substantial sales of crawfish, and their cold chain distribution and logistics systems have developed fast. Fresh crawfish, peeled crawfish, condiments, cans, crawfish noodles, and many other categories, can be easily ordered online.
"Now, many e-commerce retailers would prefer to purchase fresh crawfish directly from breeding places, and process locally, and thus eliminate intermediate links and costs. This would be beneficial for both consumers and farmers," Wang of Frost& Sullivan said.
Meanwhile, 140,000 new crawfish restaurants were opened nationwide last year, surging nearly 70 percent year-on-year, and more restaurants have launched express delivery business of crawfish. Retailers focused more on developing branded crawfish with local or national impact, according to a report by China's leading group-buying provider Meituan.
Orders of crawfish delivery last year were 2.6 times higher than the previous year, and the transaction value was 4.3 times higher, Meituan said.
From January to May this year, another 5,000 new restaurants selling crawfish have opened. Major cities like Beijing, Shanghai, Guangzhou, Shenzhen and Chengdu each have more than 3,000 such restaurants.
"In the long term, the crawfish segment in China will maintain a steady growth trend, but the growth rate will slow down. The overall supply-demand relationship of the industry will become more balanced," said the Meituan report.
"The industrial chain of crawfish has been further extended, and the industrial structure will get upgraded. Crawfish will be produced on a larger and more organized scale," the report said.