Quincy keeps his cool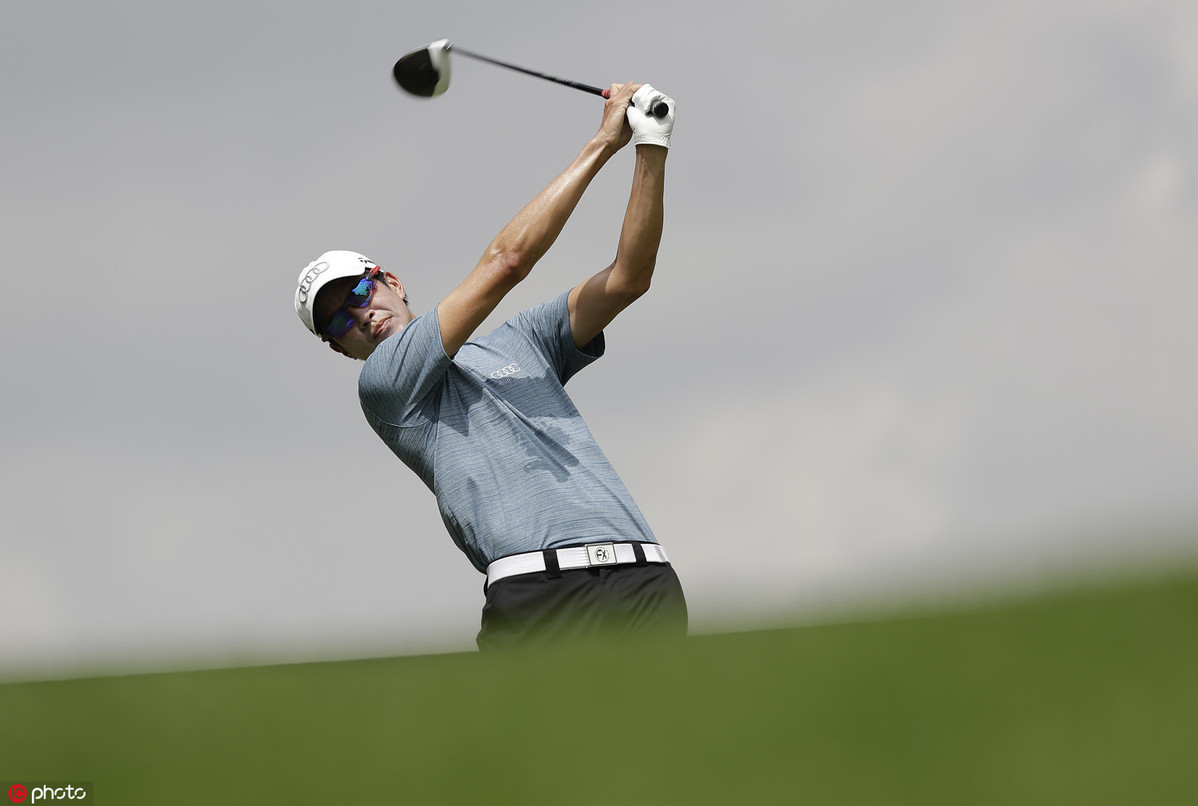 Singaporean holds off Bai's charge to notch first tour win
Singapore's Quincy Quek knows the value of patience.
The 32-year-old said Sunday's final round of the Haikou Classic took "forever" to complete, but the wait for his first victory on the PGA Tour Series-China was well worth it.
"I think this win will hit me later. Now I'm just trying to absorb everything, but I'm very happy and very pleased with how the week has gone," said Quek.
"Today was a very long round. It felt like forever ... but I finally got across the finish line."
Quek, who has been playing in the series since its inaugural season in 2014, had recorded three top-five finishes in 38 starts.
In Haikou, he shot 65-67-63 over the first three rounds to give himself a comfortable lead heading into Sunday, but China's "Bobby" Bai Zhengkai made him work for the victory, finishing two strokes back of Quek, who ballooned to a 2-over 73 in the final round.
For the 22-year-old Bai, now ranked sixth on the order of merit, his finish was a huge confidence boost. The top five on the order of merit at the end of the season will earn tickets to the Korn Ferry Tour next year, while those finishing sixth through 10th will bypass the early Korn Ferry qualifying tournaments and advance directly to the final stage.
Cyril Bouniol of France currently sits fifth on the money list, but he's only 1,483 yuan ($210) ahead of Bai, who has a win, a second-place finish and a tie for 10th over his past four PGA Tour Series-China starts.
"I did really well this week. I think the first round held me back and there were some mistakes, but I was really pleased to be able to recover the way I did and I gave myself a chance to win today," said Bai.
"I'm really happy with my performance, and I think I'm in a good position with a few tournaments left."
Bai, who turned pro in May and is still taking online classes at the University of Central Florida while he competes in China, is planning to graduate a semester early-at the end of this year-and concentrate on golf full time.
"There are a few events left and I want to focus on those. I'm getting more confident each week, and I'm excited to keep the momentum going next week in Zhuzhou (Hunan province) to try to reach the Korn Ferry Tour," he added.
Six-stroke lead
Starting the day with a six-stroke lead at Mission Hills Haikou, Quek managed to hold on to become the first Singaporean to win on the tour.
Bai made it close by firing a 5-under 66 for the third consecutive round, but fell just short in his bid to capture a second tour title after winning the Huangshan Championship in June.
Australia's James Marchesani shot a 68 on Sunday to tie for third with Chinese Taipei's Wang Weihsuan (66) and Lee Chieh-po (71), and American Brad Gehl (69), who played in the final group with Quek.
Quek didn't make it easy on himself on Sunday. After dropping a shot on his second hole, he failed to generate any momentum, making nine consecutive pars before a birdie on 12 brought him back to even for the day.
Quek then dropped back-to-back shots on holes 16 and 17 but closed with a par for a 16-under total.
"I felt today was quite challenging, and I didn't hit it as close as I did the first three days," he said.
"Trying to get some birdies was a little bit tough, but I kept my head in the game and kept making pars and tried to look away from the leaderboard as much as possible."
After starting the week 32nd on the money list, Quek has jumped to ninth after pocketing 288,000 yuan for the victory.
"My goal this week was just to make the cut because I was sort of on the cut line to keep my card," he said.
"Coming into this week my game was looking not too bad, and I like this course and I've had good results here.
"I felt this was a good week for me to make a move."