Grandson leads grandma in wheelchair on dream trip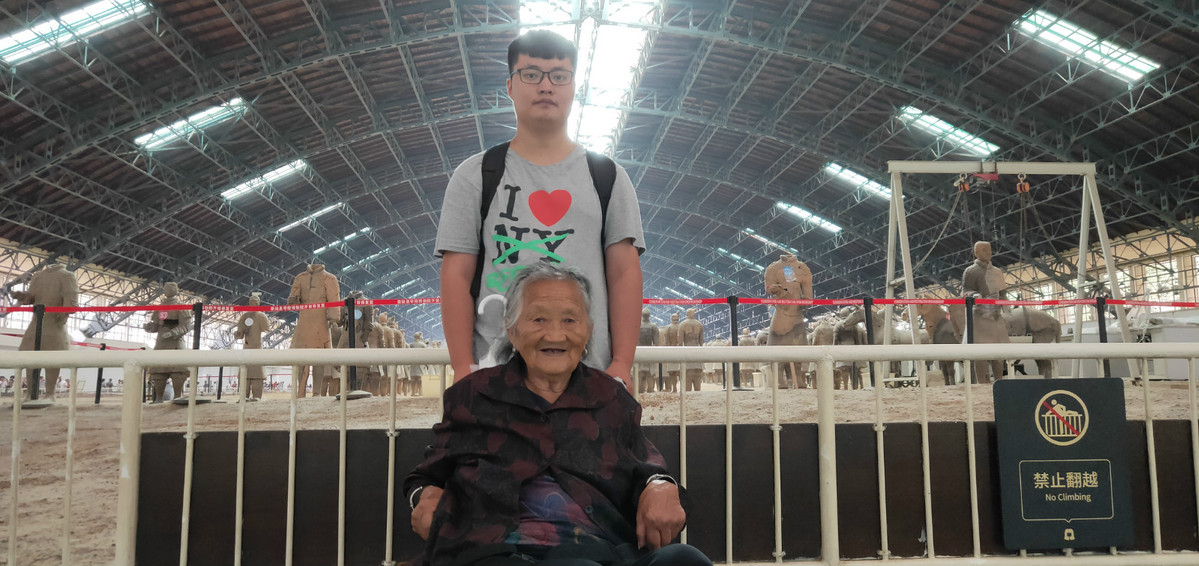 Zhao Zong, a 26-year-old man from Zhoukou, Central China's Henan province, recently became a star on the internet for pushing his 97-year-old grandmother in a wheelchair around during a tour of Xi'an, Shaanxi province in Northwest China.
Starting on Sept 1, he spent nearly a week taking his grandmother to popular sites, like the Terracotta Warriors and Giant Wild Goose Pagoda, to help her see the city.
Zhao didn't want his grandmother to be exhausted during the trip, so two weeks before the trip he bought a foldable wheelchair for her.
Zhao is close to his grandmother. When he was 3, his parents couldn't take care of him for a variety of reasons, and from then on, she raised the frail and infirm boy. "That's why I have deep feelings for her," Zhao explained.
"It's always been my dream to take my grandmother on a trip," Zhao said, especially since his grandfather died. "I feel so excited that my dream finally came true."
Talking about the trip, his grandmother couldn't hide her joy. "The trip was so good; I feel so happy. And I am so glad to have such a thoughtful grandson."
"She accompanied me growing up, and I will be there as my grandma grows old," Zhao said. Although he can't always be at home, he calls his grandmother when he's away. Most of the time, he simply listens to her talk because she has slight difficulty hearing.
As long as conditions allow, he next plans to take his grandmother to Qingdao to see the sea, and hopefully more places in China, to create good memories for his grandmother, Zhao said.
Zhao's story received numerous thumbs-ups on Chinese social media platform Weibo.
"Filial piety is one of the greatest virtues. We all should learn from him," one internet user said.
Shi Baoyin in Zhengzhou contributed to this story.