City of bird-watching welcomes flocks' frequent visits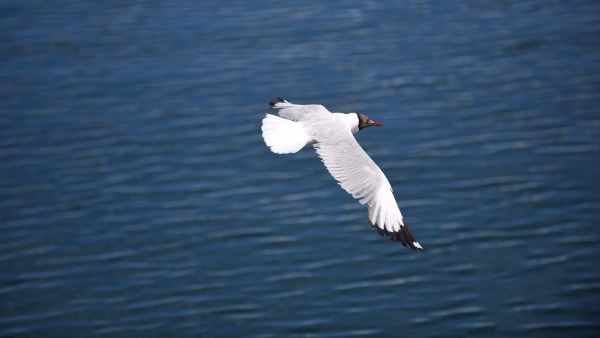 Spiraling down to the wetland, dozens of white spoonbills begin to dance elegantly or perch leisurely in shallow puddles of the Beidaihe Wetland, in the city of Qinhuangdao, North China's Hebei province.
With the dropping temperature, migratory birds including black-tailed gulls, pied avocets and common terns begin their long journey this year, heading southward to spend the winter. Beidaihe is one of their favorite stops along the route.
As an important hub in the migratory path to Siberia, East Asia and Australia, Beidaihe welcomes large numbers of birds every year during the migration seasons of spring and autumn.
"This year has witnessed the frequent appearance of seagull flocks in the wetland and my camera has captured the scene more than once," said Hu Xiaoyan, a local bird-watcher with nearly 10 years of experience.
"It shows that years of efforts in environmental protection are paying off," Hu added.
Hebei, where economic development was dependent on heavy industry, was always inflicted by pollution. But now, habitats for both humans and animals are improving as the local government speeds up efforts to upgrade its industries and develop tourism as a new economic engine.
As one of the most popular tourist destinations in Hebei, Qinhuangdao has adopted an ecology-orientated approach and built itself as the model city for ecological development in the Beijing-Tianjin-Hebei metropolitan area. The city received 72 million tourists last year.
"With about 466,667 hectares of forest and 64,000 hectares of wetland, Qinhuangdao is home to more than 500 bird species, accounting for nearly 36 percent of China's total," said Liu Xuezhong, secretary-general with the city's bird-watching association.
To provide the birds with a more favorable habitat and combat pollution, the local government has also taken a series of measures, such as an all-out ban on fertilizers and the launch of large-scale afforestation.
According to Hu, the constantly improving environment in the wetland has attracted black-faced spoonbills this year, an endangered species picky about their surroundings.
"A conspicuous change can be seen here, with both the number of species and birds on the rise, which has attracted a large number of bird-watchers from home and abroad," Hu said.
`