2017 Tianjin Binhai Bird Watching Festival focuses on wetlands conservation
Share - WeChat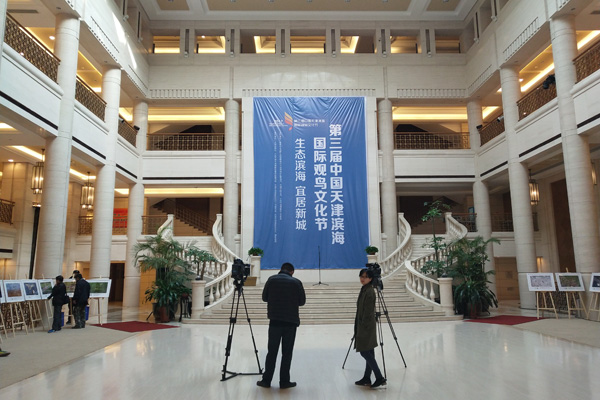 Tianjin Binhai Bird Watching Festival was held Nov 17 at Dagang Grand Theater in Tianjin Binhai New Area. [Photo by Zhang Xingjian/chinadaily.com.cn]
Co-organized by the Department of Wildlife Conservation and Nature Reserve Management of China's State Forestry Administration and the People's Government of Tianjin Binhai New Area, the opening ceremony of the Third Tianjin Binhai Bird Watching Festival was held Nov 17 at Dagang Grand Theater in Tianjin Binhai New Area and Beidagang Wetland Nature Reserve respectively.
With a theme of ecological nature in Tianjin's Binhai New Area, the festival calls attention to the importance and significance of protecting migratory birds and wetlands.
"The overall ecological condition of the Beidagang wetland nature reserve shows a positive trend after a series of measures having been taken in the past year. My team has conducted the survey recently and found that the diversity of migratory birds in this area has grown and the wetland has become more suitable for birds to stay," said Zhang Zhengwang, professor from Beijing Normal University, at the Tianjin-based International Symposium on Coastal Wetlands and Waterfowl Protection.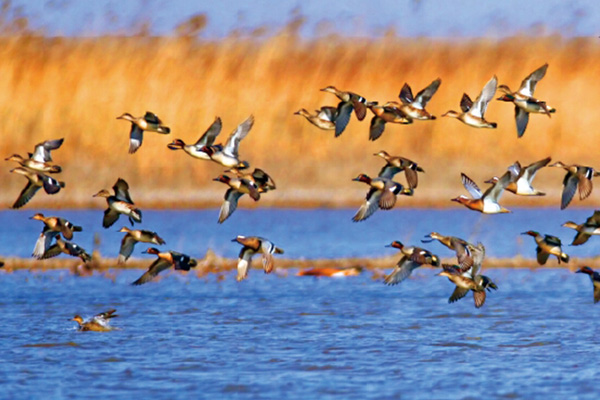 Beidagang wetland nature reserve [Photo provided to chinadaily.com.cn]
The Beidagang wetland nature reserve in North China's coastal city Tianjin has witnessed more than 70,000 migratory birds this year.
The wetland, covering 348.87 million square meters, is a stop for birds migrating from Inner Mongolia to the Bohai Gulf in the eastern part of China. It is a key component of one of world's eight bird migration routes.
Since early November, birds including swans, wild geese and about 100 endangered Oriental white stork have arrived at the wetland, said Yang Jiwen, director of the Beidagang Wildlife Protection Station.
According to Yang, over one million birds of 200 species stop over in Beidagang wetland every year.
About 500 volunteers are working with the station to feed the birds and protect them from poaching.
Wang Jianmin, a volunteer, told Xinhua News Agency they haven't found illegal hunters. "We will cast fish feed to make sure the birds have enough food for winter."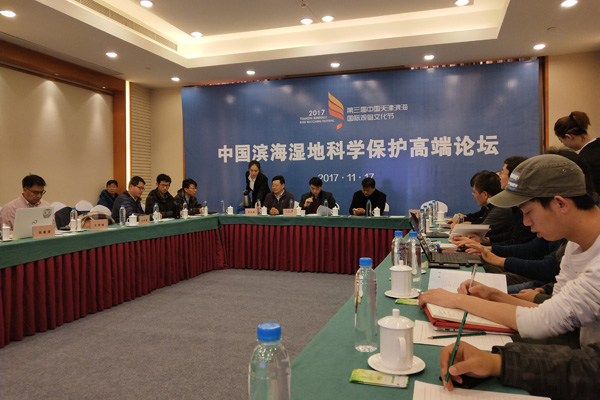 Tianjin Binhai Bird Watching Festival was held Nov 17 at Dagang Grand Theater in Tianjin Binhai New Area. [Photo by Zhang Xingjian/chinadaily.com.cn]
Meanwhile, the Tianjin Binhai Wetlands Conservation Entrepreneur Alliance is one of the highlights of the festival.
Lu Xue, director of the Dagang Branch of the Tianjin Agricultural Bank, said that enterprises have strived to utilize the advantages of most enterprises' platforms to protect Beidagang wetland nature reserve.
"Enterprises can pool resources and connect people from all walks of life, which can help more people understand the necessity of protecting our nature."
The 2017 Tianjin Binhai Bird Watching Festival lasts until May 10, 2018. During the festival, a variety of events including photography exhibitions, cultural shows and voluntary activities will be held in turns.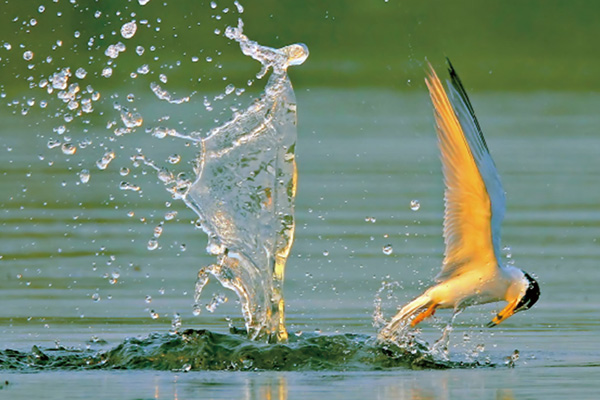 Beidagang wetland nature reserve [Photo provided to chinadaily.com.cn]