Talent may join firms using technology on policy push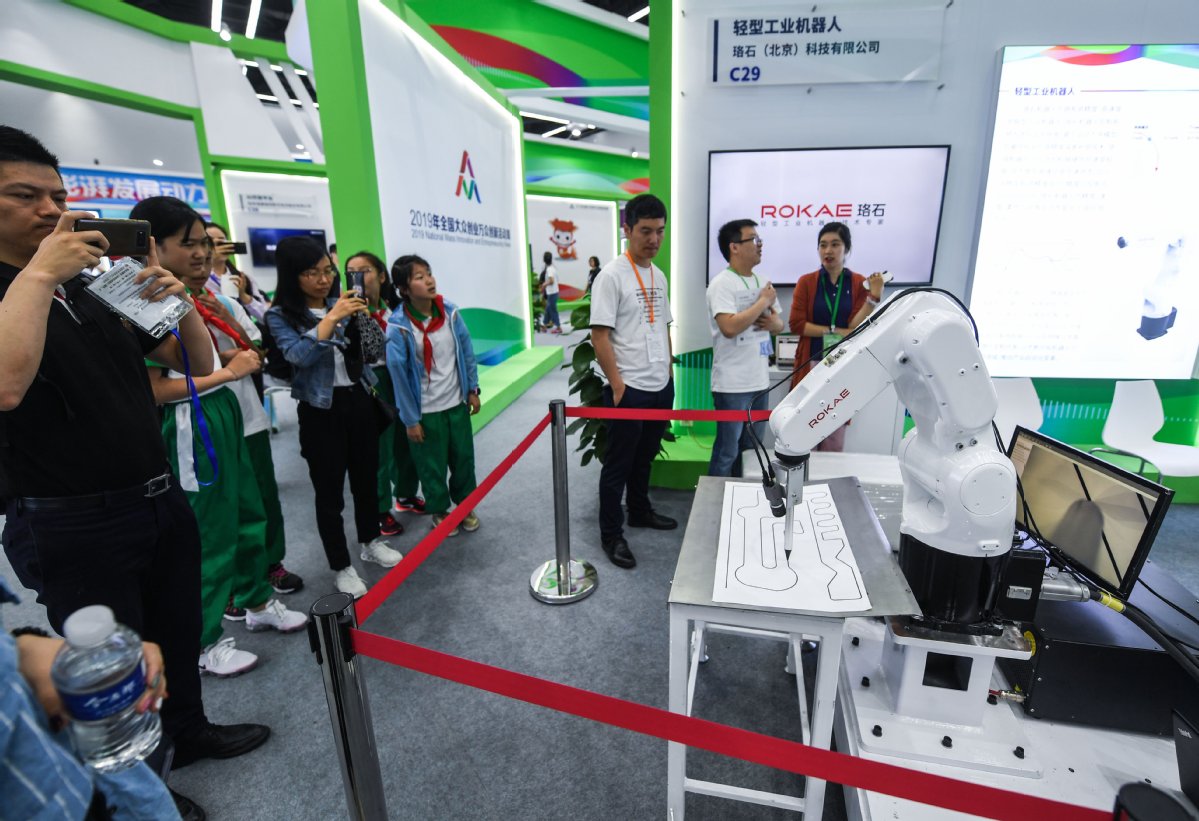 LinkedIn co-founder says nation a fertile ground for blitzscaling of startups
China's policy package to support innovation and entrepreneurship in the initial, growth and maturity stages will effectively transform new technologies into companies' core competitiveness, said executives from LinkedIn, the California-based online social network for professionals.
Reid Hoffman, co-founder of LinkedIn, said for startups, China remains a fertile ground for blitzscaling, which he once described as "the science and art of rapidly building out a company to serve a large and usually global market, with the goal of becoming the first mover at scale. This is high-impact entrepreneurship".
With uncertainty plaguing every sphere of human activity in the current economic scenario, China's unique advantages for entrepreneurship have become prominent, he said.
Taking full advantage of the country's fiercer market competition, faster business decisions and iterations, abundant talent pool, stronger technology drive and digitalization, Chinese entrepreneurs will have the opportunity to achieve rapid expansion and sustained prosperity more easily than ever before, he said.
Hoffman's idea is shared by Lu Jian, president of LinkedIn China, the local unit, who believes that with China's economy changing from high-speed growth to high-quality development, LinkedIn has started to enhance digital innovation and created new momentum for Chinese companies' development.
The US company's China unit has seen its Chinese users grow more than 10 times to top 48 million today. LinkedIn entered China in 2014. Supported by over 15,000 employees globally, LinkedIn has 645 million registered members in over 200 countries and regions.
Lu said China is an important expanding market for career development services, and the company will continue to localize its services and work with industry partners to seize the opportunities from this fast-growing market.
LinkedIn said it will enrich its service content. It introduced an updated strategy for the Chinese market in May as the company aims to help users "connect to opportunity" by establishing a one-stop career development services platform, with new services rolled out such as Career Guide, E-learning and Salary Insights.
Since we have top startups, successful entrepreneurs and teams, investors and incubators on our platform, we hope to better empower startup groups, share their ideas, understand the latest market trends and establish network connections, as well as seek the right talent and offer job opportunities, he said.
The Silicon Valley-based tech firm announced its inaugural Top Startups List in China earlier this month, hoping to showcase the outstanding performance of local companies and appeal to the country's top talent, providing more career development and opportunities for local professionals.
Twenty-five domestic companies were ranked in the list, led by Beijing Bytedance Technology Co, Didi Chuxing, Bitmain Technologies, Yitu Tech and Momenta.
LinkedIn's Top Startups Lists have been released simultaneously in different markets around the world for three consecutive years.
Lu said based entirely on data analysis, the list will enable more entrepreneurs to pay attention to employer branding and constantly improve their talent strategies to attract and retain high-quality talent.
"On the other hand, it helps Chinese professionals find insight into excellent startups, enabling them to explore new possibilities for career development," said Lu, adding LinkedIn's Top Startups Lists are fueled by billions of actions carried out by its 645 million members. The Top Startups List in China followed the same methodology.
LinkedIn's research found that among the 25 listed companies, 11 put artificial intelligence at the core of their business and integrated AI with industry application. Bitmain Technologies, Yitu Tech and 4Paradigm were among companies to signal the importance of AI.
The list released by LinkedIn focuses not only on B2C companies operating pure internet-based services, such as Didi, Keep and Heytea, 0 but those using the latest technology to empower traditional industries.
Logistics, medical, catering, travel and retail sectors also serve consumers and have experienced the benefits of consumption upgrades. Listed startups fully discovered the huge potential of the new consumer market, and have become winners in the wave of industrial upgrading.
Besides analyzing market trends from the list, LinkedIn found that top startups have become the best choice for top talent. The attraction of top talent is an important criterion for the evaluation of companies that earn a position on LinkedIn's Top Startups list.
The list also found that the average age of employees in these top startups is 28, 10 percent of whom have overseas educational background or worked overseas. Thirty percent of employees have master's degrees and above, and 18 percent have worked for well-known multinationals or first-tier domestic enterprises.
Li Jin, chief researcher at the China Enterprise Research Institute in Beijing, said with China shifting from an export-driven economy to one focused on more technological breakthroughs, having strong teams specializing in digital technology in the country has become increasingly critical for both domestic and global companies. There are lots of job opportunities in those areas, he said.
"Digitalization has changed businesses in various ways," he said. "We are seeing some businesses disappear or evolve over time, but in the meantime the creation of new brands and types of operational modes are pushing some traditional roles out of the market."
A number of sectors are also becoming increasingly automated. This has spawned a host of technical and engineering jobs, said Li, noting focus on R&D and STEM - science, technology, engineering and mathematics - subjects is also sharpening.