Behind Hong Kong's chaos lie deep-seated social problems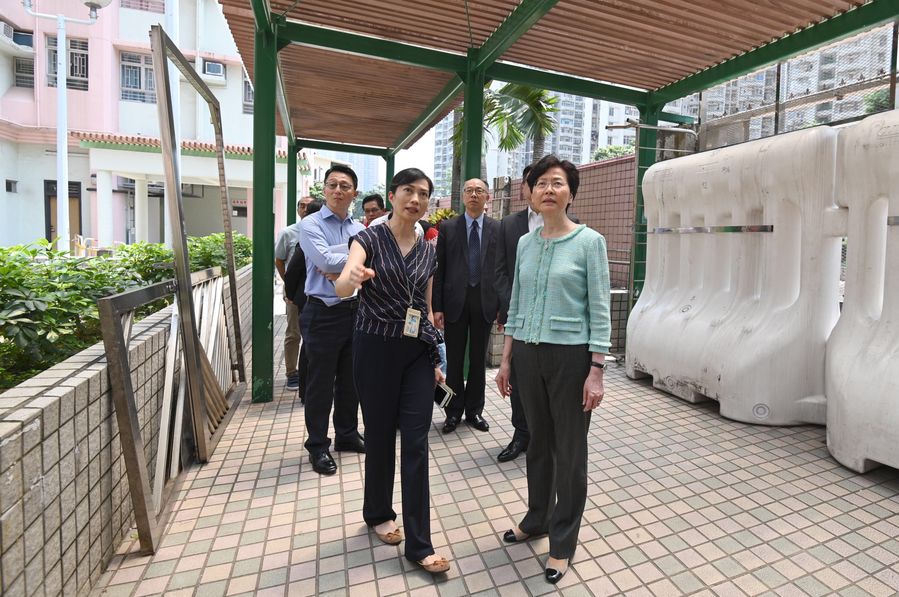 UNAFFORDABLE HOUSES
For nine straight years, housing in Hong Kong has been ranked as the least affordable in the world. Homes in the city got further out of reach for most residents, according to Demographia, an urban planning policy consultancy. The city's median property price climbed to 7.16 million HK dollars in 2019, or 20.9 times the median household income in 2018, up from 19.4 times from a year earlier.
In the latest case of house transaction, an apartment of 353 square feet (about 33 square meters) at Mong Kok in central Kowloon was sold at 5.2 million HK dollars in September, according to the registered data from Centaline Property Agency Limited.
For those fortunate enough to have bought an apartment, many have to spend a large part of their monthly income on a mortgage. For those who have not bought any property yet, it is common to spend more than 10,000 HK dollars in rent, while saving every penny up for a multi-million HK dollar down payment.
From 2004 to 2018, the property price increased by 4.4 fold, while income stagnated, statistics show. From 2008 to 2017, average real wage growth in Hong Kong was merely 0.1 percent, according to a global wage report by the International Labor Organization. Homeownership dropped from 53 percent to 48.9 percent from 2003 to 2018.
Efforts of the HKSAR government to increase land supply to stem home prices from soaring also went futile amid endless quarrels. Of Hong Kong's total 1,100 square kilometers of land area, only 24.3 percent has been developed, with land for residential use accounting for a mere 6.9 percent, according to data from the HKSAR government.
Social worker Jack Wong, 29, lives in an apartment bought by his parents. "I'm lucky. Most of my friends still have to share apartments with their parents. My cousin has been married for seven years, but he is still saving for his down payment, so he has to live at his parents' house," he said.
"The older generation changed from having nothing to having something. We, the younger generation, thought we had something, but it turns out we have nothing," he said.
MIDDLE CLASS' ANXIETY
While young people complain about having few opportunities for upward mobility, Hong Kong's middle class, which should have long been stalwarts of the society, are under great economic pressure and in fear of falling behind.
It is not easy to be middle class in Hong Kong, one of the world's most expensive cities. To join the rank, a household needs to earn at least 55,000 HK dollars, or $7,000, a month, according to Paul Yip Siu-fai, a senior lecturer at the University of Hong Kong. About 10 percent of the households in the city are up to the rank.
Earning that much can be counted as rich in many parts of the world. But in Hong Kong, the money is still tight if you have a child to raise and elderly to support.
Housing is the biggest burden for the average middle-class resident. The cost of having a child is another headache in Hong Kong, where pricey extra-curricular activities and private tutoring are considered necessary to win in the fierce competition.
Fears of descending to the low-income group are real for the middle class. Many think they belong to the middle class only in education and cultural identity, but their living conditions are not much better than the impoverished, said Anthony Cheung Bing-leung, former secretary for transport and housing of the HKSAR government.
Civil servants and teachers, who earn much more than the average income, are traditionally considered middle class. But Cheung found out in a survey that many of them could not afford to have their own apartment, with some even living in the narrow rooms of partitioned apartments.
"We don't belong to the low-income group, but we could just rent an apartment now," said Lee, a teacher at a secondary school in Hong Kong.
Lee and her husband earned nearly 1.3 million HK dollars a year, but a 50-square meter apartment is the best they could rent now for a five-member family. She preferred not to give her full name as she feels her situation is embarrassing.
"We want to save more money to buy a house near prestigious elementary schools for our kids," Lee said. "If our kids can't go to a good school, it'll be very tough in the future."