Forests breathe life into province, keep desert at bay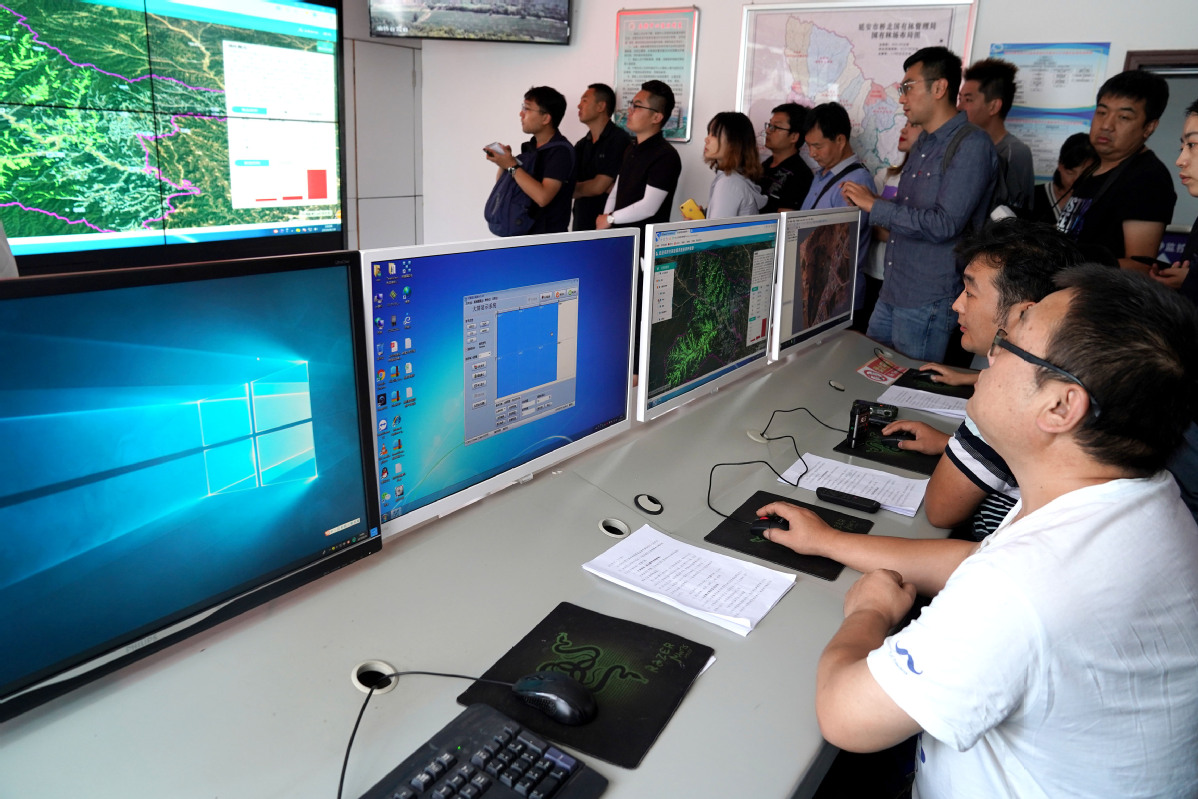 Apart from its image of having a harsh environment, Yan'an is home to forests crucial to China's ecology.
In recent years, local forestry authorities have ramped up protection of natural forests using cutting-edge technologies and experimented with increasing financial returns from them.
In 2015, the city's Qiaobei forestry administration launched a high-tech conservation project in Ziwuling National Nature Reserve.
Comprised of mainly oil-rich evergreen species, such as pine and cypress, the forest is prone to fires in the dry season.
Dozens of surveillance cameras and almost 200 infrared cameras were installed across 200,000 hectares of forest overseen by the administration to enable quick detection of wildfires, plant diseases and pests.
More than 3 million yuan ($418,912) was spent on the surveillance cameras and 16 drones. "It halves the time that responders take to extinguish fires," said Bai Yingfei, chief engineer of the city's reforestation office.
Bai said the surveillance system also helped fight illegal development projects in the forests, which lie south of the sprawling Mu Us Desert.
The forest is considered a crucial buffer against the desert's southward expansion, and is referred to as the lungs of Shaanxi province.
The area is also home to several under-threat species, including the North Chinese leopard and golden eagle.
"Alongside drones, the technologies are drastically cutting the time needed for firefighting and daily patrols," Bai said, adding that routine foot patrols that used to take weeks could now be finished in 30 minutes.
In June, the administration was among a small number of users allowed access to the high-resolution satellite image database of the newly created National Forestry and Grassland Administration, which further enhanced its emergency response capabilities.
After an initial alert, the satellite images can help create 3D computer models of the terrain that allow responders to calculate the quickest route to the site. The images can also be used to see if projects in the forest exceed their approved area.
Forestry authorities in Yan'an are also stepping up intervention in the commercial development of the forests. Qiaoshan forestry administration is nurturing species that have high economic value, such as oak, which can be made into high-end hardwood products.
Through pruning and disease prevention, the administration is working to ensure a specified number of oak trees per acre, a practice widely adopted by European countries.
"We are currently at least 100 years behind our European counterparts," said Cao Xuping, the administration's director.
Cao said his office was also trying to diversify the trees' age distribution so that a steady supply of mature trees is ensured for harvesting. This is different from past practices of forestry authorities where all trees are felled in an area regardless of their age.
"It's essential, as it helps make sure that the forest's ecology is not adversely affected," he said.