From screen to grill
Share - WeChat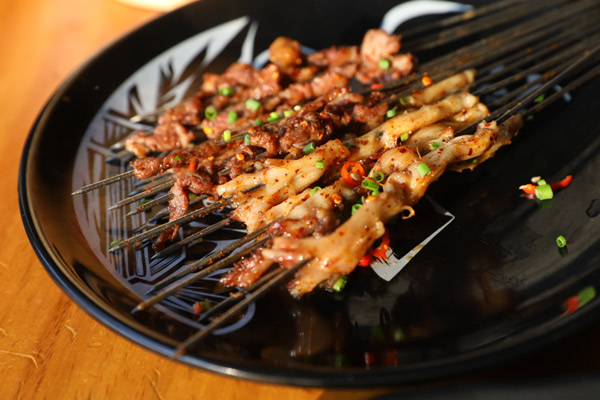 Skewers, or grilled food, makes up the second-largest food category after hot pot, according to Dianping, the country's largest directory for restaurants. In 2018, there were more than 290,000 skewer joints in the country that were listed on the site.
Research from Dianping shows that more than 80 percent of skewer outlets are family-owned businesses, and 70 percent of them do not survive for more than a year due to problems such as market saturation, the rising cost of ingredients and labor, and local government efforts to clean up roadside stalls due to hygiene concerns.
According to Chen, of the 500 or so skewer places they scouted, around half of them had closed within a year.
"This is a really special group of people. The people selling skewers are so ubiquitous, yet so invisible. Therefore, if you tell their stories in the right way, it can somehow manage to resonate with a massive section of society, if not the entire nation," says Chen.
Sun, who reveals that he is already looking to open a second outlet, says that he wants to change people's perceptions of skewered food.
"The documentary could be a breakthrough for the industry in terms of undergoing an upgrade. Skewer joints can be turned into venues like bars, where people go to unwind after a long day at work or a miserable breakup, or just for a celebration," he says.
Statistics seem to back Sun's approach. According to a national survey carried out by listings website Koubei, skewers were found to be the most popular food category for those born in the 1990s, and the second-most popular for those born in the 1980s.
"People don't walk into a restaurant just because they are hungry. They are after an experience," Sun adds.
"As the catering business becomes more and more competitive, we need to appeal to diners in a variety of ways. The unique vibe that skewer restaurants offer could be one of them."
Most Popular