Xi'an man creates vivid replicas of Terracotta Warriors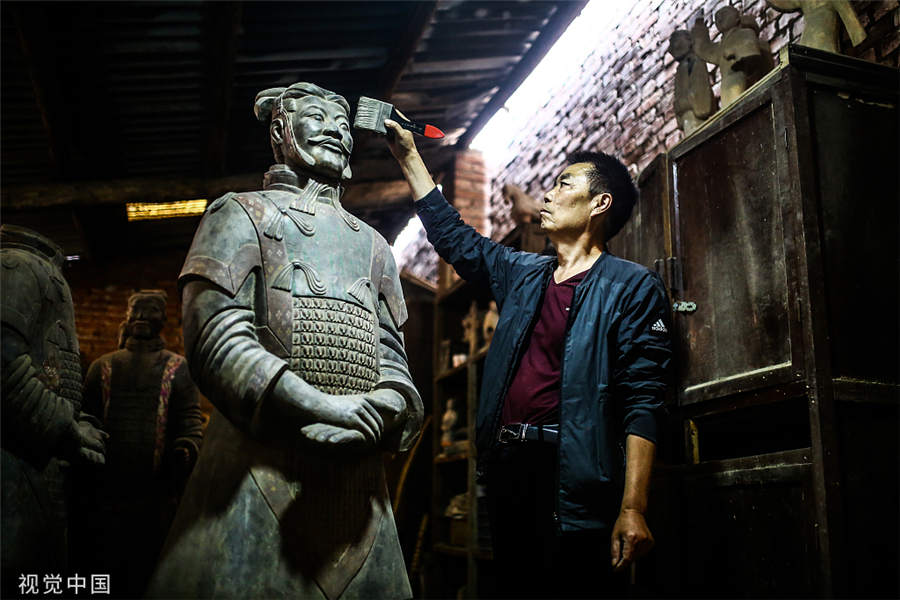 The discovery of the Qin Dynasty (221-206 BC) Terracotta Warriors in 1974 in Xi'an, Northwest China's Shaanxi province, brought great changes to local people's lives, such as the boom in tourism, as well as the business of making replicas of the Terracotta Army. Ma Shi'ao, who dropped out of school due to poverty 30 years ago, is now a well-known local artisan who creates artistic reproductions of the fabled warriors.
Compared with his peers, Ma is very meticulous at work. He has spent a large amount of time researching the size and proportion of the Terracotta Warriors and each detail on the figures, and has tried many ways to make them seem vivid. Take a closer look at his creations and beards and hair are engraved perfectly, even the soles of shoes.
The spirit of craftsmanship is why Ma stands out in the industry. His reproductions have been collected by renowned museums at home and abroad, such as the British Museum in UK. Many historians and experts have come to Ma's factory for visits.
Now a simple reproduction can't satisfy market demand and Ma hopes to work with cultural creative companies to upgrade the industry.
"Formerly, the craftsmanship was the most important, but in the future, creativity will be foremost. I hope my 'Terracotta Warriors' can not only be collected as replicas by cultural relic units, but also enter into each household as cultural creative products", Ma said.