Shanghai shows it's the host with the most
Share - WeChat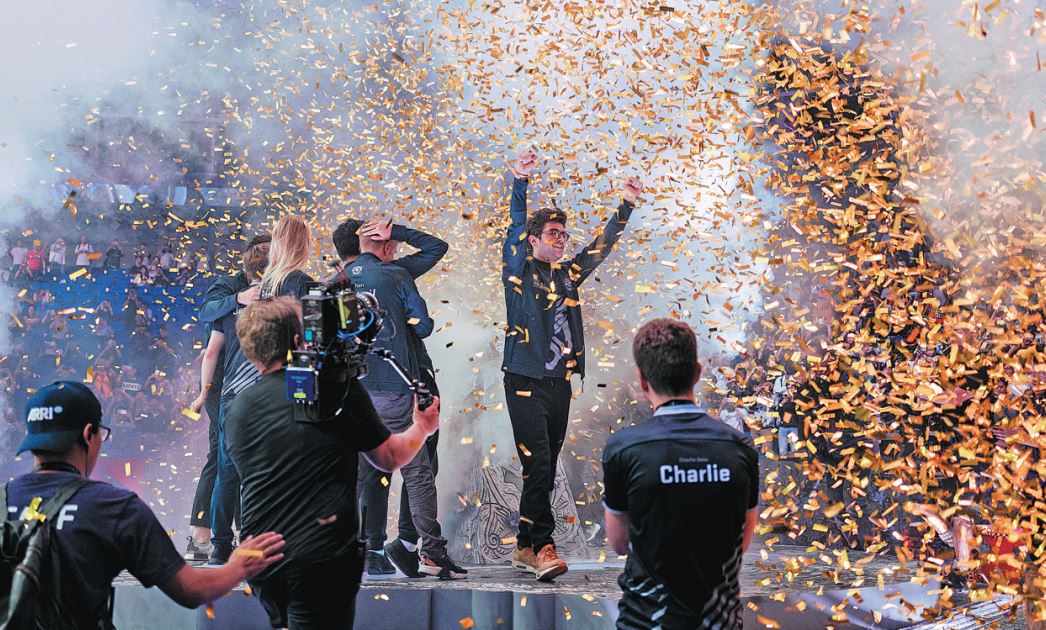 Top tourney's Asian debut underlines city's global stature
Shanghai more than lived up to its reputation as a global center for e-sports as the annual International Dota 2 Championships arrived in Asia for the first time with a bang.
Officially known as The International 2019 (TI9), the six-day event concluded in a frenzy of absorbing action at a sold-out Mercedes-Benz Arena on Sunday.
Tens of thousands of gaming enthusiasts made a deafening roar as Team OG defeated fellow Europeans Team Liquid 3-1 to pocket the whopping winner's check of around $15 million.
Total prize money exceeded $34 million. Team PSG.LGD claimed third place to finish as the top Chinese squad in the 18-team field.
Considered one of the world's most prestigious e-sports events, The International has been staged in Europe and North America since 2011.
The Shanghai tournament's 26,804 tickets were snapped up in just 53 seconds in May, with each match day welcoming about 13,000 spectators since last Tuesday.
It's not surprising that TI9 chose Shanghai as host. In late 2017, the municipal government officially declared it was fast-tracking efforts to build the city into a global e-sports hub.
That mainly involves delivering preferential policies and regulations to attract clubs, investment and the world's top tournaments.
According to thepaper.cn, Shanghai's e-sports revenue totaled 14.6 billion yuan ($2 billion) in 2018, with the city boasting 35 e-sports venues.
"Ever since Shanghai set the goal of becoming a world e-sports center, the city has made many appealing policies, and these policies are the reason why TI9 could be held in Shanghai, which is also the host of many other e-sports tournaments of Perfect World," said Xiao Hong, CEO of Perfect World Co Ltd, Dota 2's operator on the Chinese mainland.
"In the future, Perfect World will organize more high-standard international e-sports tournaments in Shanghai. The city will become an e-sports development base for us, and we for sure will invest more in the sector."
Shanghai prides itself on offering a super-smooth support system for hosting tournaments.
"Shanghai offered comprehensive support to TI9 in terms of venues, event promotion, security and all other services," Zhu Qinqin, deputy director of the Shanghai E-Sports Association, told thepaper.cn.
"It's the first time the event has come to Shanghai. To some degree, it shows the city's expertise in hosting such a high-level e-sports tournament. The event will attract more people to the e-sports sector. It also prepares the city to welcome more top-level international events."
The city's effort impressed Gabe Newell, co-founder of the game's developer and publisher, Valve Corporation.
"On behalf of the Dota community I'd like to say thank you to the citizens and the government of Shanghai for your hospitality and kindness," said Gabe.
"We are absolutely delighted to hold the series here in China."
There was a resounding thumbs-up from fans too. One enthralled spectator, Zhang Zixuan, said: "Four of us became friends through the game and this is the first time we watched The International on site.
"It's very different from watching the live broadcast on screen. We're impressed by the lighting system, stage and great atmosphere here. We started to play when we were at middle school, and we will keep our passion, although some of us have already graduated from university."
Shanghai's success is part of a nationwide e-sports boom.
According to the 2019 Global E-sports Development Report, the Chinese market was worth 8.5 billion yuan ($1.2 billion) last year, with that figure expected to exceed 13 billion yuan by the end of 2019.
E-sports' fanbase is also snowballing. In 2018, there were about 320 million gamers and fans in China, a figure that is projected to rise to 350 million by the end of this year. Globally, it's estimated the number of e-sports fans will exceed 450 million by the end of 2019.
"A reason why TI9 came to our country is because China's tournament-organizing ability has been recognized by the world," said Xiao.
"That means we have world-class ability in event organizing, venue construction and live broadcasting. The arrival of TI9 shows the growing strength of Chinese e-sports. The world will pay more attention to the Chinese e-sports market.
"Chinese e-sports has transformed from being a follower to being a leader. China's development in the sector is also an opportunity for the world. The International was bound to come to China sooner or later. If The International had never come, it would be missing a development opportunity."
As for what the future holds, Xiao is touting 5G technology to revolutionize the sector.
"5G technology will not only make the games smoother, it will also smash through the limits of hardware, improving the gaming experience together with augmented reality and virtual reality technology," said Xiao.
"5G tech will also deliver spectators a new experience and new angles to enjoy tournaments. Meanwhile, it will change users' gaming habits and bring changes to game design."
Most Popular
Highlights
What's Hot