Future of Ford, Zotye partnership in doubt
Share - WeChat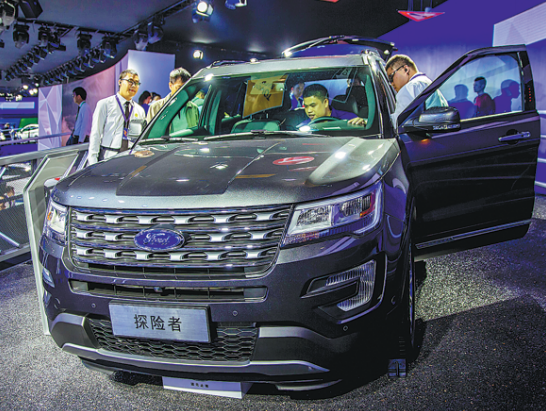 United States-based carmaker Ford and China's Zotye are evaluating the possibility of their cooperation as the two have made little progress in almost two years since a deal on producing electric cars was signed in late 2017, according to two people close to the matter.
They cited the dramatic changes in China's automotive market and related industry policies as the main reasons of the almost stalled partnership.
Vehicle sales in China started to fall in 2018 and the situation has not changed yet.
Total sales in the first seven months of this year totaled 14.13 million, down 11.4 percent year-on-year, according to the China Association of Automobile Manufacturers.
"Having considered such factors, the two are conducting an overall appraisal of their cooperation," said one of the people with knowledge of the matter.
The two carmakers signed a deal in November 2017, agreeing to invest a combined $756 million to set up a 50-50 joint venture in China to build electric passenger vehicles.
The partnership would involve a manufacturing plant in Zhejiang province, a research and development facility as well as a sales and services network to tap into the growing demand for such vehicles in the world's largest auto market.
But the market took the downward turn starting July 2018, affecting sales of both Ford and Zotye.
In a filing to the Shanghai Stock Exchange, Zotye estimated a net loss of 270 million yuan to 320 million yuan in first half of the year, which would be a 189 percent to 205 percent slump year-on-year.
Its net profit reached 305 million yuan in the first six months last year.
The carmaker blamed the "macroeconomic environment and depressive auto market" for its lackluster sales. In the first seven months, the carmaker sold 82,000 units, falling 48.4 percent compared with the same period last year.
Analysts say its slow introduction of new models was another contributing factor.
Zotye unveiled a brand called Traum in 2017 and planned to launch nine new models in three years.
But so far it only has introduced three models into the market. To make things worse, they are made in line with the State V emissions standards, although the stricter State VI standards have been in place in 18 provinces and municipalities for almost two months.
Ford's overall sales dropped 37 percent in 2018 in China, mainly due to a lack of new models.
The carmaker unveiled a massive product plan in April, saying it will launch more than 30 new Ford and Lincoln vehicles in China over the next three years, including more than 10 electrified ones.
Sales at the Changan Ford joint venture continued to decline in July. In the first seven months of this year, the venture's sales dropped more than 60 percent compared to the same period a year earlier.
It is also planning to revamp some of its existing manufacturing facilities to localize production of Ford's premium brand Lincoln.
This will have a planned annual capacity of 70,000 Corsair SUVs including 12,000 plug-in hybrid variants, according to a document on Chongqing city's official website.
On Friday, Ford named Steven Armstrong, current chairman of Ford Europe, as head of the joint venture.
He will begin his new role starting Oct 1 when Nigel Harris, who is currently heading the joint venture, will retire.
"Steve's leadership will help us further strengthen the Changan Ford joint venture as we bring more new vehicles to the China market, including our first global all-electric small SUV," said Ford CEO Jim Hackett.