Chinese firms hunt for new markets as trade disputes with US continue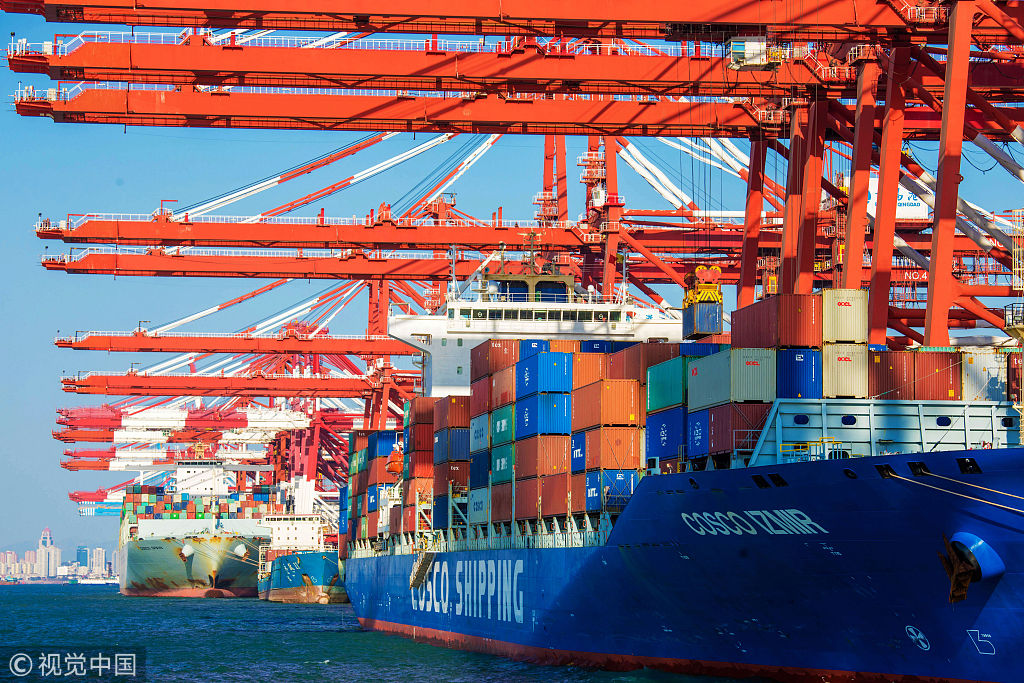 FUZHOU - After going through all the ups and downs of trade disputes, Hong Jianku is convinced his early decision to explore new markets for his swimwear company in the middle of uncertainties caused by US tariffs turned out to be the right one.
In July 2018, he began bracing his firm for possible trade disputes and then witnessed all the U-turns the US side made in the trade talks.
"I run my firm with a plan B and a plan C in place, with preparations for the worst-case scenario," Hong said.
The business executive is in charge of Qicaihu Garments & Weaving Co Ltd in Jinjiang, Fujian province. The company's bikinis and beach shorts are supplied to top retailers such as Auchan, Walmart and Target. It now has a market presence of across all the world's continents except Antarctica.
His countermeasures included tapping into markets in South America and Africa and adding 30 percent more spending in research and development this year to move up the value chain.
"We expect a 15-percent annual increase in our exports, with Brazil and Chile emerging as strong engines of growth," Hong said. "Argentina will be our next stop."
Su Sunwei, a local commerce official, said Jinjiang saw stable foreign trade growth this year thanks to the new markets of major enterprises, technical innovation and stronger bargaining power.
In the January-July period, Fujian's trade with the Belt and Road economies surged 12.4 percent year-on-year to 256.8 billion yuan ($36.4 billion), and trade with Latin America and Africa jumped by 17.3 percent and 23.2 percent, respectively.
The figures are part of a broader shift.
China's foreign trade with BRI economies grew by 10.2 percent in the first seven months to over 5 trillion yuan, 6 percentage points higher than the country's overall trade growth, data from the General Administration of Customs showed.
"Enterprises cannot decide tariffs of another country, but we can focus on our own businesses," Hong said. "The trade disputes might prove to be a blessing in disguise in the end as it prods the sector to accelerate transformation and secure new opportunities."
The ongoing trade friction has put an end to what Hong calls "the good old days of making big bucks fast," but he believes it is one of the vicissitudes in China's development process and could act as a kind of "vaccine" to boost the economy.
The world's second largest economy remains the top growth engine with an enviable 6.3-percent year-on-year GDP growth in the first half of this year, and its stability and resilience has been significantly enhanced.
"External uncertainties continue to grow, but the sound fundamentals of China's stable economic trajectory will remain unchanged in the long term," said Gu Xueming, head of the Chinese Academy of International Trade and Economic Cooperation under the Ministry of Commerce.
China's economy is characterized by strong resilience, huge potential, and great latitude, while the number of positive factors supporting a steady economy is also increasing, Gu said.
So far, China has successfully handled trade frictions with the latest key indicators showing the economy on a healthy track.
In the January-July period, domestic consumption remained at a high level, and foreign direct investment into the Chinese mainland expanded 7.3 percent year-on-year. The opening up of China's market was not affected by lingering trade uncertainties and has kept expanding.
In comparison, the United States is edging closer to a recession and a financial crisis, said Mei Xinyu, a researcher with the ministry.
"If the trade dispute is further escalated, it will make problems in the US economy more conspicuous," Mei said.
China's gains and losses in trade friction should not be judged by its gains and losses in trade with one country, but should be based on China's share of global trade, added Zhongtai Securities chief economist Li Xunlei.
"As long as China upholds free and fair trade, its position in global trade can be further elevated," Li said in a research note, adding that China can keep improving the free trade environment and advance opening-up with other countries as a countermeasure.