Big-hearted athletes giving back to communities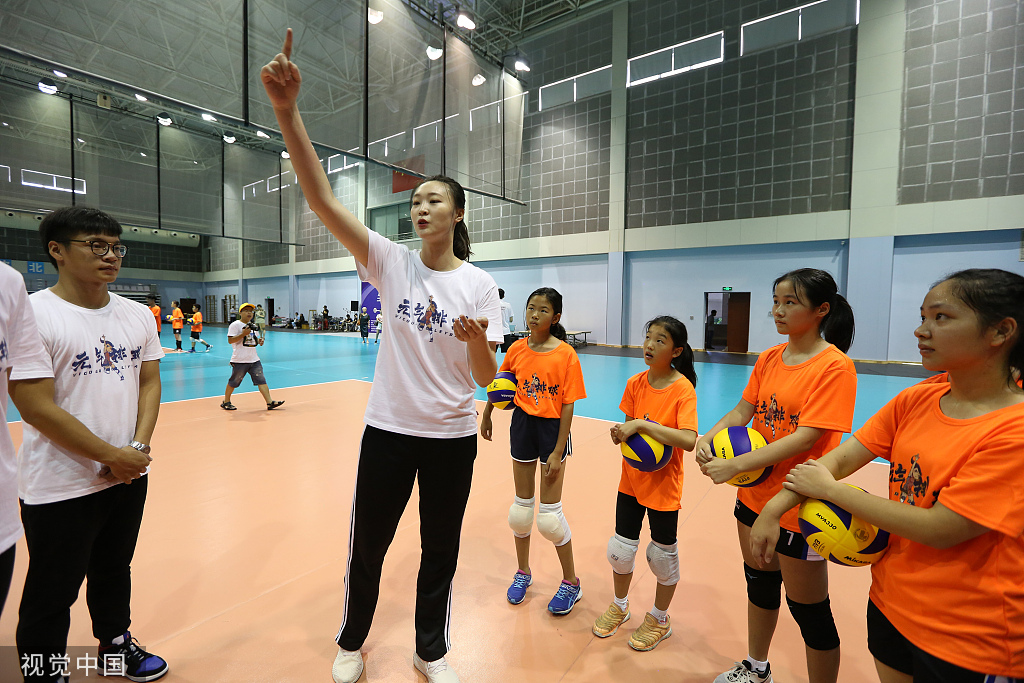 More and more Chinese athletes are getting involved in charity work to help children in impoverished regions get better access to sports resources.
Zhang Lu, captain of Chinese Super League club Tianjin Tianhai, is among them.
The goalkeeper recently helped transform a playground into a soccer stadium at a Tianjin primary school.
The arena is expected to open next month, and Tianhai has agreed to continue maintaining the pitch and providing other support.
School principal Wang Guanghui said pupils love playing soccer but coaching the sport as part of the curriculum is difficult due to limited resources.
"Zhang helped us solve the biggest problem, so the children's soccer dreams can come true on the new field," Wang said.
While residents of big cities might think of soccer pitches as a pretty standard facility, schools in remote and impoverished areas often have none and are constrained by a lack of infrastructure, according to Zhang.
"Children can get injured playing soccer on poor surfaces. Some parents have to ban the game for the sake of their children's health," Zhang added.
Over the past four years, Zhang has been teaching soccer classes and donating sportswear and facilities to 16 schools in remote areas. He plans to build two to three soccer fields every year at schools in Tianjin, Liaoning province and other areas.
Zhang never forgets his responsibility as a captain of a CSL club.
"In recent games, our team has performed well, which motivates me to do more for the children who love soccer. In turn, the sports charity has inspired me to achieve better performances on the pitch," said the 31-year-old.
"I hope that soccer culture will become a means of creating positive energy to help realize the Chinese dream."
Zhang is not alone in his endeavors.
Feng Xiaoting, a defender with Guangzhou Evergrande, organized a charity game for teenagers from Xinjiang Uyghur autonomous region in 2016, and also established a foundation to construct pitches and provide facilities for students in remote areas.
Reigning CSL champion Shanghai SIPG was paired with a primary school in Anhui province, with students receiving coaching from two of the team's players.
Beijing Guo'an striker Zhang Yuning invited a group of pupils from the capital to his training base to gain experience.
It's not just soccer players lending a hand.
Hui Ruoqi, former captain of the Chinese women's volleyball team, has worked to build sports facilities for many colleges and provide guidance for kids.
Wang Nan, a former Olympic champion in women's table tennis, has for four years spearheaded a charity which donates sports equipment to over 50 rural schools and trained over 150 volunteers and teachers to engage in physical education.
XINHUA