Beijing's 'green lung' gives capital breathing space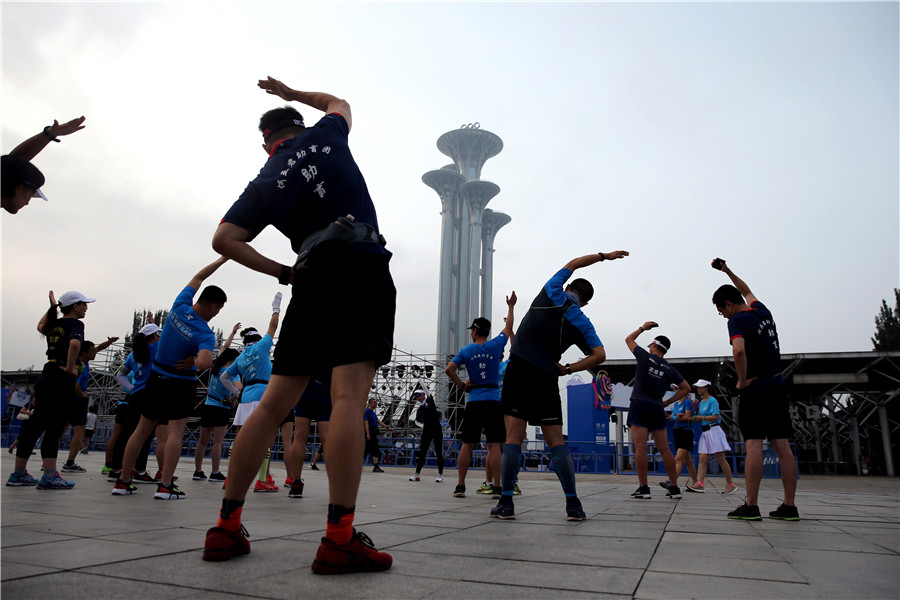 Sewage recycled
He Weijia, general manager of Zhongda Yihe, the company responsible for the park's water system, said the venue's design features an integrated system that retains rainwater in its lakes for recycling after filtration.
"Thousands of tons of city sewage have also been recycled, and small sewage treatment stations can be seen everywhere in the park," he said.
An artificial sewage treatment wetland covering more than 20,000 square meters in the park has proved beneficial to the environment, he added.
Maintaining such a large area of parkland is not easy.
Wang Chun, former director of the Olympic Park Management Committee, has said in media interviews that even though there has been no entry fee since the park opened, the government subsidizes each visitor to the tune of 11 yuan ($1.56) to cover maintenance costs.
The Chaoyang district government, along with the Beijing Municipal Government, provide about 200 million yuan a year to maintain the park through sanitation services, cleaning the lakes and other areas, and providing lights in public areas.
"The overall Olympic Forest Park maintenance cost is not lower than that for Tian'anmen Square every year," Wang said.
Hu, the chief designer, said the park, which is reputed to be Asia's largest urban green landscape, has attracted the nation's attention, and the Beijing Municipal Government spared no efforts in building the venue, investing 2.2 billion yuan in 2005.
However, he said the Olympic organizing committee had paid less attention to the park after the 2008 Summer Games, adding that cafes and restaurants in the draft design had not been included when the venue was being built.
Commercial operation of the park has also not been realized, and there are only a few places where runners and walkers can buy bottled water at the venue, he added.
In addition, all major activities held in the park must be reported to the local police station.
"I hope the park will explore new maintenance methods and make full use of its current resources, as an important part of building Beijing into a world-class city," Hu said.
"Just like Central Park in New York City in the United States, Olympic Forest Park will become a mustgo place for Beijingers in the future."