Making a song and dance about it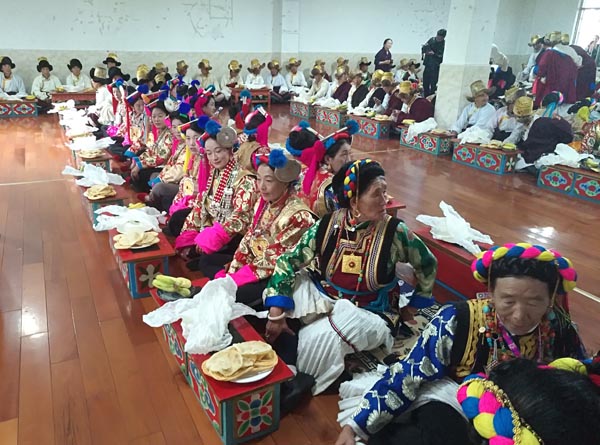 In a neck-and-neck situation, an audience member will offer hada-white silk scarves that represent goodwill and purity in ethnic Tibetan areas-to the older performers at dawn and ask them to end the battle.
The longest battle that Xu has taken part in lasted for a day and two nights.
Unlike many other forms of intangible cultural heritage in China, Guozhuang dance is not a traditional ritual that's separated from daily life. Local people perform Guozhuang in squares to keep fit.
As part of a local government initiative, more than 300 Guozhuang songs have been recorded, with scores of them being saved for posterity to better preserve their legacy and help with future learning.
Xu is among the older generation of Guozhuang performers that insist on the original tradition of Guozhuang dance, with its fixed routine and tunes, being strictly adhered to.
"As a form of cultural heritage, Guozhuang dance should be kept as original as possible. But innovative elements, such as adding accompaniment or creating new dance movements, are also needed for it to develop," says Li Zhinong, a professor at Yunnan University who co-wrote a book on Benzilan Guozhuang dance tradition a decade ago.
One of Xu's granddaughters has been taking lessons from her since last year. However, having spent years living in cities, her 31-year-old granddaughter often slips into pop tunes as she practices.
She might need another 10 years if she wants to become an authentic Guozhuang performer, Xu says.
Contact the writer at fangaiqing@chinadaily.com.cn