Nation's major telecom companies race to commercialize 5G
Share - WeChat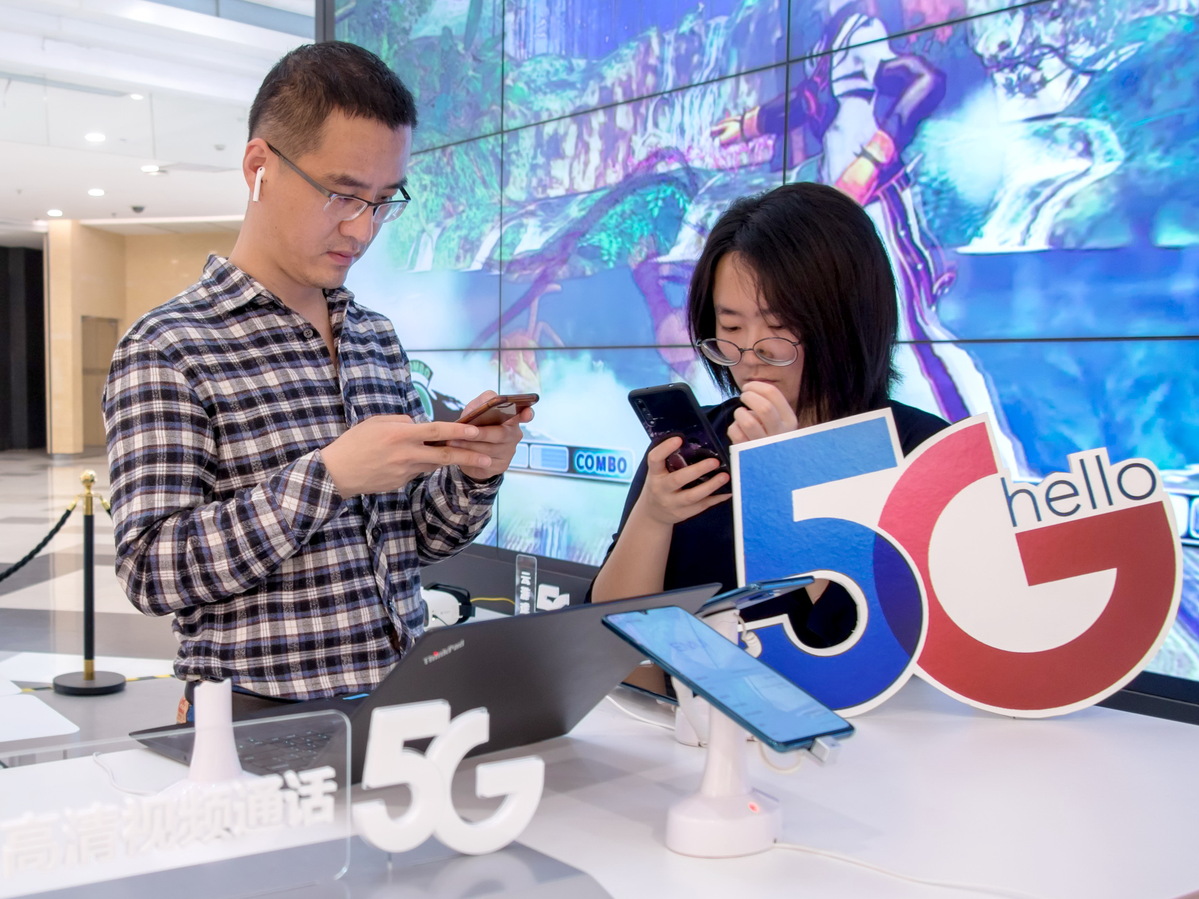 China's major telecommunications carriers are racing to commercialize 5G services, aiming to be at the forefront of the next-generation mobile communication revolution and generate new streams of revenue.
China Telecommunications Corp, the country's third-largest operator by mobile subscribers, announced it will officially launch 5G commercial services in September, marking an accelerated push in 5G application. The expected plan was to commercialize the technology in October this year.
China Telecom said on Monday it has decided to sell mobile phone numbers for 5G use in Beijing from next month to especially target new users, Beijing Daily reported.
According to the company, current telecom users do not need to change their SIM card and mobile numbers. After purchasing a 5G smartphone, they are able to upgrade their previous 4G package to a 5G package. The company claimed the price of a monthly 5G data package ranges from 199 yuan ($28) to 599 yuan.
Xiang Ligang, director-general of the Information Consumption Alliance, a telecom industry association, estimated that major telecom carriers such as China Mobile and China Unicom will also officially introduce 5G data packages in September.
"The 199 yuan 5G package is too expensive," Xiang added. "In fact, China Telecom still lags a little behind compared with other operators in terms of 5G ability. Offering a high-price 5G package, it is trying to attract a certain number of 5G users instead of users on a large scale in the short term. It will be very hard to maintain such a high-price package considering the uphill battle with archrivals. I believe the 5G package will be around 100 yuan or even lower in the future."
The high-speed 5G technology is expected to revolutionize the tech world in the near future, as it will be able to transmit data at least 10 times faster than 4G.
The three major telecom carriers - China Mobile, China Unicom and China Telecom - are accelerating their pace of investment in 5G construction, as part of their goal to be successful in the upcoming 5G era.
China Unicom recently said it has already launched short-term 5G monthly experience services.
Yang Jie, chairman of China Mobile, said in the company's 2019 interim report that the company plans to set up more than 50,000 5G base stations in China this year and launch 5G commercial services in more than 50 cities.
In the first half of 2019, China Mobile, with 935 million mobile customers, reported operating revenue of 389.4 billion yuan, a decrease of 0.6 percent year-on-year.
As the traditional telecom market is becoming almost saturated, it is increasingly hard for carriers to boost revenue by relying on traditional growth drivers alone.
Xiang noted given the government's push to boost speed and reduce mobile data tariffs, operators are under certain pressure and it is difficult to see steady growth in revenues.
"Today, major telecom carriers are gearing up to develop 5G. It's really difficult to see robust growth in the short term. But we will see a significant jump in the next two to three years," Xiang added. "5G construction will not only bring operators opportunities and new streams of revenue, but also boost the development of the whole industry and economic growth."