Beijing's Chaoyang district in big talent push
Share - WeChat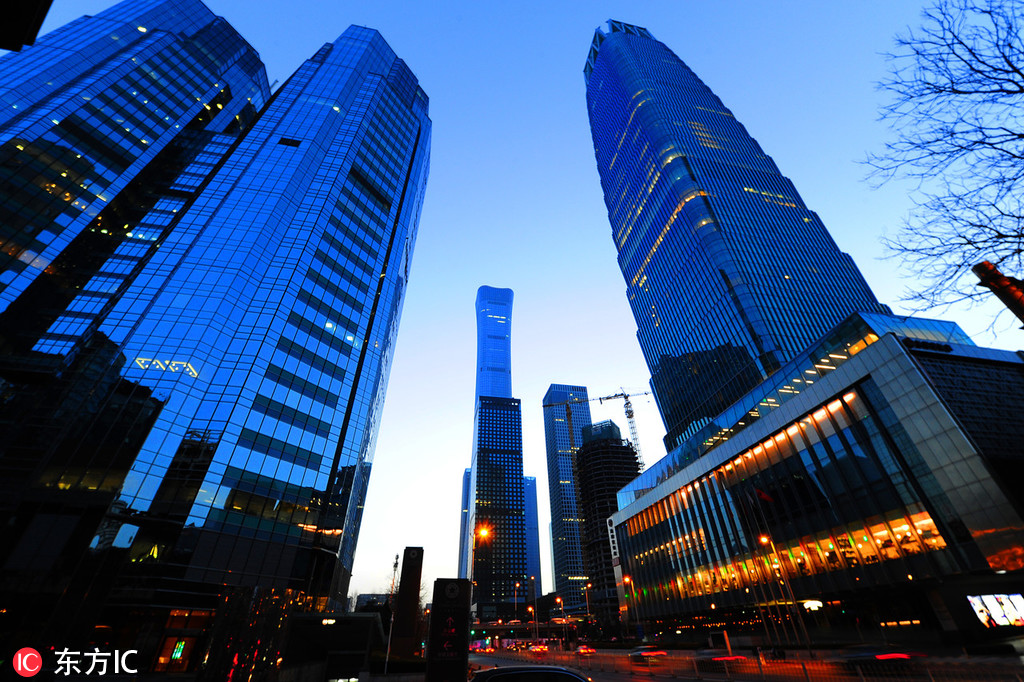 Chaoyang district in Beijing has adopted flexible policies and will build online platforms to attract high-quality talent to increase new growth points in business.
The move comes amid intense competition among cities for skilled professionals as China pursues high-quality development through new-age technologies and sustainable development.
More than 120 multinational companies have set up their regional or country headquarters in Chaoyang district, accounting for 70 percent of the capital's total. The district has organized Overseas Talent Entrepreneurship Conference for seven consecutive years.
The 2019 OTEC was held in both Beijing and Kunming, capital of Yunnan province, between May and July. The event included an investment conference, an innovation contest, an international entrepreneurship exhibition and a job fair to fill up positions in the digital economy.
Wang Hao, Party chief of Chaoyang district, said that in comparison with the previous year, the 2019 OTEC partnered with Kunming to set up sub-conference areas and activities to deepen regional cooperation and strengthen business ties, and to better participate in the tangible development of the Belt and Road Initiative.
Kunming, he said, is located closer to the massive market of the Association of Southeast Asian Nations.
The 2019 OTEC has organized a number of activities to attract bright overseas talent via international entrepreneur dialogue, high-level job fair, financing meetings and co-founder dating. It also conducted gatherings of corporate executives and economists to discuss ways of further developing Chaoyang district into a global innovation and service center of science and technology.
The OTEC has to date attracted over 23,000 entrepreneurs from more than 20 countries and regions such as Australia, Singapore, Israel, the United Kingdom and the United States, and more than 4,000 projects were involved.
About 10 percent of these projects have received investment, including programs in intelligent hardware, mobile internet, environmental protection, healthcare, sports, new consumption modes and data applications.
Wang said the district will not only place more emphasis on quality and optimization of the headquarters' economy and its industrial transformation but deploy more resources to develop businesses related to digital economy, big data, 5G service and innovation activities generated by the BRI. All these initiatives should help attract leading global talent and companies in emerging areas to the district, officials said.
According to official data, Chaoyang district has many embassies, 90 percent of Beijing's global media, 80 percent of international organizations and chambers of commerce, 70 percent of regional head offices of multinational corporations, 65 percent of foreign financing institutions and 50 percent of world conferences and exhibitions.
"These advantages make Chaoyang district an important area of the city and help it attract more talent and business to boost economic growth," Wang said, adding the government can also offer office space and efficient visa application procedures to qualified talent to live and develop their business in Chaoyang district.
Through the competition and professional assessment, the Chaoyang district government will offer successful foreign candidates and overseas returnees with its services in business planning, marketing and financing, in order to help them to start their own businesses.
The Chaoyang Overseas Talent Center, another government platform, partnered with the Beijing Association for Science and Technology and other local government branches to invite a number of diplomats from countries such as France, Italy and Switzerland to participate in the 2019 OTEC International Startup Meetup. This event has been conducted for the last five years, to help the diplomatic community to better understand Beijing and Chaoyang district's policies for international talent and business environment.
According to the Commerce Commission of Chaoyang, the district will continue to provide favorable financial and policy assistance to support businesses in the sectors of technological and cultural innovation as well as encourage companies to establish operational bodies for development and research, sales, centralized operations of funding and settlement.
Zhao Ying, a researcher at the Institute of Industrial Economics, which is part of the Chinese Academy of Social Sciences in Beijing, said as many Chinese cities are vying for quality talent, Chaoyang district should invest in cutting-edge industries to forge its economic structure and cultivate digital economy and modern services to remain competitive.
There will be a huge market for both Chaoyang district and Beijing city, including e-commerce, artificial intelligence, data science and data analytics, he said, adding support for them would attract technology skills and programmers who are in great demand. The whole technology space is massive, he said.
According to government data, leasing and commercial services, finance, technological services, information services, and culture, sports and entertainment are the five major industries in Chaoyang. They contributed nearly half of the district's 600 billion yuan ($87.1 billion) GDP in 2018.