Out of this world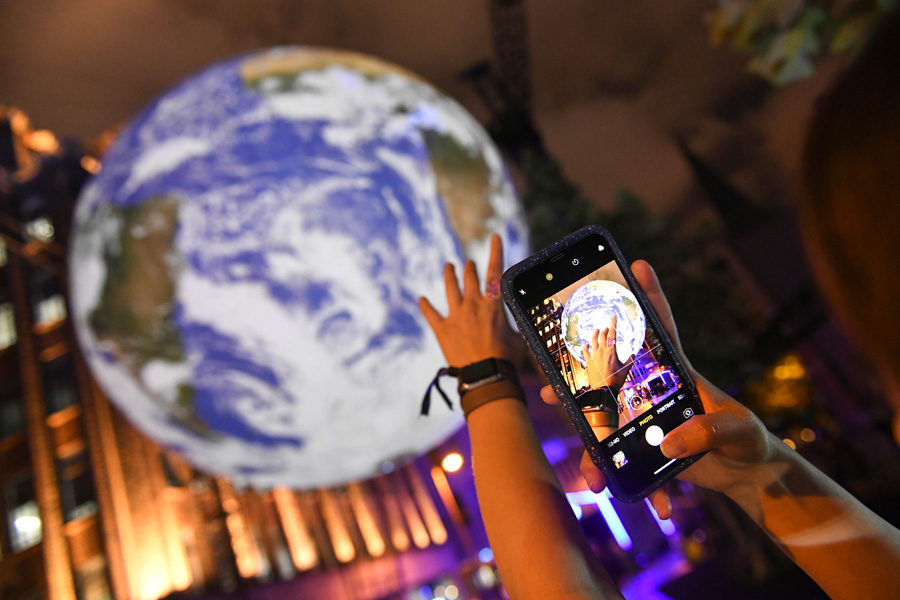 A weeklong event in Shanghai celebrating the 50th anniversary of the historic moon landing offered visitors a new perspective of their home planet, Zhang Lei reports.
The entire world has joined together to celebrate the 50th anniversary of the first human landing on the moon this summer, and Shanghai was keen to follow suit with the launch of its Discovery Space Week event on July 18, and a three-day public art exhibition, Luminaries.
An art installation featuring a giant illuminated image of Earth created by pioneering British artist Luke Jerram appeared on Yuanmingyuan Road on the Bund. The touring artwork was designed by the artist to simulate the view that Neil Armstrong saw from the moon half a century ago.
Named Gaia after the Greek goddess of the Earth, the 7-meter-wide globe suspended high above the road features a super-high-definition image of the Earth's surface taken by NASA.
Although the installation is 1.8 million times smaller than the Earth, people who view it from 211 meters away are able to view the Earth from the same perspective that the Apollo 11 crew witnessed from the surface of the moon in 1969.
As well as offering visitors a new perspective of their home planet, the event aims to encourage people to move forward in the spirit of curiosity embodied by space exploration, organizers say.