Huawei unveils own Harmony operating system
Share - WeChat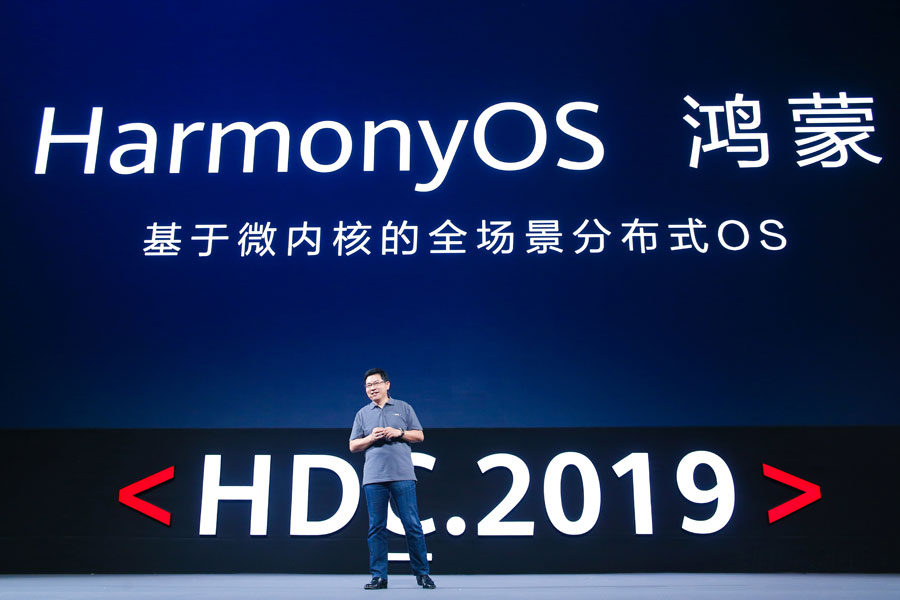 Huawei Technologies Co unveiled its much-anticipated in-house operating system Harmony OS on Friday, marking what some call the Chinese tech giant's biggest push yet to build its own software ecosystem for the era of the internet of things.
The move is also expected to mitigate the influence of the United States government's restrictions on Huawei using Google's Android operating system in smartphones, analysts said.
Yu Chengdong, CEO of Huawei's consumer business group, speaking in Dongguan, Guangdong province, said it is difficult to deliver a smooth experience across different devices with the huge amount of codes involved in the Android and Linux operating systems. Linux is an open-source operating system widely used in personal computers and other hardware.
"Harmony is a next-generation operating system designed to address the challenge," Yu said, adding that it will be able to support a wide range of application scenarios, including smart TVs, automobiles and wearables.
The internet of things refers to a network of devices and other objects that can connect with each other and exchange data.
Yu said the US government's restrictions have accelerated the company's unveiling of the system, which now has about 4,000 employees working on it.
The senior executive said Harmony can be used in its smartphones. But Android is still Huawei's preferred choice for handsets if the company is allowed to use it.
"But when Android is not available, Harmony can be applied immediately to smartphones. Harmony is ready," Yu added.
Washington put Huawei on its Entity List in May, banning it from buying US technologies without special government approval.
Starting in late July, some US suppliers have been gradually resuming sales to Huawei after the US Department of Commerce said that it would issue licenses to US companies seeking to sell products to Huawei when "there is no threat to national security".
But Huawei still does not have access to crucial US technologies such as updates of Google's Android operating system in its new smartphones.
Huawei is not the first Chinese company to work to develop operating systems. Internet giant Alibaba Group made a similar push before, but it failed.
"Compared with internet companies, our giant hardware base is the biggest edge in promoting Harmony. We ship about 300 to 400 million units of hardware every year, including smartphones, personal computers and smartwatches," Yu said.
The Shenzhen-based company said it has over 500 million registered users and 910,000 mobile application developers on its platform.
Xiang Ligang, director-general of the telecom industry association Information Consumption Alliance, said the move showcases Huawei's technological prowess and is the result of Huawei's heavy input into research and development.
Jia Mo, an analyst at market research company Canalys, said even if Huawei does not use Harmony in its smartphones in the short term, its smartwatches and smart TVs can be equipped with Harmony to widen its use and accumulate more experience in building an ecosystem.
"Also, more importantly, Huawei chose to build Harmony into an open-source operating system and allow it to be compatible with Android. This will prevent it from repeating the fate of Microsoft in promoting smartphone systems," Jia said. Microsoft failed to popularize the use of its Windows system in smartphones years ago.
Ma Miao, a software developer, said he is willing to develop mobile applications for the Harmony operating system, but time is needed to see whether Huawei's tools are as easy and efficient as promised.